A&E > Entertainment
Multiple surgery survivor retains a healthy outlook
Former Miss Spokane organizes Wellness Expo
Mon., Sept. 24, 2012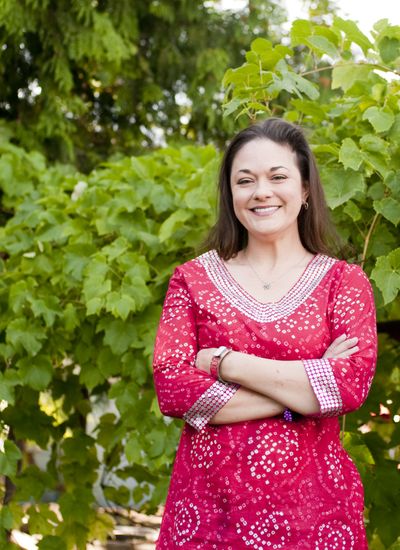 Bedridden for years and knocking at death's door more than once, Ann Marie Danimus finally received what she and her family were praying for last year – a kidney transplant. Her newest lease on a healthy life, however, was interrupted two weeks later by an emergency gall bladder surgery, followed by a complete knee reconstruction six months later. Her body was so weakened from kidney failure that Danimus fell often, once so hard that doctors had to cut her thigh in half to repair the damage and combat infection. And they did it way earlier than medically advisable after a kidney transplant. That was her 16th surgery. Through it all, Danimus has never once asked, "Why me?" "Are you kidding? I've got it good!" From age 14, when she learned she had Type I diabetes, Danimus said she always knew that someone out there had things harder than she did. It wasn't something that she had to remind herself of when things got tough either. She regularly reminds herself that she's not special, and this is the best advice she gives anyone fighting a chronic illness or experiencing other challenging physical or emotional times. "You're not special and you have to remind yourself of that every day. There is always, always someone worse off than you," she said. "You have to take responsibility for what happens to you. The only thing you can control in life is how you respond." Oh, how Danimus has responded. Following her diabetes diagnosis, she went onto become Miss Spokane in Spokane in 1994. She said she never really felt sick then, and didn't especially watch what she ate. She earned a Communications degree from Washington State University, and began her journey of checking her dreams off one at a time. She sang, she acted, she directed, owned several business and a condo, and had a serious boyfriend. But then something caught up with her, grabbed ahold tightly, and ravaged her body. Though her mental drive had never been stronger, it was swiftly outpacing her failing kidneys. She began dialysis in Mexico in 2007, where she owned a live theater and café. Building this community theater was her dream and there was no way that something like kidney failure was going to take it away. Danimus adapted her schedule to work 14 hours a day and then another eight hours on dialysis each night. Despite the long hours and focus, it couldn't stop what her close friend called "the perfect storm" – a one-two-three punch of the economy failing, her health getting worse, and lack of community interest in the theater. All combined to take away everything she built professionally and personally. The theater closed in 2010, then she suffered a seizure and went into a coma for four days. "It was a very difficult time, especially for my mom," Danimus said. "I could feel myself getting sicker and sicker. I was dying." It was time to fly home to Spokane, which in itself proved to be another ordeal. Danimus was so weak and sick on the flight home that airline personnel wanted to take her off in Seattle, fearing that she would not make it the rest of the way home. "You know how you'll hear on TV about some in-flight panic and then someone yells, 'Is there a doctor on board?' Well that's what happened on this flight!" she said, with a touch of humor that's always saved her when it would be too easy to cry. Danimus determinedly told the doctor that she could make it, and the flight continued. "There was no way that I was getting off that plane when I was finally just 50 minutes away from my mommy!" She made it home to the arms of her mother, who took take care of Danimus night and day for the next year until organs became available. Doctors determined that her body needed two transplants – a kidney and a pancreas. This was one of her darkest times. She had lost everything – her business, her home, her savings, and her boyfriend. With no money and too sick to work, she felt broken. The day she filed for disability was one of her lowest points. "It didn't break my spirit, but I broke my life," she said. Finally, she did something to pull herself back up that she had never done before – ask for help. It was a revelation, and she recommends more people do this when they're fighting circumstances that have grown larger than what they can overcome on their own. That breakthrough first came when she was trying to carry a 30-pound dialysis machine onto the plane. She couldn't afford to check it and didn't realize that she could have kept it on a cart until she boarded. Instead, her body so weakened from kidney failure and often dizzy from dialysis, she carried it all the way to security in tears. "I remember someone asking me if I needed some help – a cart to carry it for me and I was like yes, yes please," she said. "She asked me if I wanted a wheelchair, something I've never used even though at that time I really needed it. I said, 'Yes, I would like one.'" Simply asking for help, which Danimus said is difficult to do when you're trying to hold on to as much independence as you can, gave her a sense of freedom that she hadn't felt in a long time. Moving in with her mom also 'unbroke' her. She's always been close to her parents, Pat and Keith Kuhn, who adopted her as an infant in Oregon after waiting nine years on the adoption list. Danimus recalls her mom saying that they never believed it was for real even after the baby was in their arms. "My mom tells this story about when she was driving away with me and some cops started following her," she said. "She was convinced that they were after her and she couldn't keep me!" All of them felt like they've won the family lottery. "They've gotten to experience everything and beyond with me – an only child, a daughter, and countless illnesses and surgeries," she said. Now back home, it was time for her Danimus and her parents to wait for her name to come up on transplant lists, an experience she now compares to trying out for the movie, "The Right Stuff". "I can't tell you how much blood they took and tested and how many classes, appointments, and other tests I took, to make sure that I was mentally, physically, and even financially ready for a transplant." The one thing she could not control was the timing of when a kidney became available. Hers came in 2011 from an 18-yeard old Oregon boy whose parents donated his kidneys after his death. "Everyone kept calling it a miracle," Danimus said. "It wasn't a miracle. It was a gift." She's been writing a letter to the donor's family for the last year trying to somehow put into words what this gift has meant to her and her family, and at the same time, knowing what losing their son did to their lives. "They say to wait at least a year to contact them out of respect for everything they're going through," she said. "I'll definitely send it and would love to meet them someday. I don't know how I could ever express my gratitude enough for the gift they've given me." Ultimately, the kidney transplant and later the pancreas transplant were both very successful, and it's an ongoing feat to stay healthy. Even after recovering from these surgeries, she still spent another three months in a hotel across from Seattle's Virginia Mason Hospital for continuing tests. She now goes to Sacred Heart in Spokane for all of her follow-up care, which she says offers the best care she's received anywhere in the world. The journey back has been a long one. Following her knee reconstruction surgery in April, she still walks with a limp but other than that you'd never know she was so sick. People are constantly telling her how great her color is now, and it's immediately evident with her dark, striking features and speaking ability why she was once Miss Spokane. Everything that Danimus has gone through has only made her more committed to what she calls her life's work – community outreach and the principle of good works. "You have to really care about what you do and how you treat people," she said. "Take everything out of your heart and make it happen." Now, she's ready for another adventure. A life-long supporter of small businesses, Danimus has teamed up with her mom to start Stubborn Girl Productions. They're producing the 2012 Spokane Valley Wellness and Beauty Expo, Sept. 28-30, which is a health and wellness event Danimus imagined and planned while in her hospital bed recuperating from knee reconstruction. Her inspiration? For people to get the best preventive care possible, so they can be their best selves, and find their personal balance in mind, body and spirit. "Wherever you are right now – whatever you are facing, you owe it to yourself to be your best self. To me that's what true wellness is." It was important to Danimus to make the expo affordable for everyone. It costs $7 to get in, or $5 with two non-perishable food items. Guests will find dozens of vendors offering everything from $3 spa treatments to free health checks. Prevention and affordability top Danimus's reasons for putting on the expo. "One of my next big projects I want to tackle is to write a bill, so I need to find someone in Congress to work with me," she said. "We need to set up a deferment plan for people who get sick to pay their bills when they're able to. I'm not talking about excusing the debt – I mean defer it. "We live in a land of life, liberty, and the pursuit of happiness. Being sick shouldn't stop you from getting those things." Even after being very sick and thankful for so much, Danimus's wish list remains long and ambitious, full of feats she still wants to accomplish, including writing and directing films, starting a dessert company with her mom, and writing songs. But there's one thing that tops all of her passions. And she never realized how much she still wanted it until she was recovering. "I remember lying in the hospital and staring at the walls for hours and thinking about what I wouldn't have if I didn't get this transplant." Now in her early 40s, Danimus would love to get married and have children more than anything else. "I so want that romantic kind of love in my life. As far as being able to have a baby, I can tell you that I can pain-breathe with the rest of them!" Fittingly, she wants to write a song and call it, "What I would have missed." Like she said, she's got it good.
Local journalism is essential.
Give directly to The Spokesman-Review's Northwest Passages community forums series -- which helps to offset the costs of several reporter and editor positions at the newspaper -- by using the easy options below. Gifts processed in this system are not tax deductible, but are predominately used to help meet the local financial requirements needed to receive national matching-grant funds.
Subscribe to the Spokane7 email newsletter
Get the day's top entertainment headlines delivered to your inbox every morning.
---