News > Features
Write It Out: In the end, nothing matters more than love
Mon., April 1, 2013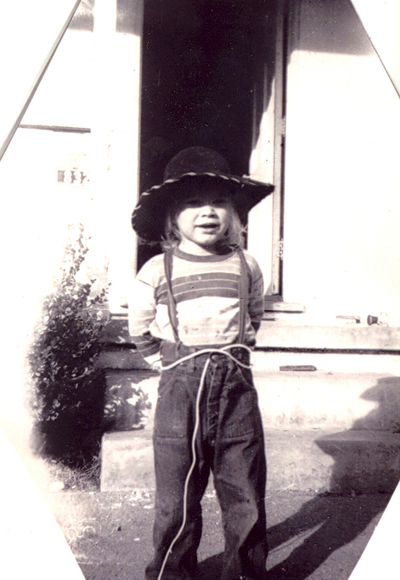 My parents used to say they were rich because they had $2 million worth of kids, namely my brother and me. A million used to be a lot. I'm sure, if they were alive today, they would adjust for inflation.
They were never wealthy in a worldly way, but they did have things they saved as though they were gold. For example, in my father's sock drawer, there were three grape-sized rocks. These were no ordinary rocks. They were blue as berries. This was not their natural state. I painted them when I was 4, a gift for Father's Day.
I remember earnestly dabbing them with paint until they were as blue as water colors could make them. I was on our front porch, sitting in the sun. I watched as they dried, and their color faded from wet ocean blue to a lighter, chalkier shade.
I tried again to apply enough paint to get that dark blue to last, but it was not in the nature of the paint. The rocks didn't turn out the way I'd envisioned, but they were the best gift I had to give.
I put them on a flat pad of cotton in a small cardboard box that my mother had in her junk drawer. When my father opened this gift, his face registered confusion. He had obviously never received rocks before.
My mother told him how I'd worked on them, and it slowly dawned on him that they were special. Sometimes gifts need the back story to be appreciated. He kept them in his top drawer for the rest of his days.
My mother had boxes of my drawings, paintings and handmade books and stories. She had so many love notes from me as a child that she used them as bookmarks in her Bibles and cookbooks.
She tucked them in places where she could surprise herself with rediscovering them. I wish I'd written more to her as an adult, but I couldn't compete with my pure childhood admiration.
Besides, my need for individuation showed up in my teens and conflicted with my idolatry. Such is life.
My parents knew what mattered all along. As it turns out, it's the love wrapped in a gift, not its color, or its size, that matters. It is a parent's job to nurture and release, to save and remember and to enjoy the show.
I still pray to do it well.
Local journalism is essential.
Give directly to The Spokesman-Review's Northwest Passages community forums series -- which helps to offset the costs of several reporter and editor positions at the newspaper -- by using the easy options below. Gifts processed in this system are not tax deductible, but are predominately used to help meet the local financial requirements needed to receive national matching-grant funds.
Subscribe to the Coronavirus newsletter
Get the day's latest Coronavirus news delivered to your inbox by subscribing to our newsletter.
---
Subscribe and log in to the Spokesman-Review to read and comment on this story