Sports > Outdoors
Idaho wolf population decreased by 11 percent in 2012
Wed., April 3, 2013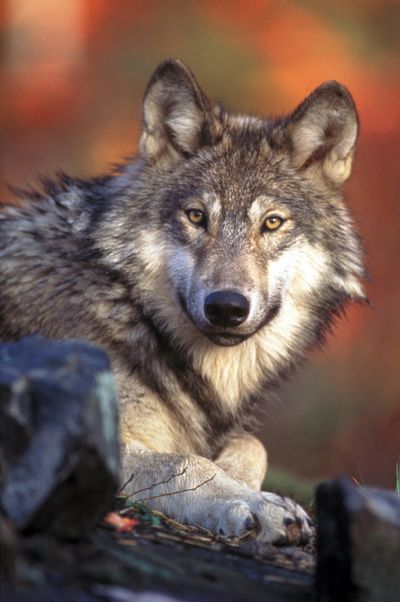 Idaho's gray wolf population fell by 11 percent in 2012, less than wildlife managers hoped for considering the state's extended hunting and trapping seasons plus agency animal control efforts.
At least 683 wolves were living in Idaho at the end of the year, according to the federally required annual state wolf monitoring report released Tuesday by the Idaho Fish and Game Department.
However, the number of packs increased last year, and wolves were occupying territories throughout the state.
Humans killed 418 of the 425 wolves known to have died in the state last year, by hunting, trapping and through federal Wildlife Services control efforts to protect livestock, the report says.
Wolves were confirmed to have killed 73 cattle, 312 sheep and two dogs in Idaho last year.
"Despite concerns expressed by some people that hunting and trapping would eliminate wolf packs, we haven't found that to be the case," said Jon Rachael, Fish and Game's state wildlife manager in Boise.
"We documented more packs in the state than ever before in our normal monitoring through ground and aerial observations during the year, combined with remote cameras, hunter observations, public reports and (hunter-trapper) harvest information."
While the number of wolf packs increased, the average size of the packs decreased, Rachael said.
"That is exactly what we would expect to see with wolves being harvested by hunters and trappers," he said. "Average pack size peaked in 2008 prior to our first hunting season, when we estimated an average of slightly more than eight wolves per pack, and has declined since then to about five wolves per pack now."
State wildlife managers favor a steeper reduction in wolf numbers that burgeoned beyond federal expectations after the carnivores were reintroduced to Idaho in the mid-1990s. Endangered species protections and lawsuits kept Fish and Game from controlling wolf numbers for 14 years.
The wolf population peaked at 856 in 2009.
The wolf conservation and management plan approved by the 2002 Idaho Legislature calls for maintaining at least 150 wolves statewide. The U.S. Fish and Wildlife Service approved that number when wolves in Idaho and Montana were removed from the endangered species list in 2009, Rachael said.
Montana also has reported a decrease in wolves in its 2012 annual report, the first significant decrease since wolves were reintroduced.
In Washington, where wolves are still under endangered species protections, the number of wolves increased significantly from 2011 to 2012, with the number pegged at around 100.
Oregon also reports increasing numbers of wolves as their range expands westward.
Idaho biologists documented 117 packs in the state at the end of 2012 – an increase of seven from 2011 – plus 23 border packs that overlap in Montana, Wyoming and Washington.
But total numbers of wolves have gradually decreased because of hunting and trapping.
Of the 66 Idaho packs known to have reproduced last year, 35 packs have breeding pairs, the report says. Those reproductive packs produced a minimum of 187 pups.
A new crop of pups will be born in dens across the state this month.
The Panhandle Zone was occupied by 15 documented resident packs in 2012 – up three from 2011 – plus five known resident border packs, three suspected packs and one other documented group during 2012, the report says. Three new resident packs were documented in 2012.
Local journalism is essential.
Give directly to The Spokesman-Review's Northwest Passages community forums series -- which helps to offset the costs of several reporter and editor positions at the newspaper -- by using the easy options below. Gifts processed in this system are not tax deductible, but are predominately used to help meet the local financial requirements needed to receive national matching-grant funds.
Subscribe to the sports newsletter
Get the day's top sports headlines and breaking news delivered to your inbox by subscribing here.
---