News > Spokane
Councilman Fagan didn't violate ethics rules, panel finds
Thu., April 4, 2013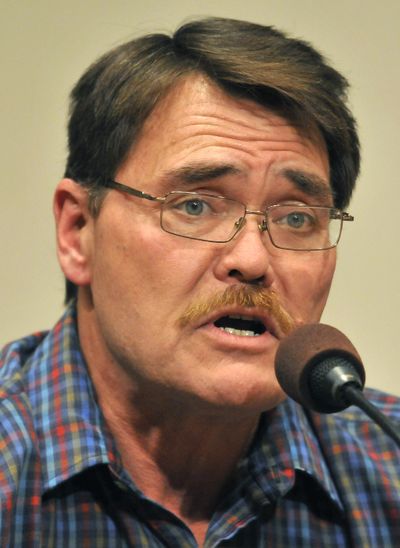 Councilman Mike Fagan's description of Gov. Jay Inslee as a "lying whore" was provocative and controversial but apparently doesn't violate the city's ethics code.
The Spokane Ethics Committee unanimously ruled Wednesday that the slur, which was included in a February letter signed by Fagan and two others, didn't violate ethics rules because it's unclear whether the comment harmed the city. Committee members also say Fagan's free-speech rights likely trump the city ethics code.
"We can't really tell a public official what they can and cannot say," committee member Monica Holland said. "Political speech is one of the most protected types of speech that we have in this country. So while the conduct may be perceived to be unprofessional and unbecoming to a publicly elected official and perhaps reflect badly on our city, I don't know that we can really enforce anything, because it's free speech at the end of the day."
Fagan and two other co-directors of a group that advocates for lower taxes criticized Inslee in a fundraising letter. Fagan, his father, Jack Fagan, and Tim Eyman are the co-directors of Voters Want More Choices, which works to place initiatives on the statewide ballot.
Spokane resident Kris Byrum, a Democratic Party precinct committee officer, filed the complaint against Fagan on Feb. 28.
He alleged that Fagan violated city rules barring officials from "professional activity" that "might be seen as conflicting" with the official's "proper discharge of his official duties, the conduct of official city business or as adverse to the interests of the city."
The other six members of the City Council and Mayor David Condon have said the slur was inappropriate, but Fagan has stood by the letter. Fagan argues that he wasn't acting as a city councilman when it was sent.
"While I would tend to agree that a statement like that shouldn't come from a city councilman, it didn't," he said in February. "It came from the principals of a political action committee whom on their own time, using their own resources sent an email to convey information and express frustration towards another politician who has gained tremendously through lies."
But the Ethics Committee appeared to reject that argument when it voted 5-1 that it had jurisdiction to consider the case after one member, Stephen Sennett, said Fagan wasn't acting in his official capacity when he helped craft the letter.
"A councilmember does represent the community 24/7 in a way," said Troy Bruner, the chairman of the committee. "However, all of us regardless of whether we are elected officials are citizens first, with First Amendment rights that I think it's safe to say trump the ethics code."
Voters Want More Choices has argued that Inslee violated campaign promises because he supports extending temporary tax increases. Inslee says his position is consistent because he's not arguing for increasing taxes that aren't already in place.
Local journalism is essential.
Give directly to The Spokesman-Review's Northwest Passages community forums series -- which helps to offset the costs of several reporter and editor positions at the newspaper -- by using the easy options below. Gifts processed in this system are not tax deductible, but are predominately used to help meet the local financial requirements needed to receive national matching-grant funds.
Subscribe to the Coronavirus newsletter
Get the day's latest Coronavirus news delivered to your inbox by subscribing to our newsletter.
---