News > Features
Colville's Selecky set to retire as state's secretary of health
She leaves a legacy of swift action and community outreach
Sun., April 14, 2013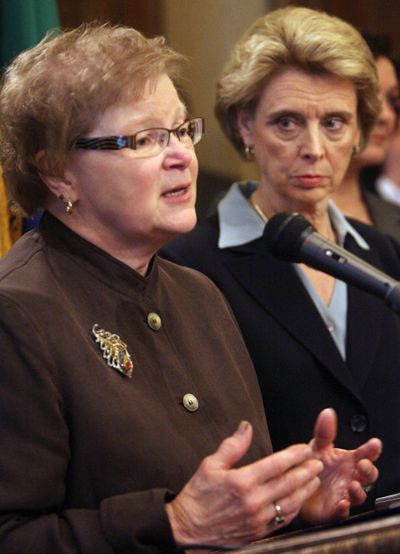 Mary Selecky's twice-monthly round-trip drives across the state, Olympia to her home near Colville and back, took seven hours each way, which she took as an opportunity to appreciate the perks of a public health system: safe drinking water at rest stops, a connected EMS and trauma-center network in the event of a crash.
Washington's secretary of health said she's made it a priority to stay in touch with community, or communities – and keep the far-flung ones in mind alongside urban areas as she and other state officials made decisions that would affect residents' health throughout the state.
When she hits the road again in a month or so, after tying up loose ends in the capital, she'll stay for good this time in Colville, at the house she's considered home in the community she's considered her own since moving to the Northwest in 1974.
Today is Selecky's last day as secretary. John Wiesman, who previously ran Clark County Public Health, will take over Monday.
The Department of Health has 1,600 employees and a two-year budget of $1 billion. Selecky, 66, has led successful campaigns to slash smoking rates and raise vaccination rates. She helped orchestrate state responses to mad cow disease, the H1N1 pandemic and the debris that landed on Washington shorelines after the Japanese tsunami.
"I stood in a doorway during the Nisqually earthquake, and was told later I should have been under the table," she wrote in an email to staff announcing her retirement.
A 2006 series of articles in The Seattle Times found that the Department of Health had let hundreds of doctors, counselors and other health care professionals across the state keep practicing despite their sexual abuse of patients. In response, Selecky launched "unprecedented" reforms to investigate sexual-misconduct complaints more thoroughly and, when warranted, suspend licenses more rapidly, the Times reported.
Dr. Joel McCullough, Spokane County's health officer, called her a "godsend" who has shepherded the state through changes in public health.
Selecky is a skilled communicator, McCullough said – listening to experts before making a decision, getting important messages to the public. In 2009, as swine flu cases mounted, Selecky traveled with then-Gov. Chris Gregoire to Spokane to get their vaccination shots in front of cameras at a press conference.
"Pretty much everyone" knew Selecky at a national conference McCullough attended recently in Chicago, expressing their good wishes for her retirement.
"She's definitely known not just at the state level but at the national level," McCullough said.
Her job running the Department of Health was supposed to be temporary, a few months at the helm starting in late 1998 while state leaders searched for a new director.
Intending to return to her job as the head of the Northeast Tri-County Health District, Selecky figured she'd be less able to make a difference at the state level than leading public health efforts in Stevens, Pend Oreille and Ferry counties.
"What I learned, and was told by people working with me, was that I brought a different perspective and it was very much needed here," she said.
When Gov. Gary Locke asked Selecky to stay on permanently, she agreed. She said she believes she's been successful in representing the state's eastern and rural interests in Olympia, delivering testimony about the challenges facing public health in rural areas and over large geographic areas.
A public health nurse might drive an hour for a home visit, she'd explain, or an environmental health specialist might travel from Colville to Republic to check septic tanks. Or a nurse practitioner must cover long roads throughout three counties to deliver family planning services throughout.
"When you're in state government, it's almost like there's a bubble around you sometimes," Selecky said.
Marking successes
Selecky spent some of her last days in office marking successes, listening as staff members presented projects they'd chosen for themselves and celebrating the department's recent accreditation through the Public Health Accreditation Board. (Washington and Oklahoma were the first states to earn the designation. The Spokane Regional Health District also earned approval. Of the 130 departments nationwide that applied, only 11 earned accreditation.) Selecky hosted an office open house, greeting staff members and friends.
She said her passion for public health started in Colville, a city now home to about 4,700 people 70 miles north of Spokane. That's where she "landed" in 1974 after serving as an assistant dean at Sarah Lawrence College in Bronxville, N.Y., and the University of Pennsylvania in Philadelphia, where she'd studied political science and history and served in student government.
In 1975 Selecky started doing economic development work in Ferry, Pend Oreille and Stevens counties. She was soon running the Tri-County Health District. Upon seeing how the health district touched people's lives, she said, she was hooked.
Back then, the role of public health was largely to provide services for people who lacked health insurance. They could get their babies immunized against diseases or get family planning services or apply for WIC through the local health department. Parents-to-be who couldn't afford prenatal doctor's visits could talk to public health nurses.
But the role of public health has evolved. It will always have some basic responsibilities, such as combating disease outbreaks like last year's whooping cough epidemic, Selecky said. The Department of Health runs disease-prevention and immunization programs, licenses health care professionals, investigates outbreaks of disease and prepares for emergencies.
At its root, the department's job is to improve and protect people's health. But now, rather than providing direct services, that more likely means trying to get people to change behaviors that lead to illness and chronic disease, Selecky said.
In the late 1980s, for example, changes in Medicaid allowed low-income pregnant women to receive care earlier.
"That was a gift, because public health knew that if moms got good prenatal care, they would have a healthier baby and a healthier outcome," Selecky said. "So we could focus then on how we could help families create a learning atmosphere for their children to grow up in, work with families who had smokers to smoke outside so babies' lungs wouldn't get smoke in them."
Results from that kind of work are harder to measure, though, at least in the short term. That can be frustrating for a public that wants quick results – and for the public health workers who know the changes they're seeking take time.
It took 10 years to demonstrate that fewer smokers mean fewer hospitalizations for heart- and lung-related illnesses, she said: "Public health takes patience."
Future work
Selecky's leadership on a national level has included terms as president of the Association of State and Territorial Health Officials and on the board of directors of the National Association of City and County Health Officials. Her honors include an award in 2010 from the American Medical Association for outstanding government service.
In retirement, Selecky said she'll continue to work on national organizations, and she might teach. She's now a clinical professor in the University of Washington's School of Public Health, and she said she likes being in a classroom.
After 34 years in public health, she'll reintegrate into her community and reconnect with friends in Stevens County and Spokane.
"I live at 3,600 feet elevation, and the sunsets are fabulous and the sky full of stars and planets are just incredible," she said. "I need to be able to breathe that mountain air and just be and figure out where to invest my time. What I do know is it's certainly got to touch my heart."
Local journalism is essential.
Give directly to The Spokesman-Review's Northwest Passages community forums series -- which helps to offset the costs of several reporter and editor positions at the newspaper -- by using the easy options below. Gifts processed in this system are not tax deductible, but are predominately used to help meet the local financial requirements needed to receive national matching-grant funds.
Subscribe to the Coronavirus newsletter
Get the day's latest Coronavirus news delivered to your inbox by subscribing to our newsletter.
---
Subscribe and log in to the Spokesman-Review to read and comment on this story