WSU class offers a taste of wine for those over 21
House bill could allow all students in course to sample drink to study it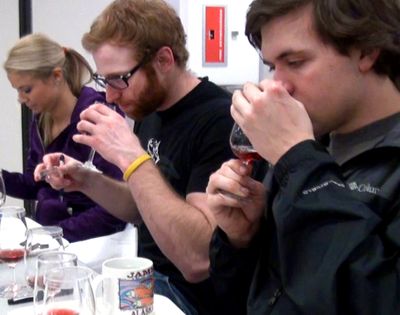 To taste or not to taste?
That is the question during the first lab of Carolyn Ross' Sensory Evaluation of Food and Wine course at Washington State University. Those who wish to taste wines must have their driver's licenses checked, just as if they were at the local bar.
Students 21 or older get half-ounce samples of red and white wines to swirl in their mouths for five to 10 seconds before spitting them into cups.
Underage students are relegated to tasting grape juice and olive oil.
"The most important thing is developing (their) palate and … ability to taste things," said John Hockersmith, a 21-year-old viticulture and enology major. "(Underage students are) exposed to all these terms for wine faults and flaws and positive attributes, but (they're) only exposed to them as terms."
This tasting segregation could change, however, thanks to House Bill 1459, which Hockersmith helped shape. Hockersmith, a native of Waitsburg, Wash., wrote a draft of the bill as a high school student.
The bill would create permits allowing college students 18 and older to legally taste – but not consume – wine while enrolled in approved viticulture or enology programs. Other states including Illinois, Colorado and Rhode Island have similar laws.
Washington State University, Central Washington University and four state community colleges currently have such programs, all helping contribute to the state's $437 million wine industry, supporters say.
In the classroom
When Ross, an associate professor in WSU's College of Food Science, began teaching her lab course seven years ago, she said, underage students were not even allowed to smell the wines. Although Ross said alcohol absorption does occur when students spit out the samples, it's not enough to impair a person's judgment.
"It's very, very little," she said.
The wine is always paired with food samples, Ross added, and students consume water and crackers between tastes. A teaching assistant is also present during the sampling.
Ross also looks at how many milliliters of wine she gives each student, then calculates how their blood-alcohol content would be affected if the same amount were ingested. The alcohol content of the wines is comparatively low, Ross said.
"It's not like we're giving them spirits or port or sherry," she said.
The issue of students swallowing samples or being affected by them has never been an issue, Ross said. Part of that might be due to the fact that wines are – in her words – "pretty bad."
Often, cheap jug wines are used, Ross said, doctored with things like bitterness compounds to simulate what bitter wines would taste like.
For the students in Ross' class, the wine is about learning, not drinking.
"I don't think anybody wants to go to class and get hammered," said Lisa Piontek, 21, a senior food science major. "No one's that stupid."
Ross and Piontek said they believe underage students are missing out by not sampling the wines, which Piontek said contains characteristics that grape juice and olive oil simply lack.
"It's nowhere near the same thing," she said. "So it's like, 'How are you supposed to get the same attributes and then recognize them in something that is not nearly the same product?' "
Being coached on what to taste is critical to the learning experience, Piontek said.
Wine-less in Walla Walla
Riley Miller knows what it's like to miss out on wine tasting.
Miller, now a 22-year-old senior viticulture and enology major, is also president of WSU's V and E Club, which leads a wine-tasting trip each fall.
On Miller's first trip, he was underage.
"It was cool to see the wineries and the vineyards and stuff, but then to not really get to experience the wine itself, the final product, was kind of a bummer," Miller said.
For Miller, who was drawn to the scientific aspects of the winemaking, turning 21 allowed him to experience the synthesis of chemical compounds he'd only previously studied.
On off-campus trips like these, Miller worries that House Bill 1459 could create regulation issues.
"It's not like people are standing right there and watching every sip you take," he said of attending a wine tasting. In the relaxed atmosphere of such an event, Miller said, the opportunity to keep drinking wine, even if underage, is certainly possible.
Still, he reiterated that the field trips aren't about getting away with anything. Rather, they are about learning things that cannot be learned in organic chemistry or microbiology classrooms.
"To be honest, a lot of us aren't trying to go around and just drink as much as we can," he said. "We're just trying to learn about the wine."
---