News > Features
Campaign to 'spread the word to end' the R-word is spreading
Thanks to those most closely affected
Sun., April 21, 2013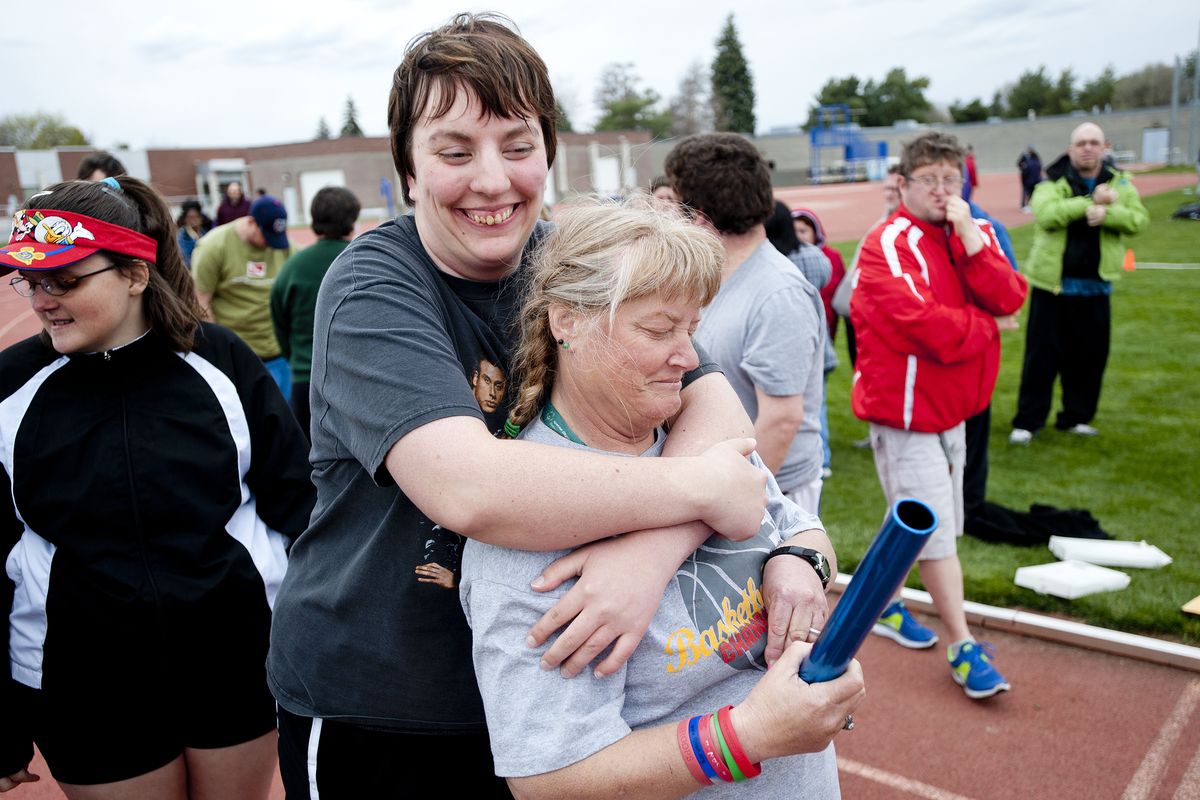 Amanda Moore hugs teammate Robin Ainsworth, right, before they work on the 400-meter relay during a Special Olympics track practice recently at Spokane Community College. Amanda, who was born with autism, is featured in a video made by GU students to banish the R-word (retard and retarded) from our culture. (Tyler Tjomsland)
Greg Falk was in a department store in the Spokane Valley Mall a few years ago, waiting in line at a cash register situated near a display of dresses. A woman, who looked to be in her early 20s, pulled a dress off the rack and said, "Oh, this dress is so retarded."
Falk, executive director of The Arc of Spokane, an advocacy and service organization for people with disabilities, didn't say anything.
But he would today.
Vicky Moore's daughter, Amanda Moore, is 26. As a person with autism, noise and chaos agitate her. When she was 12, she grew flustered at NorthTown Mall and started shaking her arms and hands. A boy saw her and said: "Look at that retarded girl."
Moore looked at the boy's mother. The boy's mother shrugged. Moore didn't say anything.
But she would today.
There is a nationwide campaign urging people to stop using the "R-word" which stands for "retard" or "retarded." In March, Gonzaga University students created a video featuring students and their friends with intellectual disabilities – all urging an end to the R-word.
The "spread the word to end the word" campaign is spreading, thanks to men and women who have been labeled with the R-word, and family and friends who love them.
• • •  
When Vicky Moore, 54, was in elementary school in the 1960s, children with intellectual disabilities were often hidden in homes and in institutions.
The terms mentally retarded, moron, imbecile and mongoloid (for people with Down syndrome) were commonly used in the first half of the 20th century, not only in society but in medical textbooks and legal documents.
Tim McLaughlin, interim chairman of GU's special education department, said when he first entered the field in the 1960s, the profession was finally doing away with "IQ categories such as dunce and idiot."
At Salk Junior High, as the school was known in the early 1970s when Moore was a student there, students with disabilities were taught in the portables away from the main school building. They were allowed into the main building for lunch, but never allowed to eat with the "regular" students.
Moore was one of five students selected to help tutor the students in the portables.
Her mom later told her, "I think the Lord was preparing you for Amanda," Moore said.
By the time Moore attended Shadle Park High School – she graduated in 1976 – national legislation had passed guaranteeing children with disabilities the right to a public education. By that time, too, the most offensive words describing people with disabilities had disappeared. But the term retarded lingered for decades.
It wasn't until 1992, for instance, that the national organization – the Association for Retarded Citizens – changed its name to The Arc, and the new name was not an acronym.
"We changed our name 21 years ago, but some people still think we're the Association for Retarded Citizens," Falk said.
• • •  
Megan Edmonds, a GU senior, has a brother with a disability. She is now one of the coordinators of Gonzaga University Specialized Recreation, an outreach program where students buddy up with community members with disabilities.
The organization sponsors sports activities, puts on plays and throws seasonal parties.
The group's mission: "Creating a safe place that fosters equality and inclusion."
Edmonds and Megan Soldati, a sophomore, were the prime movers behind the recent campus campaign to end the R-word. In March, they asked students to sign a pledge to no longer use the word; nearly 500 did. And the two women oversaw the making of a two-minute video, now on YouTube, that shows students and community members making the pledge.
In the video, the participants hold up signs showing what they are interested in. Examples: "Being sassy" and "being artistic."
Amanda Moore is in the video. Her sign reads "basketball."
It's a powerful, fast-moving video, filmed by GU student Andrew Opila, in which the word "retarded" is never used.
"The word hurts," says one of the community members. The video urges people substitute the R-word with another word that starts with r – respect.
Students in the specialized recreation program are R-word activists.
"When you're in high school, kids just want to fit in, and they throw these words around and don't think about the implications," said Soldati.
When she hears her peers use "retard" or "retarded" she calls them out. She says "Can we use a different word?" She tells them about the campaign. Then she says: "I have friends in that population, and it's not fair."
When Edmonds sees the word on social media sites, such as Facebook, she sends friends an open letter penned by John Franklin Stephens, a Special Olympics athlete, who explained to conservative pundit Ann Coulter why he was offended when she called President Obama a retard in 2012.
"You assumed that people would understand and accept that being linked to someone like me is an insult and you assumed you could get away with it and still appear on TV," Stephens wrote. "Well, Ms. Coulter, you, and society, need to learn that being compared to people like me should be considered a badge of honor."
• • •  
So at this point some may be wondering, as Coulter did, if the R-word campaign is an overreaction by the "word police" as she called them.
But retard and retarded are always said as put downs, whether describing people or things. It is never a term of endearment, never a compliment, say the people involved in disability awareness.
"It's a slur," McLaughlin said. "It's meant to degrade them, degrade their behavior, call their behavior childish."
When a co-worker used retard one day, Moore said "Whoa, whoa, whoa." The coworker said: "I didn't mean Amanda."
Moore said: "When you refer to someone like that, you are talking about my daughter and her best friends."
Moore said society has successfully buried cruel names. The racial epithet once used so freely to describe African Americans is rarely heard anymore, except when said by comedians who often get in trouble for it, too. Derogatory words that once described Jews, Italians and the Irish have pretty much disappeared.
At a recent Special Olympics track practice at Spokane Community College, Moore sat in her warm car while Amanda ran laps in the biting spring cold.
Amanda Moore took a break, ran over to the car and offered her opinion on the R-word.
"The R stands for retards," she said. "That's not a nice thing to say. Don't call people bad names."
Amanda Moore was the fourth child born to Chuck Moore and Vicky Moore.
The parents knew soon that things weren't quite right. The autism diagnosis took awhile, but the parents used every resource possible for Amanda Moore while not treating her any differently than her siblings.
They feel blessed that society no longer hides children like Amanda.
At Horizon Middle School, which Amanda attended from 1999 to 2001, "the principal there had zero tolerance for anyone calling them retarded, calling them weirdos, making fun. They weren't just disciplined for it. They were sent home," Moore said.
At University High School, where Amanda Moore was well-known for high-fiving everyone in the halls, she was welcomed on the cross-country team, and received ear-splitting applause at graduation in 2005.
"They loved her," Moore said.
Amanda Moore was not called the R-word in school, because students knew her personally. But Vicky Moore is prepared for the next time a stranger calls her daughter the R-word.
She will say: "You are labeling her. You don't even know her. You don't know her capabilities. She is so beautiful, so compassionate, so caring.
"When you say those words, you tear a mother's heart out."
Local journalism is essential.
Give directly to The Spokesman-Review's Northwest Passages community forums series -- which helps to offset the costs of several reporter and editor positions at the newspaper -- by using the easy options below. Gifts processed in this system are not tax deductible, but are predominately used to help meet the local financial requirements needed to receive national matching-grant funds.
Subscribe now to get breaking news alerts in your email inbox
Get breaking news delivered to your inbox as it happens.
---