Sports
Playfair memories rekindled 10 years after its demise
Sun., April 28, 2013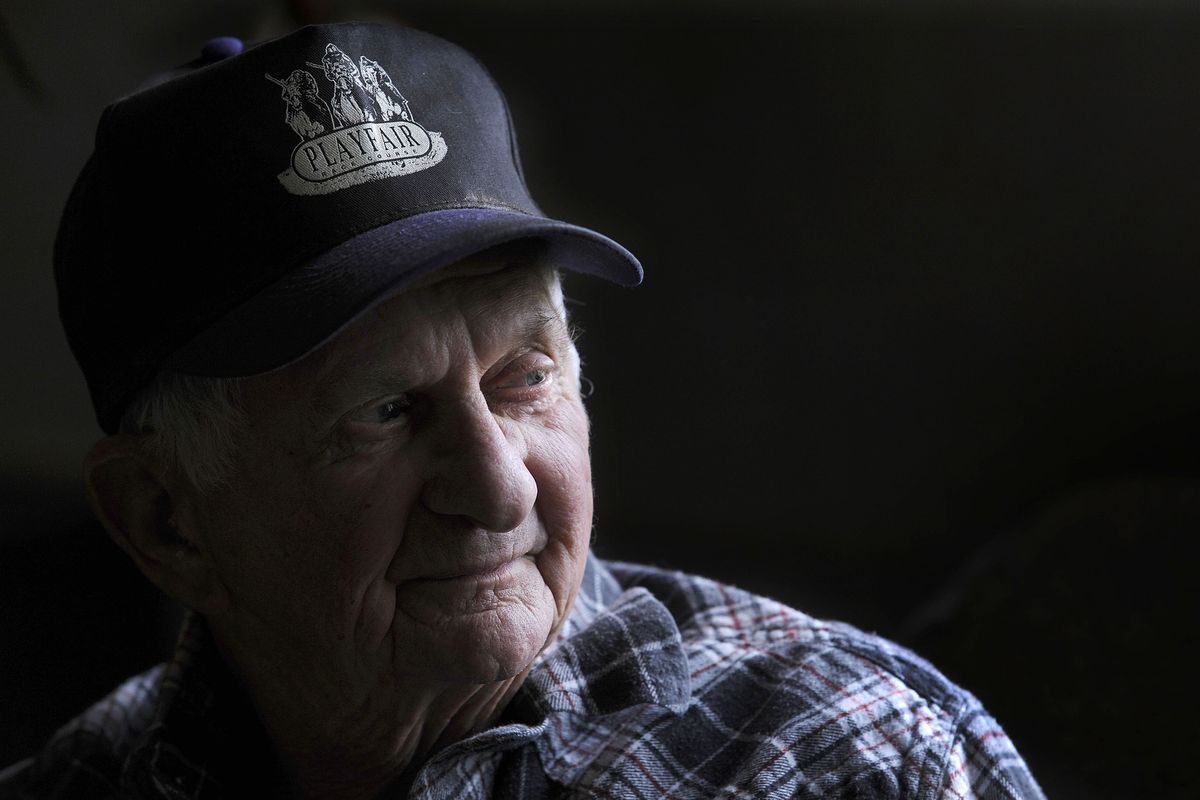 Fred Lambert, a horse trainer's son from Deer Park, rode horses at Playfair Race Course for three decades, starting in 1950. (Kathy Plonka)Buy a print of this photo
Gilbert (Bud) Simonis and Fred Lambert once rode horses for a living, and they are so old, they remember Playfair Race Course before it came to glory.
Although Playfair is gone, Simonis, 88, and Lambert, 80, survive as relics of a sport that, in Spokane alone, entertained close to 13 million people for nearly 120 years.
Simonis won three local jockey championships. Lambert occupied a nearly permanent spot in the standings for almost three decades. Both recall the original Spokane Interstate Fair's down-at-the-heels remnants. They watched its transformation into a modern and prosperous middle-market facility. Playfair attracted turnstile-spinning crowds, record wagering totals and better competition during an era when there was a national racing story in this newspaper almost every day.
In retirement, Simonis and Lambert have endured a quarter-century of decline that claimed, not only Playfair, but a significant portion of the state and national racing industry.
Inland Northwest newcomers may be surprised to learn that there was horse racing in Spokane. But for the rest of us, time flies. The 10th anniversary of its official demise is less than a month away. The site, historic, not just old, was leveled. Now, it's an industrial park.
The local sport of kings left behind a lot of memories. We will get around to Turbulator.
Hall of Fame jockeys rode here. Regional equine celebrities raced here. The best trainers, including a few national names, campaigned here. The grandstand was among a handful of the oldest in the country. The Spokane Derby was the oldest stakes race in the West.
Beginnings
Spokane's first quality racing took place at the Washington and Idaho Fair, which operated seven years, starting in 1887. It had races for thoroughbreds and harness horses. After a credit crisis caused by the nationwide Panic of 1893 bankrupted the fair, the grounds were redeveloped into Corbin Park and its neighborhood of vintage homes.
When the 20th century brought fresh enthusiasm for an annual celebration, the county bought 63 acres in a triangle formed by the Northern Pacific and Oregon Railway and Navigation (Union Pacific) tracks, just north of Main and Altamont. The Spokane Interstate Fair, its grandstand designed by upscale architects Kirtland Cutter and Karl Malmgren, opened on Sept. 10, 1901. Its narrow entrance under the ORN trestle remains in place today.
The Spokane Derby became the fair's clear-cut star. A few nationally known horses won it. Daughters of prominent citizens served as derby queens.
Before 1945, a derby was the major race at most smaller tracks, not restricted, as it is today, to 3-year-olds. So it was that Cyclonic, owned by Ruth Parton, of Toppenish, Wash., eventually the first licensed female trainer in the U.S., won the race three times running.
Fairs typically included six days of horse racing. Top Western stables, including those of Hall of Fame trainer Guy Bedwell and the legendary C.B. Irwin, ran here. Albert Johnson, from nearby Milan, began his career here in 1916. Several years later, he won the Kentucky Derby and Belmont Stakes twice each.
Human and equine talent peaked from 1911 through 1913, after Spokane backers promoted a 1-mile course near Post Falls. Named the Alan Track, its development was a consequence of the Washington legislature's 1909 decision to outlaw pari-mutuel betting. However, after three two-month seasons, Idaho joined the national campaign against gambling.
Nonetheless, the Interstate Fair and other fairs continued racing until interest waned in the face of The Great Depression. In 1930, the board called it quits. Organized racing stopped.
Three years later, with states becoming desperate for income, horse racing launched a national comeback. Washington's legislature approved a new pari-mutuel bill, and Gov. Clarence Martin signed it into law on March 20, 1933. Almost at once, Seattle real estate mogul Joe Gottstein and partners opened Longacres on a former dairy farm near Renton.
Opening day
Spokane people took more than a year to drum up a race meet of their own. On Aug. 30, 1935, with white and green paint sprucing up the leased old grandstand, Playfair Race Course launched a 16-day season. Hotelman Vic Dessert had suggested the name.
Bill Robertson steered Choice Caller to victory in the Inaugural Purse and went on to become the first jockey champion. On Sept. 1, Basil James, from Sunnyside, Wash., rode his first official winner. The next year, he led the nation in wins. Johnny Adams won the Playfair and national titles in 1937. After decades as a major-league jockey and trainer, Adams joined Johnson in the National Horse Racing Hall of Fame.
Simonis, a graduate of half-mile county fair tracks on Blue Mountain Circuit, first came to Playfair in 1941. Lambert, a horse trainer's son from Deer Park, began riding here in 1950, wearing a 10-pound lead vest because he weighed so little.
Both men found a shabby facility that stabled most of its horses in old fair barns far from the track, near the main entrance and across from Ferris Field, the home of the Spokane Indians baseball team. A vintage hall behind the grandstand housed most of the others. And they recall the wooden jockeys quarters above the trackside indoor paddock.
"There were 12 stalls in the paddock," Lambert said, "but they couldn't use two of them because the sewer pipes flooded them every time someone flushed the toilet."
Over the next two decades, both men marveled as the physical plant evolved.
The boom years
Inland Empire Fair & Racing Association assumed ownership following World War II. Beer distributor Frank Granger began a two-decade run as president and, eventually, general manager. The track was expanded to five furlongs. The stable area was built. And, following a seat change on the board, more expensive improvements took place after assistant George C. Manos was promoted to general manager. Box seats were added, a glass-walled Turf Club was created, concessions stands were overhauled and siding was added to the grandstand exterior.
Business also improved. The 42-day 1960 season attracted 184,322 fans and wagering averaged $176,902. With 69 days in 1979, 290,901 customers bet $328,134 a day.
"This was my favorite track, everything considered," said Simonis, who became the state of Oregon's racing supervisor. "There were nice people to ride for, and I liked bullrings because that's what I started on. It came to be a really nice track."
Simonis, Vic Bovine, Bud Zollinger, Joe Baze, Paul Frey, Glen Dixon, Gerald Hunt or Lennie Knowles usually led the riders over the next 20 years. Lambert, who won two Yakima Meadows titles, often ranked with the leaders. Most of them starred as well at Longacres or Portland Meadows. Frey and Knowles contended for the national championship.
Richard Wright, Jerry Taketa and Mike James then took the spotlight. Pioneer female riders Violet "Pinky" Smith and Jane Driggers joined the leaders. Lengthy seasons in the 1980s led to big numbers for Jose Corrales, Akifumi Kato, Terry Motschenbacher, and Jerry Pruitt.
Scott Bergsrud had a meteoric run in the '90s before he, like Motschenbacher, ended his career in disgrace, charged with attempting to improperly influence the outcome of races.
E.A. "Sleepy" Armstrong, Ernie Heavner, Henry Mackelprang, Emil Mann and Bert and Bob Baze, from the state's first family of racing, were early training standouts. Some of them had saddled horses at the Interstate Fair. Hump Roberts, Glen Williams, Lou Krall, Pete Elixman, Walt Schnabel and twin brothers Roy and Troy Taylor followed.
N.E. "Nub" Norton, Bill Cummings, A.J. "Dutch" Branenburg, Tom Crawford and Bert Baze's sons, Carl and Earl, headed the next crop. Walt Tarter, Tom Roberts, owner-turned-trainer Joe Rizzuto, Fred Hepton, Bruce Wagar, Tim McCanna and his father, Dan, and female champions Kim Wright and Helen Morgan dominated the remaining years.
After World War II, Playfair developed its first comprehensive stakes schedule, allowing the track to create long-term equine stars.
Lighted Way was the first. The stretch-running chestnut won eight stakes over the span of four seasons and placed in several others. Collaborator generated talk of greatness in 1958. After starring at Longacres, he carried 134 pounds to a Spokane Derby victory and hauled a staggering 137 to a wire-to-wire, track-record triumph in the Playfair Mile.
Aryess, Crawford's first durable star, won four stakes and placed in five others over four years. The filly Smogy Dew dazzled fans by winning the 1963 Spokane Futurity and, in 1964, the Longacres Derby and the Spokane Derby.
Crawford's next star, Turbulator, eclipsed them all.
"Tubby" did not race until 1969, when he was 4. After starting the meet as a non-winner, he strung together seven show-stopping victories capped by the Playfair Mile and the 2-mile marathon.
He became 1970 Horse of the Meeting at all three of the state's tracks. Along the way, he set a world record for 6 1/2 furlongs and endured the best-known defeat in regional history when a broken stirrup left jockey Larry Pierce with an out-of-body experience that still left them beaten by fewer than three lengths in the Longacres Mile.
Ruler's Whirl, Tall Ben and Matinee Girl starred in the 1970s. Two-year-old Black Mackee capped the decade with a pair of dazzling 1979 victories. His daughter, Miss Mackee, overpowered the '80s, winning a record 11 Playfair stakes races as she and two other fillies, Just Like Mama and Mary Mackee, nearly overshadowed the fine sprinter True Intent and another top 2-year-old, I'llgetuintheend.
The decline sets in
Since then, many tracks, several in cities larger than Spokane, have closed. Even the best venues appear to be short of horses. Most wagers come from bettors scattered across the country.
In 1981, car dealer Jack Pring's Appleway Leasing Corp. bought Playfair and ran it for eight seasons. Rizzuto, the former trainer, led a horsemen's group that leased it from Appleway for three years. Electrical contractor Stan Horton leased it for four. Finally, self-financed Playfair Racing Inc., tried to keep it going. In May 2002, Las Vegas casino developer Eric Nelson proposed a revival. He gained an operating license, opened the doors for off-track betting and secured racing dates. But, on May 27, 2003, frustrated by a poor legislative outlook and uneasy relations with local horsemen, he surrendered his license.
Here's what those latter-day operators faced:
In 1985, Washington breeders counted 2,251 foals. By 1991, the crop had eroded to 1,717. Twenty years after that, according to The Jockey Club's 2013 Washington Fact Book, the total was 327, a decline that more than doubled the national rate. In 1991, Washington had 292 days of racing. Last year, there were 87.
Playfair attendance, which had averaged above 4,000 a day for 30 years, began to fall after its racing seasons became much longer in the 1980s. Wagering faltered, too. By the mid-1990s, the track was on the ropes. And, after the Washington Horse Racing Commission thwarted a Muckleshoot Tribe takeover in 1996, it conducted only three more meets. The last, a late-fall season plagued by bitter weather, ended on Dec. 17. 2000.
Simonis, Lambert and others focus on the thousands of lost jobs, permanent and part time, at the tracks and on the farms. Predictably, many owners, breeders and former officials blame alternative forms of legal gaming. Greyhound racing had a fling. Several claim the racing commission was far too slow to adapt to changing times. Others believe that the owners of Emerald Downs, feeling vulnerable to competition, strangled the industry.
Ralph Vacca, retired longtime manager of the Washington Thoroughbred Breeders and Owners Association, said 1980s tax-law changes made it much more difficult for owners and breeders to write off their expenses.
"If you go back to when things were flying high, you had all kinds of pretty wealthy guys involved in horses," Vacca said. "I absolutely believe that when these laws were changed, not in their benefit, they bowed out. That was the beginning of the downfall."
Vacca said horse sales also suffered as a consequence and "trainers lost a lot of clients." And when the breeding industry contracted, land went out of service.
"Agriculture is still the biggest business in the state," he said. "We (the industry) have not done a good job of promoting the value of agriculture to the economy."
Appleway Leasing sold most of Playfair's land to the city for $6.3 million. In 2004, the grandstand, offices and barns were demolished. In 2009, after altering its plan to build a sewage treatment plant, the city sold its 48 acres to SCAFCO, a local firm, for $2.1 million. The site became Playfair Commerce Park.
"Horse racing was a victim of the new way," said Ross Yearout, who rose from part-time mutuel clerk to general manager for the final season. "I still miss it like you can't believe."
Susan van Dyke contributed additional research and photographs from the resources of the Washington Thoroughbred Breeders and Owners Association.
Local journalism is essential.
Give directly to The Spokesman-Review's Northwest Passages community forums series -- which helps to offset the costs of several reporter and editor positions at the newspaper -- by using the easy options below. Gifts processed in this system are not tax deductible, but are predominately used to help meet the local financial requirements needed to receive national matching-grant funds.
Subscribe to the sports newsletter
Get the day's top sports headlines and breaking news delivered to your inbox by subscribing here.
---