News > Spokane
Former NBA star Craig Ehlo arrested
Ehlo expected to appear in court Friday
Aug. 1, 2013 Updated Thu., Aug. 1, 2013 at 3:57 p.m.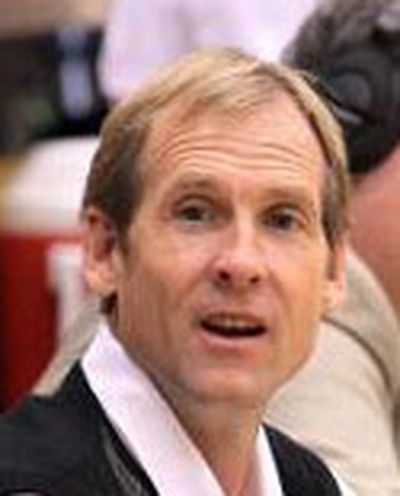 Local basketball star Craig Ehlo, who played in the NBA and most recently coached at Eastern Washington University, was arrested early Thursday on a domestic violence charge after firefighters encountered family members holding Ehlo down near a pile of his burning clothes. Spokane County sheriff's deputies arrested Ehlo, 51, on the felony charge of first-degree reckless burning and a seperate charge of domestic violence, according to the Sheriff's Office. He was booked into Spokane county jail at 7:36 a.m. Sheriff's spokesman Deputy Craig Chamberlin said fire crews responded to a fire after 1 a.m. today to the 3300 block of East 77th Avenue. When fire crews arrived, they reported finding family members engaged in an altercation and a fire burning a large pile of clothes. Firefighters then requested deputies to respond, Chamberlin said. "As (deputies) approached, they saw two males holding down another male on the ground, who was Craig" Ehlo, Chamberlin said. Deputies detained Ehlo and began to question witnesses. "Through the investigation, the deputies learned that Craig had a domestic dispute. He had been arguing with his wife earlier in the evening," he said. The family members then heard strange noises coming from the garage. They went out and "saw Craig piling up clothes next to the garage and he lit them on fire," Chamberlin said. The family members told the deputies they were holding Ehlo down because "they thought he was … going to run and jump onto the fire. That's why he was being detained on the ground." The fire caused some damage, melting some siding and damaging an awning, Chamberlin said. Chamberlin said he does not know what happened during the 26 minutes it took for the deputies to arrive or if firefighters got involved in the altercation. None of Ehlo's family members reported any injuries, Chamberlin said. Ehlo was charged with domestic violence and reckless burning "because he had been in a domestic dispute with his wife and he knowingly started a fire that caused damage to the house," Chamberlin said. Ehlo is expected to make his first appearance in Spokane Superior Court sometime Friday. He resigned as assistant basketball coach at EWU on July 11. He also has worked as a television analyst for the Seattle SuperSonics and Gonzaga. Ehlo played at Washington State University from 1981-1983 before he was drafted into the NBA by the Houston Rockets. He played for 14 seasons with the Rockets, the Cleveland Cavaliers, Atlanta Hawks and Seattle SuperSonics.
Local journalism is essential.
Give directly to The Spokesman-Review's Northwest Passages community forums series -- which helps to offset the costs of several reporter and editor positions at the newspaper -- by using the easy options below. Gifts processed in this system are not tax deductible, but are predominately used to help meet the local financial requirements needed to receive national matching-grant funds.
Subscribe now to get breaking news alerts in your email inbox
Get breaking news delivered to your inbox as it happens.
---