News > Features
Orphans leave Haiti and make new life with Colville family
Sun., Aug. 11, 2013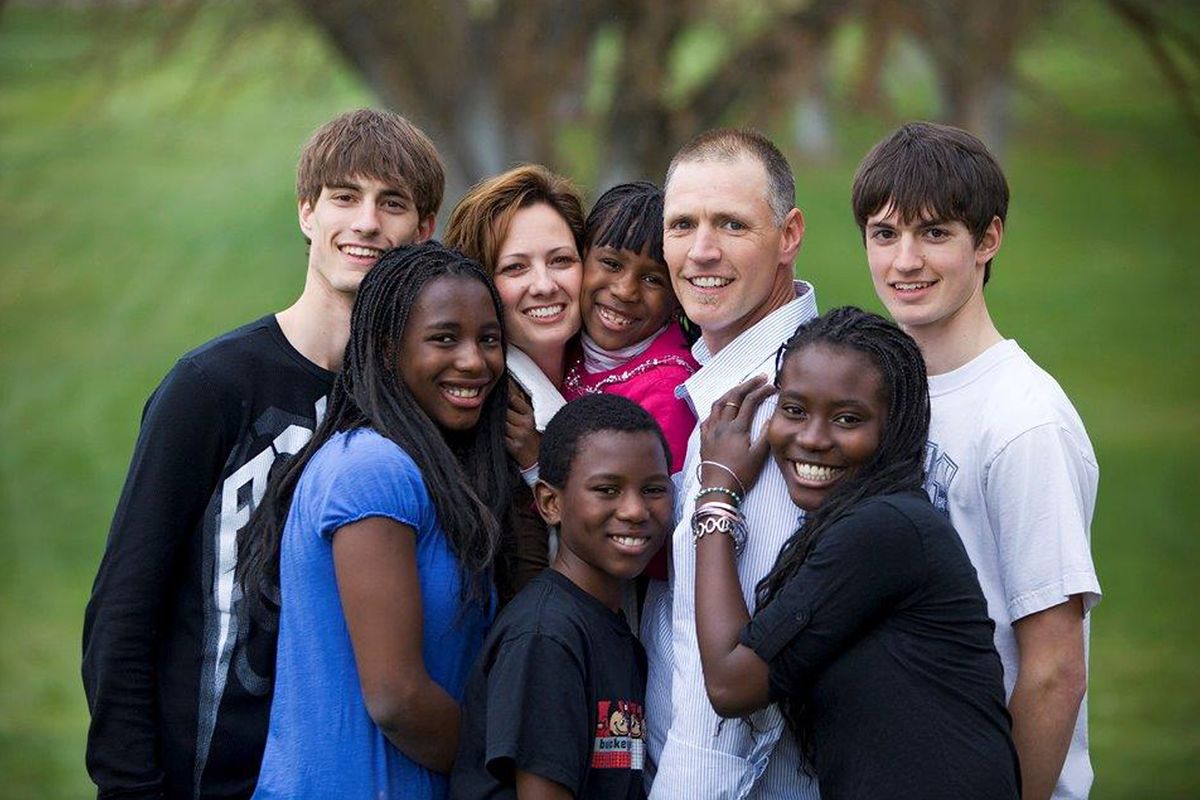 The Bakers pose with their six children in Colville in April 2010: (clockwise from top left) Cody, Kris, Lili, Nat, Kyle, Thamar, Davidson and Kimberly.
It was Tuesday, and Kris Baker, of Colville, was at piano lessons with her daughter Kimberly. She took a call from the secretary of her family's church.
"Did you hear about the earthquake in Haiti?" the woman asked Baker.
On Jan. 10, 2010, a devastating earthquake struck the island nation of Haiti – claiming more than 200,000 lives and leaving 1.5 million people without a home.
"My heart sank," Baker recalled. "I was trying to keep myself calm until I got more information and was able to call my friends in Haiti, but I could not get through to anyone."
Everyone grieved for Haiti, but the Baker family's perspective on the country's crisis in 2010 was personal, and ran deep: "My husband, Nat, and I had been to Haiti in December of 2009 to see our kids," she said.
They had been introduced to Haiti in 1999 by their church, leading a youth group of 18 as part of a 10-day mission trip. They returned three years later, in 2002, to repeat the experience. "On the last day of that trip, I visited an orphanage," Kris Baker said, "and it was a very moving experience." In November of that same year, she returned with her oldest son, Cody; her mother, a registered nurse; and a high school senior from her youth group.
"Our purpose was to work with an orphanage that adopted children out," she said. "About three days before coming home, we showed up to the orphanage to work and there were two children, a brother and sister, standing in the doorway, dressed in their very best. They were up for adoption. My heart sank for them, and at the same time our eyes met and locked. This was a life-changing moment for me, and I knew then and there that I wanted to adopt."
Nat and Kris Baker are longtime residents of Colville; they own Colville Construction, and have lived and worked there since 1995.
In January 2004, Kris and Nat Baker filed paperwork with Haiti to adopt; in August, they brought home 5-year-old Kimberly, now 14.
In December 2009, the Bakers returned to Haiti to visit Kimberly's siblings: Thamar, Davidson and Lili. The Bakers had filed paperwork to adopt them in 2007, but the process had taken longer than they'd expected.
"We celebrated an early Christmas with our three children, as well as the children in some of the orphanage houses, and left for home knowing that our kids were really close to the end of the adoption process," Kris Baker said. "We started excitedly talking about what we would do when we finally got the news, and how we would fly down to Haiti to get them, spend a night in Miami and then finally take them home. But it didn't go that way."
A month later, Haiti was ruined.
Wounds still fresh
As part of the evacuation after the earthquake, however, the Bakers were able to take the kids out of the country and officially make them part of the family.
Thamar, the oldest of the four, is now 18 years old; she was 15 when she came to live in Washington.
Davidson turned 16 on July 20.
Lili, the youngest, is now 10.
That was more than three years ago. But the children's memories of their home in Port Au Prince haven't faded. The wounds, in some ways, are still fresh.
"I had just come home from school," said Thamar, recalling the earthquake. She is a graceful, willowy girl with an inviting smile. "I heard my friend's voice telling me to 'Come out.' I told her to wait, and she said 'Come out now!' As I was headed out the door, the house started to shake. I was screaming 'God save me!' over and over again. The house in front of ours had already collapsed, the sky was dark with dust and I heard screaming everywhere. One house fell, and a mother died, but the baby lived. Within an hour, people were dying and carrying dead and injured people. The hospitals were full and telling people to go home."
Davidson, who was 12, added: "It was horrible. When I went outside, the ground was still moving. The new house by us – it was falling down. Then I saw this little kid, and cement had fallen on his head. Another family was looking for their oldest son. When they found him at the school, he had been trapped with his arm pinned for two days. They got him out and had to amputate his arm. We saw him in June of 2011 when we returned."
For the Baker family, though, the challenge didn't end there. Aside from struggling to purge the painful memories of watching their beautiful homeland collapse into ruins, Thamar, Davidson, Lili and Kimberly have had to learn how to adapt and acclimate to a culture, country and language that are not their own.
From Port Au Prince to the Inland Northwest
Walking into the Baker home and observing a family of eight is like walking into a well-oiled machine – parts always moving, working in harmony and clicking together with planning and precision. On a recent afternoon, they have just returned from church, and they're barbecuing. The family sits around a large, wooden table in the dining room – amid the crossfire of excitement and laughter and talking back and forth, they find time to share some of their thoughts. It's easy to see the pieces of this machine move.
Since 2010, the Bakers have redefined the dynamics of their family – which also includes biological sons Cody and Kyle – adjusting and adapting to the blessings and challenges of a multicultural household.
"My sister and I were both adopted," Nat Baker said, "and I was successful. So I have nothing but confidence that our kids are going to do well and succeed. We are also very realistic that it takes effort and persistence. Nothing comes without some work attached."
One of the biggest challenges was dealing with the language barrier. "All four children have come to us non-English speaking," Kris Baker said. She remembers battling with language barriers when Kimberly started kindergarten about three weeks after arriving in the States. "She had failed every entrance exam, but we knew she was smart and that it was just the language barrier we needed to work on."
For the first few weeks, Kris Baker took time off and attended school with Kimberly and, as she adjusted, tapered off the time she spent with her in school. Within a couple of months, she was speaking English well and learning a lot.
Thamar, Davidson and Lili have had to face the same challenge. "It can take sibling groups a little longer to learn a new language, because they aren't forced to learn as fast," Kris Baker said. "A sibling group will talk to one another in their native language."
Understandably so; imagine coming from a land that speaks predominantly French-Creole, and trying to adjust to a rural community in the Inland Northwest. But they've done it.
"By summer of the first year they were here, they were coming home speaking English, which was pivotal in their adaptation," she added.
But Kris Baker said language, although perhaps the most obvious, wasn't the only challenge.
"Culture in itself can be a challenge," she said. "For example, my kids came from a culture of owning very little, and so what you did have, you shared. Here, it is 'This is your towel, your toothbrush, your shoes,' etc. And although there are some items it is obviously best not to share, it has also taught us what a selfish culture ours can be."
There are other things about the children's Haitian culture that have represented challenges.
"Haitians live in very tight quarters," Kris Baker added, "so there is no 'personal bubble,' so to speak. Here, we really had to teach the kids a little at a time how to give people space when going to sit beside someone or walking behind them, etc."
But aside from minor cultural differences such as language, personal barriers or even clothing and appearance, the kids have undertaken the massive task of adapting to an entirely new and unfamiliar culture with elegance and charm.
"From what I heard," Davidson said, "America was going to be like heaven, but it isn't. But I still like living in the United States, being able to go to school, get involved in sports and have friends." Davidson is a handsome young man with a bright smile. He is shy like a teenager – mostly nodding and offering polite "mm-hmm's" as responses, but built strong like the football player he plans to one day become.
Lili, the youngest, shares her appreciative outlook very simply: "I like it. It's different. A lot of people said I was going to be rich and have a lot of money. When I got here, I thanked God for a family, having food and getting to have my own shoes. I really loved everyone from meeting them before. Especially Cody. He used to let me climb on him in Haiti. He's a great big brother. When I saw pictures of him and Kyle, I knew it was going to be a good family."
It's clear that the Baker family is a loving one. "Ours is a world that doesn't grasp what it means to be dedicated, to be committed," Nat Baker said. "Right," his wife added in agreement. "Adoption isn't for everyone, because it isn't an experiment. Once you adopt, you can't take them back and say 'Hey, things didn't work out like I had planned, so it just isn't going to work out for me.' You are, and should feel committed."
Moving forward
Thamar, 18, graduated from high school in June. Two days later, she received a job offer to work at a clothing store in Colville – an appropriate fit, as she wants to get into fashion and modeling.
The other children have American dreams of their own.
"I want to be a professional football player," Davidson said.
"I want to be a singer and an actress," Kimberly said.
And Lili? "An artist," she answered with a big smile.
"Our kids have thrived because of our family, friends, church, community and the grace of God," Kris Baker said. "The older children are finding work. People are hiring them knowing they have only been here for a little over three years, but they are very patient and willing to teach our children new things."
Local journalism is essential.
Give directly to The Spokesman-Review's Northwest Passages community forums series -- which helps to offset the costs of several reporter and editor positions at the newspaper -- by using the easy options below. Gifts processed in this system are not tax deductible, but are predominately used to help meet the local financial requirements needed to receive national matching-grant funds.
Subscribe now to get breaking news alerts in your email inbox
Get breaking news delivered to your inbox as it happens.
---