News > Washington Voices
91-year-old always making others happy
Thu., Aug. 15, 2013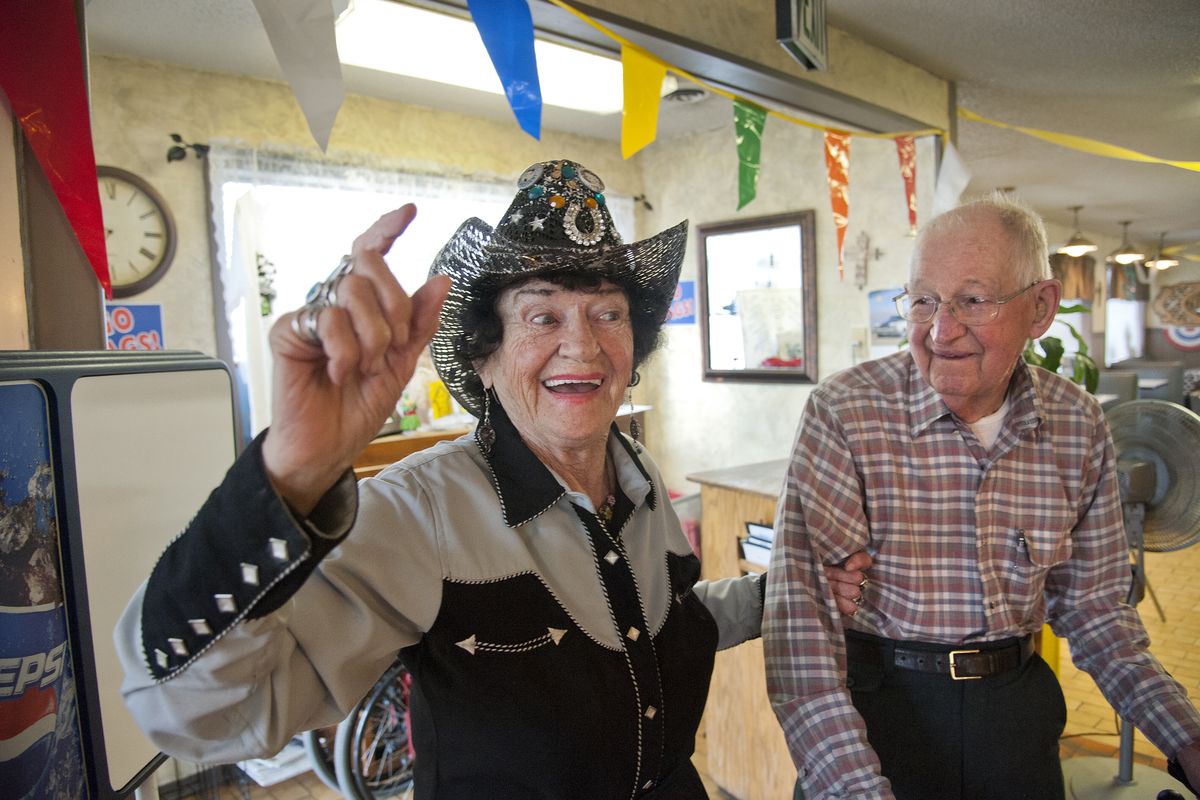 May Vidmar, 91, yodels for 100 year-old Harvey Schluter during a birthday celebration at the Hillside Inn, July 31. Aunt May proceeded the yodeling with a rendition of "Happy Birthday." His actual birthday is July 2, but the café was closed that day. (Dan Pelle)
May Vidmar, 91, positively sparkles. From the bling on her black cowboy hat, to the rings on her fingers, and the twinkle in her eyes, she exudes vitality and good humor.
On July 31, she held court at the Hillside Inn in North Spokane, as she does most mornings.
She greeted new acquaintances like old friends. "Hi honey," she said, offering warm hugs.
Known as Aunt May to folks of all ages, the feisty brunette regularly sings "Happy Birthday" to those celebrating at the neighborhood café.
That Wednesday was no exception. Harvey Schluter, surrounded by friends and family, had come to commemorate his 100th birthday.
"C'mon everybody," Vidmar said, clapping her hands. "We've got a special guest. We're going to sing, and sing loud, and be happy!"
She led the entire café crowd in a rousing rendition of "Happy Birthday," and then planted a big kiss on Schluter's cheek. He looked like he didn't know what hit him – but he grinned all the way back to his table.
Then at the urging of the regulars Vidmar launched into a yodel.
Hillside Inn owner Annie Pennington said, "Aunt May really gets everyone into it." Indeed, restaurant patrons clapped and cheered for her.
Smiling, she settled into a booth to sip her coffee and reminisce about a life as colorful as she is.
Born in Harrison, Idaho, she married at 16 and traveled to Michigan to meet her in-laws. "They owned an amusement park and circus," she said. "I didn't expect that. I didn't know they were in show business!"
The intrepid teen gamely rode elephants and performed assorted circus duties. Vidmar explained, "That was when I was young."
While traveling she met Roy Rogers and Dale Evans.
"They were filming a movie and asked me to be an extra, but my husband said we had to move on," she said. "At least I got to meet them!"
She had two daughters along the way and by the time World War II began, she'd come to Spokane to find work.
"I was a regular Rosie the Riveter," she said. "Actually, I operated a crane out at Alcoa in Mead. I loved it. I was good at it, too."
From there she went to work for Kaiser Trentwood, retiring after 24 years.
But retirement didn't find her idle. She volunteered everywhere from the Red Cross to the Jerry Lewis Muscular Dystrophy telethon. Serving on the boards of various nonprofits kept her busy, too. "I was all kinds of chairmen," she said.
One of her more interesting affiliations was with the Cootiette Club. The club, an auxiliary of the VFW, was formed by the wives, mothers and sisters of returning veterans. The name refers to the bugs soldiers brought back with them. "The men came home with cooties, you see," Vidmar explained.
The Cootiettes visited soldiers at the VA hospital. Vidmar said, "We entertained them and visited with them. We put funny buttons all over our uniforms. The guys would laugh and give us more buttons and pins."
Vidmar joined the group in 1959 and served as president. "It's no longer active," she said.
The group's demise didn't stop her from volunteering at the VA. She served there for a dozen years, racking up 45,000 volunteer hours.
She also assisted the Red Cross. "I only worked about 1,000 hours for them," she said. "During the Sunshine Mine disaster I brought sandwiches to the folks."
Her reason for staying so active is simple. "I love people," she said. "I just love people."
And people love her right back. She's a lifetime member of VFW Post 51 Ladies Auxiliary. At her recent birthday party a huge crowd filled the hall to honor her. But true to form, Vidmar didn't rest on her laurels – she danced on them. "I started dancing at 1 o'clock and didn't stop till 5!"
Some specific dates and numbers have grown foggy with time, but her mind and her wit remain rapier sharp. "I can't afford a computer," she said. She tapped her head. "I have to use this one up here." Grinning she added, "Sometimes it goes to sleep."
Pennington said Vidmar has been breakfasting at the Hillside Inn since she opened 15 years ago. Vidmar rode with Pennington in her '64 Galaxy convertible during the Hillyard Hi-Jinks Parade earlier this month. Pennington said her customers clamor for an Aunt May birthday party.
That tickles Vidmar. She said, "It makes me happy to make people happy."
Local journalism is essential.
Give directly to The Spokesman-Review's Northwest Passages community forums series -- which helps to offset the costs of several reporter and editor positions at the newspaper -- by using the easy options below. Gifts processed in this system are not tax deductible, but are predominately used to help meet the local financial requirements needed to receive national matching-grant funds.
Subscribe now to get breaking news alerts in your email inbox
Get breaking news delivered to your inbox as it happens.
---