News > Spokane
Washington, Japan celebrate 50 years
Tie with Hyogo is oldest 'sister-state' relationship in either country
Tue., Aug. 20, 2013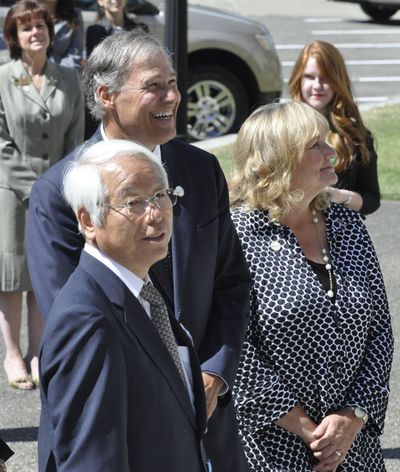 OLYMPIA – Leaders of Washington state and Japan's Hyogo prefecture marked the oldest "sister-state" relationship in either country by making speeches, planting a tree, and feasting on smoked salmon and barbecue.
The link between the two regions marked its half-century this summer since that relationship started.
"These ties are as important now as they were then," Gov. Jay Inslee told a Senate chamber where the floor and galleries were filled with local residents and visitors from Japan.
During that period, Washington's ports and airports have linked it to every corner of the world and Hyogo has become a global economic, cultural and educational leader, he said at a ceremony to sign a new document commemorating the relationship.
Twelve Washington cities have "sister city" relationships with a city in Hyogo prefecture, including Spokane's link to Nishinomiya, which actually predates the ties between the two states by a couple of years. Mukogawa Fort Wright Institute, an American campus for a Japanese women's college, is one outgrowth of those sister city ties.
"From 50 years ago, I think the world has become smaller. We're becoming closer and closer," Hyogo Gov. Toshizo Ido said through an interpreter at the ceremony.
Washington and Hyogo have sent each other aid and comfort in difficult times, such as during the Japanese earthquakes two years ago, and after the Sept. 11 terrorist attacks on the United States, Ido said. When he heard that Seattle residents gathered on the anniversary of the Jan. 17, 1995, quake to ring the bells from Kobe, their sister city, Ido said, "I am deeply moved."
Earlier in the day, Inslee and Ido put finishing shovels of dirt on a star magnolia tree that marks the anniversary. It's not far from a Japanese cypress tree planted on the 30th anniversary, which now stands 45 feet tall.
"The tree will grow and I think our friendship will be even greater," Ido said.
Also marking the occasion was food. Japan's special Kobe beef was served at lunch in the governor's mansion. After the signing ceremony, however, the reception outside the Capitol included some more Pacific Northwest fare, including king salmon smoked throughout the day over an open fire by the Chehalis Tribe and barbecued beef from the Washington Cattlemen's Association.
Local journalism is essential.
Give directly to The Spokesman-Review's Northwest Passages community forums series -- which helps to offset the costs of several reporter and editor positions at the newspaper -- by using the easy options below. Gifts processed in this system are not tax deductible, but are predominately used to help meet the local financial requirements needed to receive national matching-grant funds.
Subscribe now to get breaking news alerts in your email inbox
Get breaking news delivered to your inbox as it happens.
---