News > Spokane
Suspect arrested in vet beating death; another at large
Aug. 23, 2013 Updated Fri., Aug. 23, 2013 at 9:35 p.m.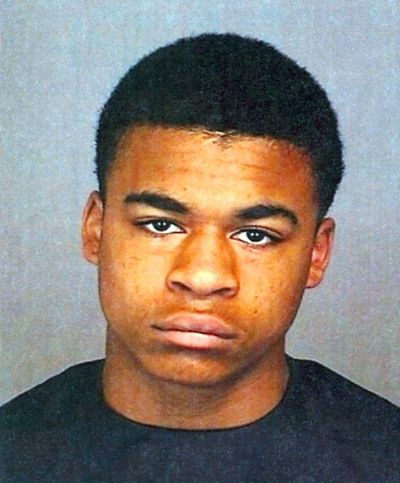 The nation's eyes have turned to Spokane and the two teenagers accused of murdering an 88-year-old World War II veteran. Police say two 16-year-olds beat Delbert "Shorty" Belton to death Wednesday night after robbing him. One suspect, Demetruis Glenn, turned himself in and was arrested late Thursday night. The other, Kenan D. Adams-Kinard, remained at large Friday night. "We hope Mr. Kinard or his family will do the right thing and surrender quickly without incident, and we can resolve this and bring closure to the family of the individual who lost his life," police Chief Frank Straub said. Both boys have a history of violent crime: Glenn has a conviction of fourth-degree assault, riot and eluding police capture, as well as two pending charges of malicious mischief and driving without a license. On June 26, Adams-Kinard was convicted of third-degree theft and fourth-degree assault. Security officers with Spokane Public Schools helped identify the suspects. Adams-Kinard was a student at Lewis and Clark High School. Demetrius Glenn went to North Central and Bancroft but dropped out in February. Both face charges of first-degree murder and first-degree robbery and will be tried as adults. Glenn is scheduled to make his first court appearance Monday afternoon. The beating prompted passionate responses across the country and a maelstrom of media attention from national news organizations. Belton's name trended nationally on Twitter, and several Facebook pages have launched demanding justice for the dead veteran. Nationally, broadcast commentators including conservative radio host Rush Limbaugh have touted the story as an example of "black-on-white" violence. Straub said racial motivation was not a factor in the incident. What's more important is that two young men thought it was acceptable to beat an old man to death, he said. "We have somebody who served his country during World War II, is a distinguished veteran," Straub said. "He has no right to be assaulted, nor does anybody else." Belton was in his car Wednesday night near the Eagles Lodge at 6410 N. Lidgerwood St., waiting for a friend to arrive so he could walk in with her. When she arrived just after 8 p.m., she found Belton's parked car in the lot and Glenn and Adams-Kinard fleeing over a nearby fence, according to court documents. She found her friend's body wedged between the two seats, covered in blood from injuries to his face and head. Lillian Duncan, another close friend, said he was "totally unrecognizable," and "beat to a pulp." "It took no courage at all for them to bash him up like that," Duncan said. Police found a broken flashlight on the front seat of the car but have not said whether it was used as a weapon. They also found a black glove that appeared to be covered in blood, believed to belong to one of the suspects, at the corner of Lidgerwood and Francis Avenue. Surveillance footage shows the two running through several parking lots. One was wearing shiny basketball shorts, court documents said. Glenn turned himself in Thursday night after his attorney contacted police at about 9:45 p.m., saying he was in the area of Francis and Market Street and wanted police to pick him up, according to the documents. After Glenn was arrested, police saw a cut and abrasion on his right hand. During an interview, police asked Glenn to stand up and show what he was wearing. Glenn said, "These are not the shorts from the video," according to the document. Belton died of his injuries early Thursday morning. The Spokane County medical examiner said Friday that Belton died of "blunt facial and head injuries" and called his death a homicide. Hundreds gathered Friday night for a candlelit vigil outside the Eagles Lodge to honor Belton. As a chorus of "Amazing Grace" filled the air, several members of the crowd lifted American flags, mirroring the flag flown at half-staff by the entrance. A memorial that started as a small pile of flowers grew throughout the evening, covering the entryway of the lodge. Candles circled a photo of Belton. "Thank you for your service to our country!" the photo caption read. Belton, nicknamed "Shorty" for his 5-foot stature, was born and raised in Spokane. He fought in the Pacific Theater during World War II, surviving the Battle of Okinawa. He returned to Spokane after the war and was married for almost 60 years to Myrtle "Giggles" Belton, who died in 2008. Belton is survived by three sisters and his son. Friends and family described Belton as a kind, gentle man who would have done anything to help those he loved. "I'm beyond glad that they caught one," Duncan said. "Now if they could just catch the other, I'd be extremely happy." Staff reporter Jody Lawrence-Turner contributed to this report.
This story has been changed from its published version; the spelling of Demetruis was corrected on 8/26/2013.
Local journalism is essential.
Give directly to The Spokesman-Review's Northwest Passages community forums series -- which helps to offset the costs of several reporter and editor positions at the newspaper -- by using the easy options below. Gifts processed in this system are not tax deductible, but are predominately used to help meet the local financial requirements needed to receive national matching-grant funds.
Subscribe now to get breaking news alerts in your email inbox
Get breaking news delivered to your inbox as it happens.
---