Sports
Robertson gives up football play-by-play
Remains part of Cougars football broadcast team
Sat., Aug. 24, 2013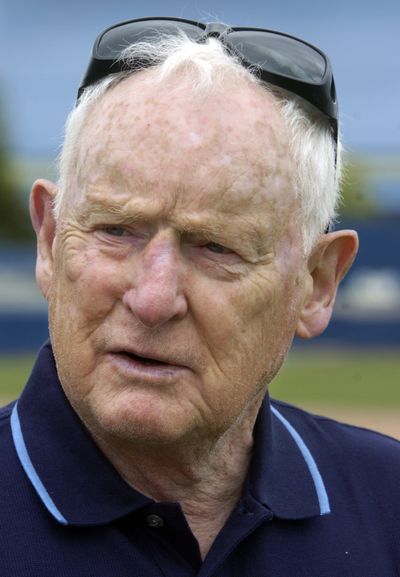 PULLMAN – Legendary broadcaster Bob Robertson isn't leaving Washington State's radio booth, but there will be someone else calling play-by-play during football games this season.
WSU announced Friday that while Robertson will remain a part of the three-man broadcast team for football games, his broadcast partner, Bud Nameck, will take over play-by-play duties.
Robertson will still help host pregame, halftime and postgame shows, and provide analysis along with former WSU receiver Shawn McWashington.
"I will be almost 85 years old by the end of the season and my energy level isn't what it was when I was 35," Robertson said in a statement released by the school. "I'm not going to get any younger so I'd rather people remember me the way I was as opposed to the way I will be. It is time to pass the torch."
Nameck is a familiar voice for Cougars fans. He's been the WSU men's basketball play-by-play broadcaster since 1993. A sideline reporter for football games since 1992, Nameck moved to the booth last season with the stipulation of taking over for Robertson in the future.
Athletic director Bill Moos said he didn't anticipate that move happening so soon. But Moos said after he sat down with Robertson for their annual discussion, they decided it was best to rearrange duties.
Robertson, who has called 520 WSU games since 1964, has struggled with his vision in recent years.
"We talked about that a little bit, and came to the mutual decision that this would be good. He has to be a part of Cougar football," Moos told The Spokesman-Review. "He is, in my opinion, as big of an icon with Cougar athletics as there's ever been. And I'm going to protect him. He's with us as long as I'm around."
Local journalism is essential.
Give directly to The Spokesman-Review's Northwest Passages community forums series -- which helps to offset the costs of several reporter and editor positions at the newspaper -- by using the easy options below. Gifts processed in this system are not tax deductible, but are predominately used to help meet the local financial requirements needed to receive national matching-grant funds.
Subscribe to the sports newsletter
Get the day's top sports headlines and breaking news delivered to your inbox by subscribing here.
---