Sports
Reputation, if not game film, precedes Auburn's Marshall
Sun., Aug. 25, 2013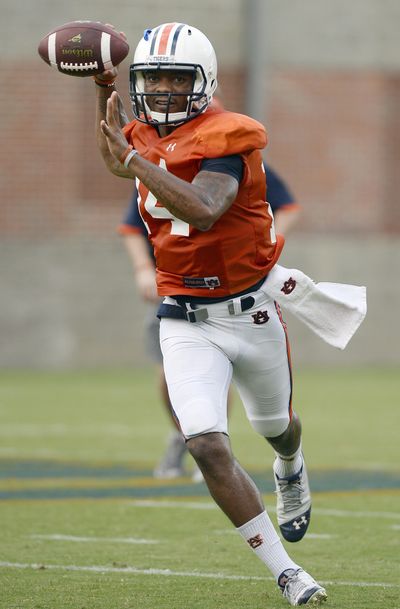 PULLMAN – Recent game film of first-year Auburn quarterback Nick Marshall actually playing quarterback is not plentiful. As a result, Washington State's coaches and players will be plenty familiar with the offensive schemes of Garden City (Kansas) Community College by the end of this week, because that's just about all they have to go on when it comes to assessing Marshall's skills as a college quarterback.
He's a junior who set fire to Georgia's high-school football scene – his 103 career touchdown passes set a state record – then played defensive back at the University of Georgia as a freshman. But he was dismissed for violating team rules after the 2011 season, and landed at Garden City where he again became a quarterback.
His performance there led Garden City's offensive coordinator, Matt Miller, to tell AL.com: "Talent-wise, he's as talented of a quarterback as Johnny Manziel. You might think I'm crazy for saying that, but you get him on the field, he plays at a different level. He's got some freakish talent."
Marshall probably hasn't signed as many autographs as Manziel, the reigning Heisman Trophy-winning quarterback from Texas A&M. But that quote from Miller is just one example of the effusive praise being heaped upon Marshall by former coaches based solely on his potential and performance at lower levels.
That performance was about as good as it gets for a dual-threat quarterback: Marshall threw for 3,142 yards and 18 touchdowns last season while rushing for another 1,095 and 19 touchdowns.
"He's very athletic," said WSU defensive coordinator Mike Breske. "Obviously, out of high school he went to Georgia as a corner and left there, but was a high school quarterback. Very athletic, can run, decent size … physical runner. Fits that offensive style very well."
Auburn coach Gus Malzahn named Marshall his starting quarterback last Saturday after a four-man battle that lasted the better part of camp. An email request to interview Marshall was not returned, but the 6-foot-1, 210-pound junior told reporters during his introductory press conference last week that he doesn't pay attention to comparisons to Manziel or former national champion and Heisman-winning Auburn quarterback Cam Newton.
"I worry about me and worry about my team," said Marshall, who appears to be relatively soft-spoken, at least on camera.
Breske said the Cougars are mostly worried about how Marshall fits into Malzahn's fast-paced rushing attack. If they can thwart that facet of Auburn's offense effectively enough, they can force Marshall to throw the ball – something he did effectively at the juco level, but his 20 interceptions last season hint at a potential for inconsistency.
"We're preparing for the run game first, and get them to throw the ball, obviously," Breske said. "But we've got to be solid in the run game if we can't get them in throwing down situations. They've got very talented running backs, a big offensive line, big tight ends and that type of deal. We're working hard on our run fits."
Reports out of Auburn indicate that Malzahn and his first-year coaching staff have been pleased with Marshall's adaptation to the offense.
"He is a playmaker with a big upside," Malzahn told AL.com, "and once he becomes more comfortable with the offense, he has the chance to improve each week."
Local journalism is essential.
Give directly to The Spokesman-Review's Northwest Passages community forums series -- which helps to offset the costs of several reporter and editor positions at the newspaper -- by using the easy options below. Gifts processed in this system are not tax deductible, but are predominately used to help meet the local financial requirements needed to receive national matching-grant funds.
Subscribe to the sports newsletter
Get the day's top sports headlines and breaking news delivered to your inbox by subscribing here.
---