News > Idaho
Friends reflect on death of man shot by CdA police
UPDATED: Mon., Aug. 26, 2013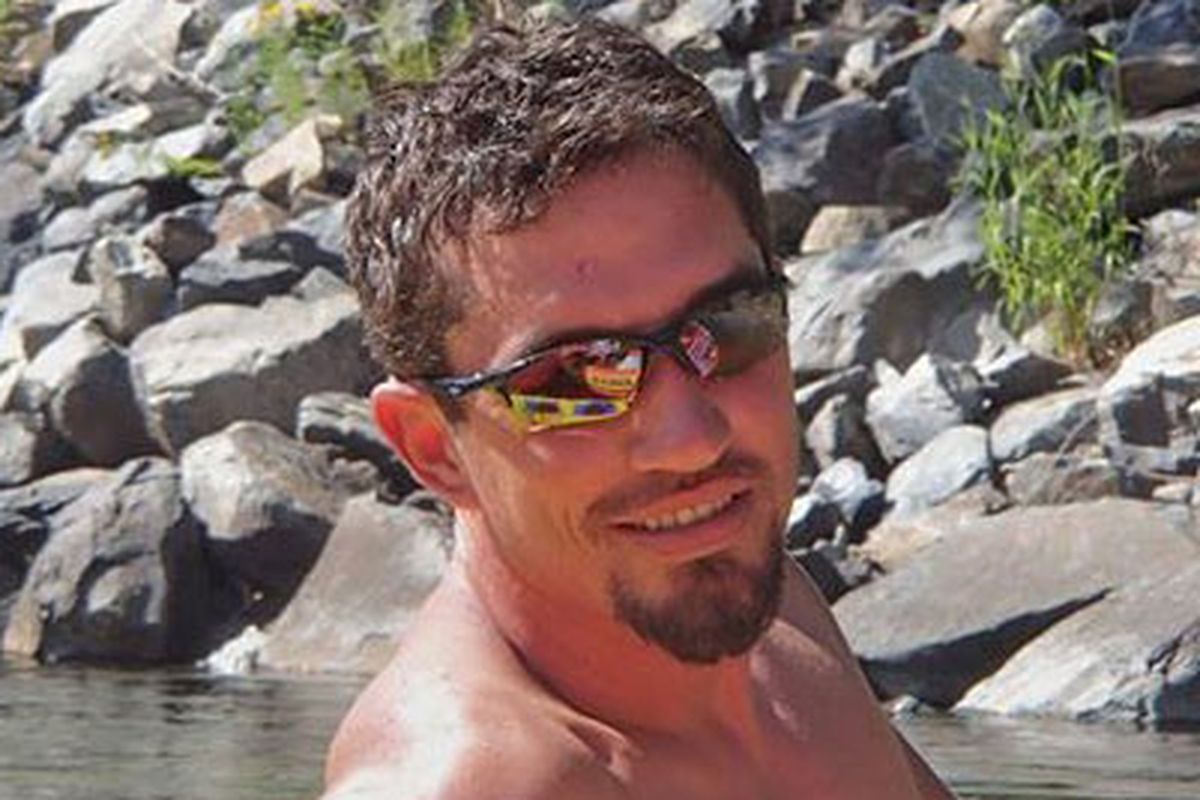 Eric B. Johnston (Wendy Woods courtesy)
Wendy Woods stood next to her blood-soaked carpet this morning and cried for the loss of her close friend, Eric Byron Johnston, who was shot and killed Sunday morning by a Coeur d'Alene police officer. "He was so funny, so sweet – the most reliable friend in my life," Woods said. "And for them to just come here and shoot him dead like that? It's sickening." Other friends and family members reacted today with shock and anger over the shooting inside an apartment at 1422 E. Young Ave., north of Sanders Beach. "Eric was like the backbone in my company," said Charles Ray Larsen III, who owns Ray's Rooftop Moss Removal in Coeur d'Alene. "Eric was the kind of person that wouldn't step on an ant – a quiet, gentle soul." Johnston, 35, a Dalton Gardens resident, was shot multiple times from about 10 feet away as he clutched a serrated kitchen knife, according to accounts of the confrontation shortly before 8 a.m. Woods said she saw Johnston holding the knife to himself, not in a threatening manner, and saying he did not want to go back to jail when the officer arrived at her front door. She said she went outside and was thrown to the ground by a second officer as the first officer fired into her apartment from the front door. "He just immediately pulled out his gun. I heard, 'Eric, drop the knife!'" she said. "Then boom, boom, boom, boom." Johnston collapsed across the room next to a sofa and died at the scene. When she was allowed to return this morning, Woods found her carpet soaked with blood and a bullet hole in a wall she shares with a neighbor. "He was a good kid, never hurt nobody. It's not like he was beating me up," she said. "He was just upset that he'd have to go back to jail." Larsen, who is close to Johnston's family, said the use of lethal force does not seem warranted. "It's insane. Since when do they shoot people that have a knife that's not even coming after them?" he said. Police tracked Johnston to the apartment within half an hour after he rammed his pickup truck into a utility pole nearby, knocking it over, and quickly left the scene. Woods was in the truck with Johnston when he hit the Avista Utilities pole. The two returned to her apartment, and Johnston was upset that he'd be arrested and jailed for driving under the influence – an offense he'd been convicted of four previous times. But Woods also said she and Johnston had not been drinking since late the previous night. Johnston also worked as a mechanic at Complete AutoCare in Dalton Gardens. David Larsen, a close friend and coworker there, described Johnston as soft-spoken and a hard worker. "Just a good guy all around, you know, give the shirt off his back to help you out," David Larsen said. He said he escorted police Sunday to inform Johnston's family of his death and that he heard authorities tell the family that Johnston had been holding the knife when the officer shot him. "From what I understand Eric was trying to kill himself and got shot four times," David Larsen said. Johnston always took a little time to respond to people in conversation, he said. "He was really deep-thoughted about everything before he spoke." The news has hit the shop crew hard, David Larsen said. "We shut the shop down. We're closed for two days to a week," he said. "We're trying to get to the bottom of this. I mean somebody has got to speak up for Eric. That was really unjust in my opinion. I mean, an officer taking a gun to a knife fight to help somebody is not how we help people." Johnston had been in trouble with the law repeatedly in the past 20 years, according to court records, most recently for driving under the influence. He was arrested and found guilty four times for DUI – in 1999, 2004, 2007 and 2008 – and served some time in jail. He also had been arrested for controlled substance violations and cited for traffic offenses over the years. The Idaho State Police is heading up the investigation of the shooting and have released no details yet. An autopsy of Johnston is scheduled for today, an ISP spokeswoman said.
Local journalism is essential.
Give directly to The Spokesman-Review's Northwest Passages community forums series -- which helps to offset the costs of several reporter and editor positions at the newspaper -- by using the easy options below. Gifts processed in this system are not tax deductible, but are predominately used to help meet the local financial requirements needed to receive national matching-grant funds.
Subscribe now to get breaking news alerts in your email inbox
Get breaking news delivered to your inbox as it happens.
---