News > Spokane
Teen claims vet dealt crack
Police have nothing to support notion that killing of 88-year-old tied to drugs
Aug. 28, 2013 Updated Wed., Aug. 28, 2013 at 2:03 p.m.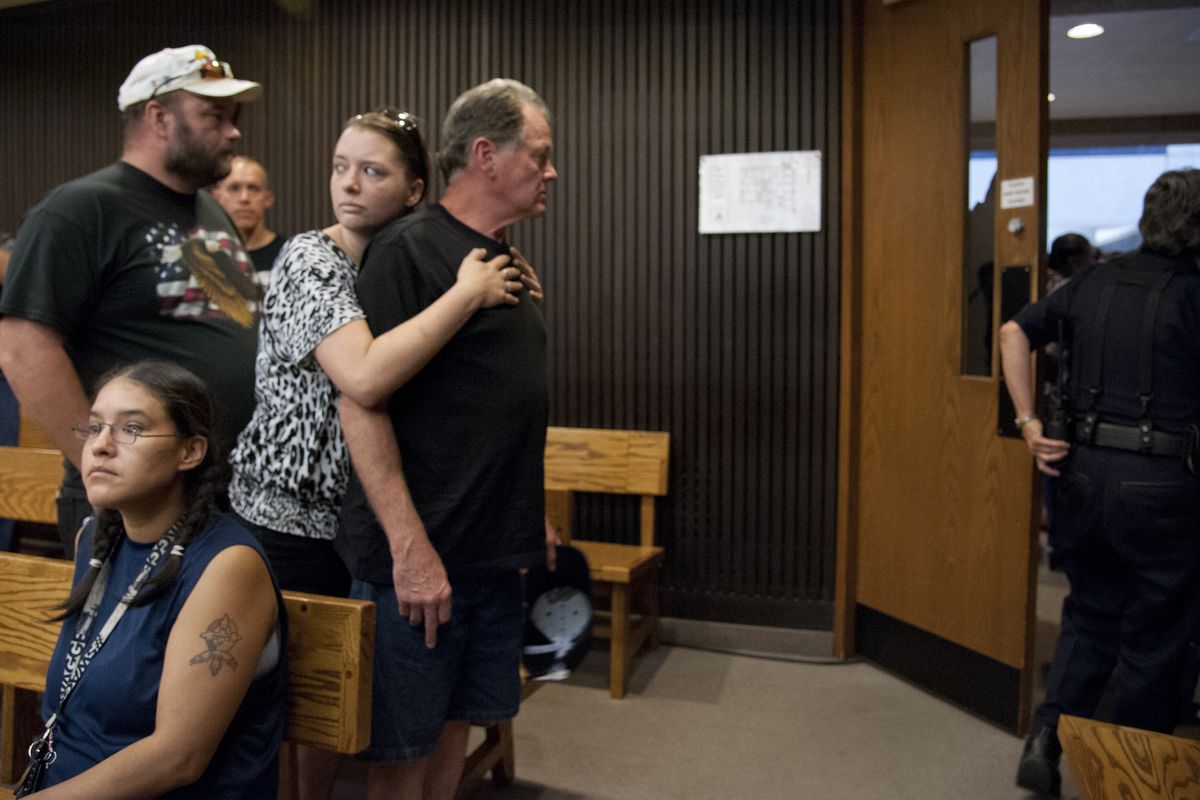 Ted Denison, Laura Gates and Rick Gibson, friends of Delbert Belton, wait for the courtroom to clear Tuesday after Kenan Adams-Kinard's first appearance. (Dan Pelle)
The beating death of a decorated World War II veteran took a bizarre twist Tuesday.
Prosecutors said one of the two suspects has suggested that the victim, 88-year-old Delbert Belton, was selling crack cocaine outside the Eagles Lodge and shorted them.
Although prosecutors didn't elaborate in court, Spokane police later said they've found nothing to support suspected killer Kenan Adams-Kinard's drug-dealing claims. Adams-Kinard, 16, is being held in lieu of $3 million bond on charges of first-degree robbery and first-degree murder in last week's deadly confrontation.
The victim's family described the teen's claims as ridiculous.
"There's absolutely no truth to that whatsoever," Belton's nephew Ian Day said after Adams-Kinard's appearance. "By saying these things they've brought darkness upon themselves."
The drug-dealing claim reportedly is contained in a letter police found inside the home where Adams-Kinard was hiding Monday morning when officers took him into custody. The contents of the letter were made public during Adams-Kinard's first court appearance Tuesday afternoon.
In the letter, Adams-Kinard wrote that he purchased an ounce of crack cocaine from Belton then "proceeded to sock him," according to an affidavit filed Wednesday. The boys then opened the car door and "socked him two more times." "I took his wallet and another ounce of crack from his pockets," the letter continues. "He was unconscious so I made sure he was still breathing, and then I took off."
Defense attorney Steve Horst objected to the introduction of the letter in Tuesday's hearing, saying prosecutors had already established probable cause to hold Adams-Kinard, but District Court Judge Debra Hayes allowed it.
When Natalie Flom, a close friend of Belton, learned of the claim that had been made in court, she burst into laughter. She said she could hardly convince Belton to take his blood pressure medication, let alone crack cocaine.
"That is just hilarious," she said. "I can't even believe they went there."
Belton was waiting for Flom the night police say Adams-Kinard and Demetruis Glenn, also 16, beat and killed him in a robbery outside the Eagles Lodge in north Spokane. Belton, who police say fought back Wednesday against his attackers, was pronounced dead at Providence Sacred Heart Medical Center.
The brutal attack on a survivor of the bloody Battle of Okinawa has drawn international attention.
"He was just a gentleman-in-waiting," said Flom, who was the first to find Belton unconscious and bleeding profusely in his car.
Meanwhile, Adams-Kinard's father, Steven Kinard, stands by his son's claim, saying Belton was well-known in the cocaine-dealing community. He's far from the World War II hero he has been portrayed as, he said.
"He poisoned the country and poisoned our kids," Kinard said.
Kinard admited he has a history of cocaine addiction and said he recognized Belton from his own experience and use. Kinard was sentenced to five years in prison in 2005 on two cocaine-dealing convictions.
"I think everybody needs to look on the other side of the picture," he said.
Adams-Kinard and Glenn are both being held on charges of first-degree murder and first-degree robbery. Four other teens face charges of harboring a fugitive after police said they helped Adams-Kinard hide from police over the weekend.
Hayes ordered Adams-Kinard be moved from the juvenile detention center to Spokane County Jail, citing Monday's raucous crowd that gathered outside the juvenile detention center to see Glenn.
Hayes also increased Adams-Kinard's bail from $2 million to $3 million, saying he's a greater threat because he was protected by several friends. Glenn's bail was set at $2 million Monday.
Local journalism is essential.
Give directly to The Spokesman-Review's Northwest Passages community forums series -- which helps to offset the costs of several reporter and editor positions at the newspaper -- by using the easy options below. Gifts processed in this system are not tax deductible, but are predominately used to help meet the local financial requirements needed to receive national matching-grant funds.
Subscribe now to get breaking news alerts in your email inbox
Get breaking news delivered to your inbox as it happens.
---