News > Spokane
Feds won't block legal pot
Justice Department will focus on abuses in production, sales
Fri., Aug. 30, 2013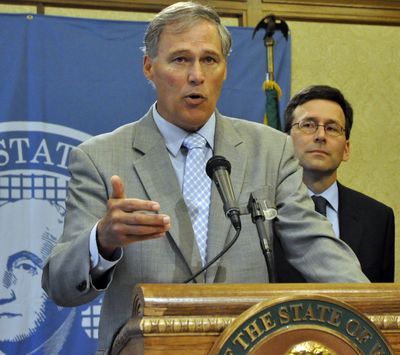 OLYMPIA – The federal government will not try to stop Washington from setting up a way to allow adults to legally use marijuana.
In what state officials described as a "game changer," U.S. Attorney General Eric Holder announced Thursday the federal government will focus attention on several key areas of illegal marijuana production and sales but allow Washington and Colorado to continue setting up systems for legal marijuana to be grown and sold to adults.
Before releasing a new memo on marijuana enforcement, Holder called Gov. Jay Inslee to say the Justice Department would not step in to challenge a system being developed after voters approved an initiative last November. The federal government was essentially allowing "the states to be the laboratory of democracy" on the issue, Inslee said.
State officials have been waiting since early this year for some signal of what the federal government will do about state efforts to regulate, license and tax a substance that remains banned by federal law. Inslee and Washington Attorney General Bob Ferguson met with Holder in January, and members of the state's congressional delegation have lobbied him and President Barack Obama to respect the will of the state's voters.
Thursday's memo said the federal government will concentrate its marijuana enforcement efforts on eight key areas, including whether the drug is being sold to minors and making sure marijuana grown legally in one state isn't finding its way across the border into a state where it's illegal.
The state shares those priorities, said Inslee, who described the federal government's stance as "trust but verify" on the system Washington is developing.
The Washington State Liquor Control Board is drafting regulations for people who grow, process or sell the drug in a way that should comply with those priorities. But until Holder's announcement, the board couldn't be sure the federal government wouldn't sue to keep those rules from taking effect.
"This is obviously a game changer," said Chris Marr, a member of the state liquor board. The board has a meeting next week on the latest draft of rules for people seeking licenses to enter some phase of the legal marijuana business.
Steve Sarich of the Cannabis Action Coalition, which lobbies for medical marijuana patients and dispensaries, disagreed. The Justice Department is retaining the right to investigate and prosecute cases that "serve an important federal interest," which could mean prosecutions could continue, he said: "This is not a huge victory."
Holder's announcement and the four-page memo don't answer many questions surrounding the state's legalization of marijuana. There's still no clear direction on how marijuana businesses can deal with federal banking laws that could bar them from opening accounts, accepting credit or debit cards, issuing checks or making electronic transfers to the state for taxes and fees. The prospect of all-cash businesses raises concerns about security and accounting.
"There are some important details to be worked out," Ferguson said.
To comply with federal priorities, the state could seek restrictions on medical marijuana, legalized in a 1998 initiative. In recent years, medical marijuana dispensaries in Spokane and elsewhere have been raided and closed by federal officials.
Mike Ormsby, U.S. attorney for Eastern Washington, said Thursday his office will continue to concentrate on the operations described in the new memo. But Ormsby also signaled he will keep up pressure on medical marijuana operations, saying "the continued operation and proliferation of unregulated, for-profit entities outside of the state's regulatory and licensing scheme is not tenable."
Medical marijuana remains largely unregulated, and patients can grow their own or designate a cooperative to grow it for them, something not allowed under the recreational marijuana laws.
"We believe there are some serious changes that need to be brought to bear" on medical marijuana, Inslee said.
That has medical marijuana patients around the state worried that their supplies could be cut off, Sarich said. The state could ban individuals from growing their own marijuana or joining co-ops, neither of which are allowed under I-502, he said.
The Justice Department's new policy is a qualified green light for Washington and Colorado, where voters also approved recreational marijuana last year, to proceed with unprecedented efforts to legalize the drug that remains banned by federal law.
"The department expects these states to establish strict regulatory schemes that protect the eight federal interests identified in the department's guidance," Holder said. "These schemes must be tough in practice, not just on paper, and include strong, state-based enforcement efforts, backed by adequate funding."
The department could challenge those systems in the future, if problems arise, he added.
Under I-502, adults 21 and older could use marijuana in private as of last December, and the liquor control board is to develop rules for growing, processing and selling legal marijuana in place by this December. The board is working on its third draft of rules, which could get tentative approval next week and go to at least one public hearing before the board votes on whether to adopt them in October. The board said it expects legal marijuana businesses to be operating by the spring of 2014.
Local journalism is essential.
Give directly to The Spokesman-Review's Northwest Passages community forums series -- which helps to offset the costs of several reporter and editor positions at the newspaper -- by using the easy options below. Gifts processed in this system are not tax deductible, but are predominately used to help meet the local financial requirements needed to receive national matching-grant funds.
Subscribe to the Coronavirus newsletter
Get the day's latest Coronavirus news delivered to your inbox by subscribing to our newsletter.
---
Subscribe and log in to the Spokesman-Review to read and comment on this story