Sports
Woolridge's season-high 20 leads WSU to win
Dec. 15, 2013 Updated Sun., Dec. 15, 2013 at 8:26 p.m.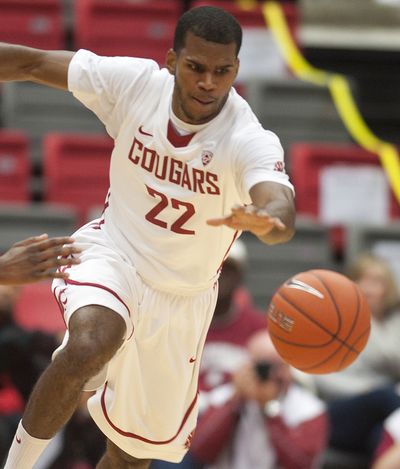 PULLMAN – With a metaphorical lid on the basket preventing almost any shot from a distance of more than 10 feet from scoring, the Cougars kept it close in their 78-61 win over Pepperdine. The Washington State men's basketball team outscored the Waves in the paint, 42-20. The team's 18 3-point attempts were the lowest of the season. One of the catalysts of WSU's increased interior scoring output was guard Royce Woolridge, who attacked throughout the game and scored a season-high 20 points. He shot 7 of 10 from the field, and two of the misses were on 3-pointers. "I felt that I had to be more aggressive," Woolridge said. "Even if it's not just scoring, to get to the paint so I can either find people or make a play. I feel that I've been a bit too passive, so today I tried to be more aggressive." Despite a quiet crowd of just 2,243, the Cougars raced out to a 10-0 lead in the game's first 3 minutes. WSU (5-4), which outshot Pepperdine 53.6 percent to 38.5 percent, took a 41-26 halftime lead, and held off a late surge by the Waves to win comfortably. "Sometimes it's very difficult to come out on your home court and have a lot of energy when there's just not a lot of buzz in the building," coach Ken Bone said. "But to our kids' credit, they worked really hard, they worked hard defensively, the executed offensively and I think it just set the tone for the game." With the Cougars consistently driving, Pepperdine (6-5) was forced to foul. WSU shot 30 free throws but made just 13. The poor shooting from the foul line could have proved fatal had not the Waves shot 14 of 29 from the stripe themselves. "We dodged a bullet but we need to get in there and work on our free throws," Woolridge said. Things weren't much better from beyond the arc for either team, with WSU hitting 7 of 18 3-point attempts and Pepperdine making just 5 of 18. Newcomers Que Johnson and Jordan Railey also scored in double figures for the Cougars, with 14 and 10 points, respectively. Both sat out last season – Railey because of NCAA transfer rules and Johnson because of eligibility issues – but appear to be getting more comfortable on the court. "Que and I both sat out for practically two straight years … I think both of us are just kind of getting into that groove as far as being comfortable with the other guys," Railey said. Each team was called for 23 fouls. Railey fouled out in the middle of the second half. With forward D.J. Shelton on the bench with four fouls, it fell to freshman Josh Hawkinson to provide a post presence. Hawkinson collected five rebounds over 13 minutes, and hit both of his free throws, catching the eye of his coach. "He's a freshman but he's pretty poised," Bone said. "He's pretty poised and he stepped up and made free throws on a night we were pathetic – both teams were not very good. But sometimes that can kind of snowball." Junior DaVonte Lacy had a relatively quiet night, scoring just nine points, well below his average of 21.4. But the guard contributed in other ways, leading the team with eight rebounds and four steals.
Local journalism is essential.
Give directly to The Spokesman-Review's Northwest Passages community forums series -- which helps to offset the costs of several reporter and editor positions at the newspaper -- by using the easy options below. Gifts processed in this system are not tax deductible, but are predominately used to help meet the local financial requirements needed to receive national matching-grant funds.
Subscribe to the sports newsletter
Get the day's top sports headlines and breaking news delivered to your inbox by subscribing here.
---