News > Spokane
K-9s, handlers graduate from training
Thu., Dec. 19, 2013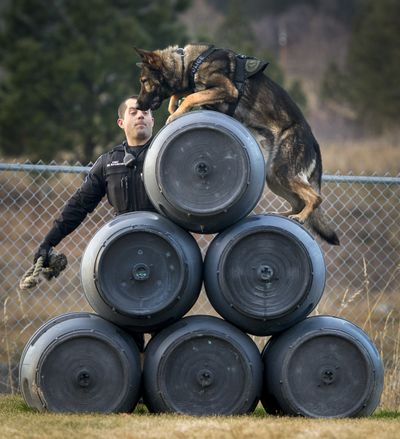 Sheriff's dog Deacon lays close to the ground, ready to pounce. His eyes train on the "bad guy," who stands several yards away.
It only takes a few words from Deacon's handler, Deputy Tyler Kullman, before the German shepherd is on Officer Paul Buchmann. His teeth sink into a tube of armor Buchmann wears on his arm to protect himself.
It's over as quickly as it begins. Kullman calls Deacon off. The dog bounds toward him with a toothy grin as Kullman offers a toy.
"That's a boy! That's a boy!" Kullman shouts, swinging Deacon in the air, the dog's tail wagging.
That time, it was practice. But starting today, it could be a real criminal – and a real bite.
The Spokane Police Department and Spokane County Sheriff's Office each graduated a K-9 and a handler Wednesday. After 400 hours of intensive training each, Buchmann, who will handle K-9 Talon, and Kullman, who will handle K-9 Deacon, can now patrol with their dogs. Talon and Deacon will join 10 other dogs used by local law enforcement.
The dogs are led through basic obedience and agility training and are exposed to a variety of situations that mimic real-life crime scenes, said Officer Craig Hamilton, a K-9 master trainer with Spokane police.
Though biting is part of the dogs' job, they're mostly used for tracking, to find criminals in situations that may be unsafe or difficult to navigate by human officers.
Local businesses volunteered their buildings for training, in which handlers were sent to the scene with no idea of the situation they'll be entering or the layout of the building.
"We put these guys through a lot of reality-based training," Hamilton said.
Handlers also spend their time growing and learning with the dogs, many of which are still young. Kullman said there are some "growing pains" with him and 2-year-old Deacon, who he said still has "a lot of puppy in him."
"Learning I'm his dad and his master is a part of it," Kullman said.
For the dogs, catching the criminal is like any other game. On Wednesday afternoon, Buchmann led Talon through a series of obstacles: under low fences, over tall walls, up ramps and down steps. Buchmann shouted commands at the dog in Czech, reflecting Talon's training as a puppy in the Czech Republic. Talon, 2 1/2 years old, was imported to America to become a police dog.
But with each obstacle passed, Buchmann became like any other dog owner, squealing "Good boy!" and handing Talon a toy.
"I've always loved animals, especially dogs," Buchmann said. "It's just a great tool to use."
Local journalism is essential.
Give directly to The Spokesman-Review's Northwest Passages community forums series -- which helps to offset the costs of several reporter and editor positions at the newspaper -- by using the easy options below. Gifts processed in this system are not tax deductible, but are predominately used to help meet the local financial requirements needed to receive national matching-grant funds.
Subscribe now to get breaking news alerts in your email inbox
Get breaking news delivered to your inbox as it happens.
---