News > Washington Voices
Spokane Fantasy Flight takes kids on journey to North Pole
Thu., Dec. 19, 2013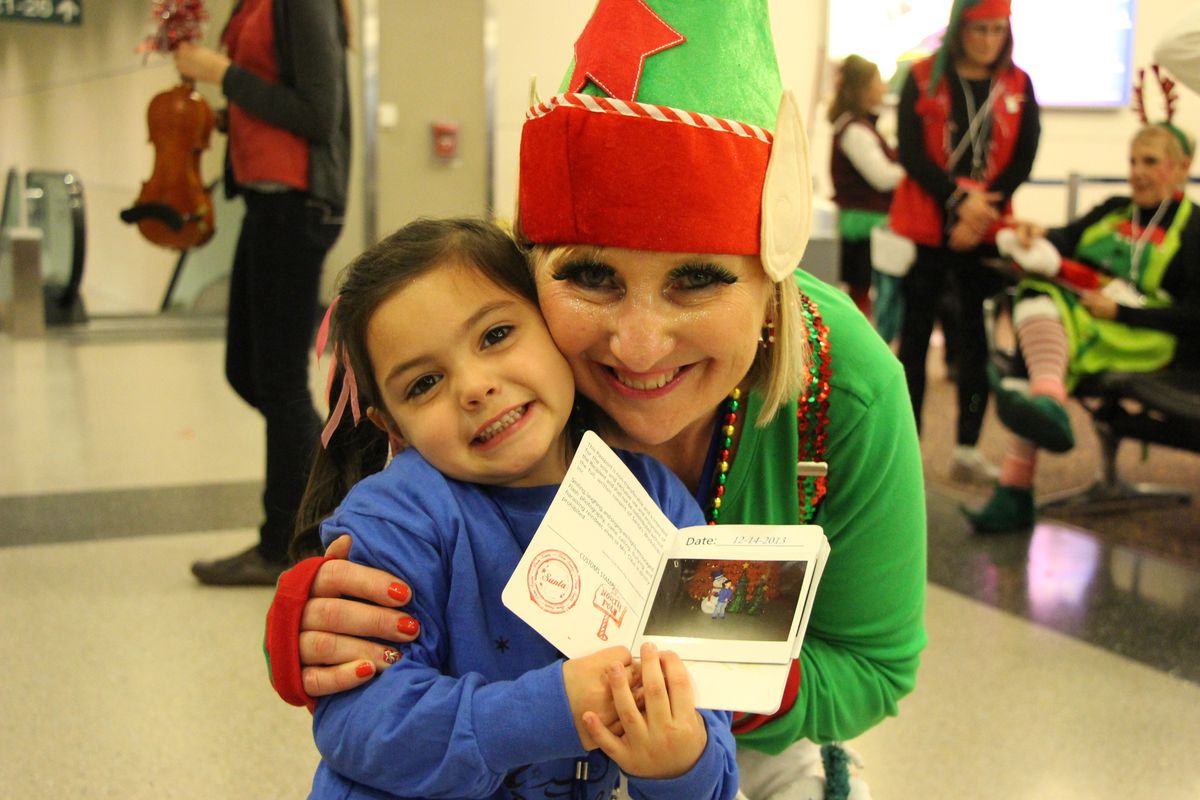 Heaven Brown, 4, is embraced by her elf, Snickerbar, during last Saturday's Spokane Fantasy Flight at Spokane International Airport.
When Emily Anne Benjamin, 9, flew over the Arctic on her way to Spokane from Germany last Saturday, she spotted blinking red lights and a polar bear. It disappeared in a flash but she knew she'd glimpsed Santa's house.
"I saw lots of bright red sparkle dots and lots of other twinkly, bright colors," she said. "I hope the other kids got to see it too!"
Those other kids were the 63 area youngsters she saw at Spokane International Airport when she landed with her mom, Sarah Barenz-Benjamin.
To her amazement, more than 200 merry elves dressed in holiday garb – all part of the Spokane Fantasy Flight program – filled the terminal and greeted those 63 children as they arrived on school buses.
"There were people everywhere, playing music, singing Christmas carols, joking, laughing and talking about Santa with all these little kids," said Barenz-Benjamin. "It was like this cacophony of Christmas. We had no idea what was going on."
They watched in wonder as the elves partnered up with children and helped them through security.
"The people were so joyful. I asked what was going on," said Barenz-Benjamin. She learned the children were on their way to see Santa Claus at the North Pole, riding the same Alaska Airlines plane they'd just left.
It was a special flight arranged by Santa's helpers because he knew those 63 kids had experienced sadness and could use an extra dose of Christmas cheer. Each child is nominated by social service agencies that offer transitional housing.
Heaven Brown, 4, and her brother Mathew Jordan, 8, had moved out of St. Margaret's Shelter into an apartment in April. This was nice but they missed their brother Derek, who died in June after battling cystic fibrosis.
Santa's aim with Fantasy Flight is to help them shoulder that sadness with some special Christmas spirit. He wanted them to see the hope, love and wonder of the season.
"Our mission is to create an over-the-top memory for these children and use the power of Santa and Christmas to do that," said Chief Elf Officer Steven Paul. "These children are surviving. They're consumed with worry and we want to replace that with wonder."
The elves hope, he said, that the children leave with a stronger sense of belief, not only in the magic of Christmas but in themselves and the possibility of positive things in their future.
Before boarding their plane, the children are fed and receive backpacks filled with school supplies, winter woolies and a T-shirt that says, "I Believe" on the front and "I've Been to the North Pole" on the back. Then their "passports" are validated with the "North Pole Approved" stamp and they're on their way to a magical evening the elves hope they never forget.
For Heaven, the whole experience was fun, from getting her invitation and taking her first airplane ride to getting presents from Santa and riding in a Hummer limousine to the Salvation Army at the end of the evening.
"We got to have our own elf," she exclaimed, talking about her elf, Snickerbar. "She had jingle bells on her."
Her brother Mathew's elf, Timber, was a lot of fun, too. After they disembarked at the North Pole, walked the red carpet, and passed through an elfish salute of candy canes, Mathew received a hat and sweatshirt with the logo for his favorite team, the Pittsburgh Steelers, along with a football. Then Timber played catch with him.
"We do try to bring back the core elements of why it's wonderful to be a child," said Paul, adding, "in the process we remind adults about that, too."
That's what happened when Barenz-Benjamin and her daughter Emily got a glimpse of the children with their elves at the airport.
"This is the coolest thing I've ever seen," said Barenz-Benjamin. "From the minute they walked in the airport everybody was all about these kids. It was just truly magical."
And it thrilled Barenz-Benjamin that Emily's first Christmas in Spokane began with a gift – getting to see the spirit of the season in action.
"It was her first impression coming home. The people were so joyful. People in Spokane are so giving," said Barenz-Benjamin. "I'm glad we're home for Christmas. She's done Christmas overseas her whole life. She was really moved by this. We both were."
Local journalism is essential.
Give directly to The Spokesman-Review's Northwest Passages community forums series -- which helps to offset the costs of several reporter and editor positions at the newspaper -- by using the easy options below. Gifts processed in this system are not tax deductible, but are predominately used to help meet the local financial requirements needed to receive national matching-grant funds.
Subscribe now to get breaking news alerts in your email inbox
Get breaking news delivered to your inbox as it happens.
---