A&E > Food
Mashed or gratin, sweet or plain, tater must-haves
Wed., Dec. 25, 2013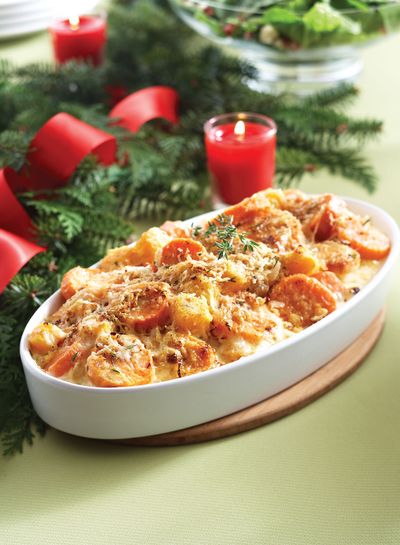 Mashed potatoes are creamy and comforting. So are whipped sweet potatoes topped with a velvety crust of toasted marshmallows.
This time of year, the root vegetables are readily available. In fact, you might even have some in your pantry right now. They can easily be turned into simple yet satisfying sides, if you're still in need of another dish to round out your holiday dinner.
All four of the following recipes come from Safeway, which includes them in the searchable recipe section of its website at www.safeway.com.
Ultimate Mashed Potatoes
3 pounds russet or Yukon Gold potatoes
1 cup milk
4 tablespoons sweet cream butter, at room temperature
Salt and pepper to taste
In a covered 5- to 6-quart pan over high heat, bring 1 quart of water to a boil.
Peel and rinse potatoes. Cut into 1-inch chunks; carefully add to boiling water, cover and return to a boil, 3 to 4 minutes. Reduce heat to medium and simmer until potatoes are tender when pierced with a fork, about 8 to 10 minutes.
Meanwhile, heat milk in a microwave oven just until steaming (don't boil). Or warm in a 1-1 1/2 quart pan over medium heat.
Strain potatoes. Mash with a potato masher or mixer. Add butter, hot milk and/or desired seasonings, if using, a little at a time. Mix or beat until potatoes are fluffy. Add salt and pepper to taste.
Notes: Consider adding flavorings to the master recipe like bacon and green onions, gorgonzola cheese, sun-dried tomatoes or roasted garlic.
Also, you can peel, rinse and cut the potatoes up to 3 days in advance. Refrigerate the pieces in a plastic container covered with water to prevent browning.
Serves: 8
Mashed Five-Spice Sweet Potatoes
4 sweet potatoes
1 tablespoon plus 1/2 teaspoon salt
2 tablespoons butter
1 teaspoon five-spice (a blend of star anise, cloves, cinnamon, fennel and Sichuan pepper)
1 cup heavy cream
Peel and roughly chop sweet potatoes and put in a pot and cover with plenty of water. Add 1 tablespoon of the salt and bring to a boil. Boil until sweet potatoes are tender, about 15 minutes. Drain well.
Meanwhile, in a medium saucepan melt butter over medium heat. Add five-spice and cook, stirring, until very fragrant, about 30 seconds. Add cream, reduce heat to low, and cook until cream is heated through.
Mash sweet potatoes with a potato masher, large fork or run them through a ricer. Mash in cream mixture and salt.
Serves: 6
Whipped Sweet Potatoes with Marshmallow Crust
Fresh ginger and lime juice offer a twist on this traditional casserole. (If you're out of limes or lime juice, try orange juice.)
3 pounds sweet potatoes or yams
1 1/2 cups 1 percent low-fat milk
2 tablespoons minced fresh ginger
3 tablespoons lime juice
4 cups miniature marshmallows
2 tablespoons long, thin shreds orange peel
Salt to taste
Scrub sweet potatoes, pierce in several places with a sharp knife, and place in a shallow 9-by-13-inch or 10-by-15-inch pan.
Bake in a 400-degree oven until sweet potatoes give readily when gently squeezed, about 1 hour, depending on size. Let stand until cool enough to handle, about 10 minutes.
Cut sweet potatoes in half and scoop flesh into large bowl; discard peels. With a potato masher or a mixer, mash or beat sweet potatoes with milk. Stir in ginger, lime juice and 2 cups marshmallows. Spread evenly in a shallow 3-quart casserole.
Cover sweet potatoes evenly with remaining marshmallows.
Bake in a 400-degree oven until potatoes are hot in center and marshmallow topping is richly browned, 15 or 20 minutes. Sprinkle with orange peel and serve, adding salt to taste.
Notes: If making up to 1 day ahead, complete recipe through putting sweet potatoes in casserole; cover and chill. Bake, covered, without topping, until warm in center, 20 to 30 minutes, then cover evenly with marshmallows and return to oven until topping is browned, about 10 minutes longer.
Sweet Potato-Acorn Squash Gratin
4 tablespoons unsalted butter, divided
1 cup onion, medium dice
2 tablespoons garlic, minced
2 cups heavy whipping cream
4 sweet potatoes cut into 3/4-inch slices
1 cup acorn squash, peeled and diced into 1-inch cubes
2 sprigs fresh thyme or 1/2 teaspoon dry thyme
Kosher salt and fresh ground black pepper
1/4 cup Asiago cheese, grated
1/2 cup seasoned breadcrumbs
Heat large, heavy-bottomed pan over medium heat. Add 2 tablespoons butter. Add onion and garlic, cooking until golden brown. Add cream, potatoes, squash, thyme, salt and pepper. Bring to boil, reduce heat to low simmer. Cook until potatoes and squash are tender when poked with a skewer or knife, about 20 to 25 minutes.
Butter a 13-by-8-inch casserole with 2 tablespoons butter. Add cooked potato-squash mixture, then drizzle with reserved cream. Finish by topping with Asiago and breadcrumbs, cover with aluminum foil.
Heat oven to 385 degrees. Bake for 25 to 35 minutes until heated thoroughly. Remove foil and finish baking for 10 minutes, until top is golden brown. Remove from oven, garnish with fresh herb sprigs, and serve.
Note: If preparing in advance, strain potato-squash mixture from cream, cooling cream and potato-squash mixture separately. Reserve chilled until ready to assemble.
Local journalism is essential.
Give directly to The Spokesman-Review's Northwest Passages community forums series -- which helps to offset the costs of several reporter and editor positions at the newspaper -- by using the easy options below. Gifts processed in this system are not tax deductible, but are predominately used to help meet the local financial requirements needed to receive national matching-grant funds.
Subscribe to the Spokane7 email newsletter
Get the day's top entertainment headlines delivered to your inbox every morning.
---
Subscribe and log in to the Spokesman-Review to read and comment on this story