News > Spokane
New area church services oriented toward Latinos
Wed., Dec. 25, 2013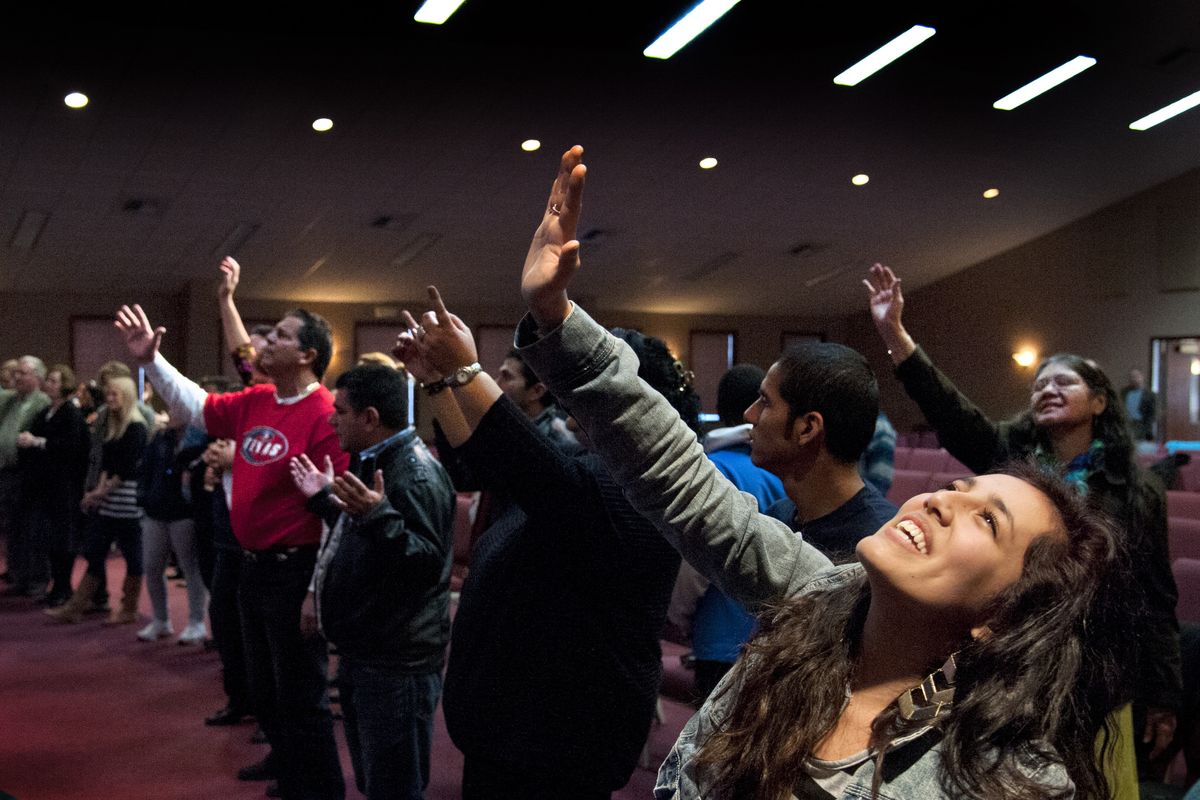 Abi Lopez gives praise during the Church of God of Prophecy's Spanish service at the Intersection building in Spokane Valley. (Dan Pelle)
The Rev. Alvaro Gomez welcomed two new families to his small Pentecostal congregation in Spokane Valley on a recent Sunday afternoon.
"Bienvenidos a la casa del Señor," said Gomez, pastor of the Church of God of Prophecy.
His words were immediately interpreted by a Mexican-American congregant standing alongside Gomez, an evangelical minister from Guatemala.
"Welcome to the house of the Lord."
The new families – political refugees – had just arrived a few days before from Cuba, and were eager to connect with the 60 or 70 Spanish-speaking faithful who meet in space borrowed from another church.
As the Latino population continues to rise in the Spokane area, a growing number of Spanish-language religious services are emerging to accommodate their distinctive form of spirit-filled and Latino-oriented Christianity.
Nearly 807,000 Latinos now live in Washington, more than 23,000 of them in Spokane County, accounting for 4.9 percent of the county's population.
While more than two-thirds of U.S. Latinos identify as Roman Catholic, 39 percent describe themselves as either "born again" or "evangelical" whether or not they remain Catholic, according to a study by the Pew Hispanic Center and the Pew Forum on Religion and Public Life.
As Latino numbers reach 17 percent of the total U.S. population and climbing, many are choosing a distinctly ethnic religious experience with Latino clergy, Latino congregations and liturgy in Spanish.
"People are looking for something new," said Gomez, who came to the United States to study theology 16 years ago. "They want to live a different kind of life closer to God."
Since establishing his ministry in his garage several months ago, Gomez and his wife, Leslie, have seen the congregation grow to about 120 people who now meet in the Intersection church in Spokane Valley. Some of the congregants were born in the United States. Others are immigrants from Mexico, Puerto Rico and Cuba, as well as Central and South America.
The Bible-based service is punctuated by rock-based music – keyboard, drum and electric guitar – accompanying lyrics filled with references to the Holy Spirit. Congregants raise their arms or wave flags to symbolize the Spirit passing through them.
Gomez preaches of the transformative power of prayer to congregants, many of whom believe in the real possibility of miracles, healing and divine intervention in their lives.
Gomez said he knows of four other charismatic or evangelical religious groups, of 30 or 40 people each, attending Spanish-language services in Spokane and Spokane Valley.
Among those welcomed to Gomez's church recently was the family of Jose Luis and Thaimy Sanchez, Cuban refugees brought to Spokane in November by World Relief, the humanitarian arm of the National Association of Evangelicals.
Sanchez, who was a Baptist minister at home in Pinar del Rio, Cuba, said his family had "a very hard life" there because of the nation's poor economy and religious discrimination.
"I came here to work and to learn, and I hope one day to have my own church," Sanchez said.
Though Catholic parishes such as St. Joseph's in north Spokane and St. Rose of Lima in Cheney have offered Spanish-language Mass for more than a decade, the appearance of other Christian faiths offering Spanish or bilingual services is a relatively new phenomenon in the Spokane area.
The Church of Jesus Christ of Latter-day Saints has offered Spanish-language services in downtown Spokane for the past five years.
Last month, the church established a new Spanish-language branch in the LDS Spokane East Stake House in Spokane Valley to accommodate a growing number of Latino Mormons, some of whom travel from as far as Coeur d'Alene to attend religious services.
"This new location will make church meetings and events more accessible to members," said branch President Anibal Lopez, a Spokane dentist. "It is also another way to integrate with others in our community."
Lopez is the son of a Mexican schoolteacher who immigrated to the United States and taught elementary school in Yakima. Though his uncle was Mormon, Lopez said his family didn't convert until 1989 after missionaries came to his retired father's home in Quincy.
"The church means everything to me," Lopez said. "It provides my children a foundation to lead their lives."
Lopez said about 20 of his branch's 29 families are Latino. Services are conducted in Spanish, and headphones are provided for English speakers to listen to an interpreter. Congregants sing traditional hymns in Spanish accompanied by piano.
Mormon male elders, who are not professional clergy, read from the Bible or Book of Mormon and speak of the importance of charity and sacrifice as the means to success in this life and the possibility of passing into the next.
Church spokeswoman Mindy Wright said children attend part of their services with an English congregation in the same building to help them improve their English-language skills.
In Kootenai County, the Rev. Ray Duran is preparing to launch a Spanish-English bilingual church service on the first Sunday of the new year. Duran said he hopes his Candlelight Christian Fellowship will attract Latinos from all over North Idaho.
Duran, who was born in New Mexico, said many Latinos are turning to nondenominational churches like his as part of the charismatic renewal.
The Catholic Church gave them a strong foundation, but Latinos "are starting to yearn for something more," Duran said.
The 2007 Pew study found that 15 percent of U.S. Hispanics identified as born-again or evangelical Protestant, 5 percent mainline Protestant and 3 percent other Christian, such as Mormon or Jehovah's Witness.
Regardless of their religious affiliation, Latinos told the Pew researchers that God plays an active role in their daily lives. Most pray every day, have crucifixes or other religious objects in their homes and attend services at least once a month. The majority of Latinos who go to a church believe in miracles and that true believers are rewarded with health and wealth.
Most houses of worship attended by Latinos are characterized by Latino clergy, Spanish-language services and a majority-Latino congregation, the study found. Nearly a fifth of all Latinos interviewed for the study said they had either converted to another religion or no religion at all. An overwhelming majority of the religious converts cited "a desire for a more direct, personal experience with God" as the reason for their conversion.
Duran said that when he was Catholic, he "never really had an experience with the Lord one-on-one."
He said many Latinos converting to charismatic or evangelical faiths are asking why this is.
"Once they have a relationship like this with the Lord, there is no going back," Duran said.
Local journalism is essential.
Give directly to The Spokesman-Review's Northwest Passages community forums series -- which helps to offset the costs of several reporter and editor positions at the newspaper -- by using the easy options below. Gifts processed in this system are not tax deductible, but are predominately used to help meet the local financial requirements needed to receive national matching-grant funds.
Subscribe now to get breaking news alerts in your email inbox
Get breaking news delivered to your inbox as it happens.
---