News > Idaho
Sandpoint airman killed by IED in Afghanistan
Dec. 28, 2013 Updated Sat., Dec. 28, 2013 at 4:21 p.m.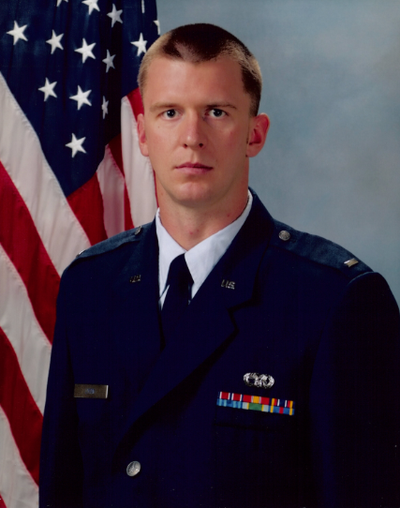 An Air Force officer from Sandpoint died Friday in Kabul, Afghanistan, after his vehicle was struck by an explosion triggered from another vehicle carrying a bomb that approached his convoy and detonated. Capt. David I. Lyon, 28, of Sandpoint, was serving with the 21st Logistics Readiness Squadron, which is based at Peterson Air Force Base in Colorado Springs, Colo. "Our heartfelt condolences go out to the family and friends of Capt. Lyon. The loss of life pains our team deeply. We are poised to assist his family and friends in their time of need and have support services in place to facilitate those needs," Col. John Shaw, 21st Space Wing commander, said in a news release. According to the Associated Press, Lyon was traveling in a convoy of international troops when a suicide bomber attacked about a half mile from NATO's Camp Phoenix base in Kabul. Taliban spokesman Zabiullah Mujahid said the insurgent group was behind the attack that killed Lyon and two other service members and injured six Afghans, according to the Associated Press. Television images showed remains of the exploded car in the street and several armored vehicles stopped nearby. Air Force officials said Lyon was about a month away from completing his year-long deployment to Afghanistan. At the time he was killed, Lyon was performing a combat advisory mission with Afghan National Army Commandos as part of the overall mission called Combined Joint Special Operations Task Force-Afghanistan. Lyon was scheduled to return to Peterson Air Force Base in February. A five-year veteran of the Air Force, Lyon graduated from the Air Force Academy and had been stationed at Peterson since January 2010. A memorial service is being planned to honor Lyon, but details were not yet available, 1st Lt. Stacy Glaus said. A website from the Air Force Academy confirmed that Lyon is also known as David Lissy. He was a track star both at Sandpoint and later for the Academy. He apparently changed his name to Lyon sometime after high school graduation. Lissy's track exploits in 2003 were highlighted in a 2009 story in the Bonner County Daily Bee. "Senior David Lissy set out with a goal of not just defending the shot put state title he won as a junior, but eclipsing Norm Gissel's school record, which had stood since 1955," Bee writer Eric Plummer wrote. "He achieved both goals and more, putting the shot 55-3 to win state, no doubt riding some adrenaline from a surprising win earlier in the discus (158-5)." Gissel is a Coeur d'Alene lawyer who worked with Morris Dees of the Southern Poverty Law Center in 2000 during the landmark civil lawsuit that bankrupted the Aryan Nations and its late leader, Richard Butler. In the Bee article, Lissy is quoted saying, "I was still pretty high from the discus and I think it helped me in the shot. I had the adrenaline going." The Academy website, which still lists Lyon as Lissy, notes that he finished sixth in the Mountain West Conference championships in shot put in 2007 and was selected as the co-captain of the team in 2008. Lyon married former Air Force track and field standout Dana Pounds in April 2009, according to a USA Track & Field publication. Pounds is a two-time NCAA javelin champion and was a 2008 Olympic Trials runner-up. His parents are Bob and Jeannie Lyon of Sandpoint. Immediate efforts to reach the family today were unsuccessful.
This story is developing and will be updated.
Local journalism is essential.
Give directly to The Spokesman-Review's Northwest Passages community forums series -- which helps to offset the costs of several reporter and editor positions at the newspaper -- by using the easy options below. Gifts processed in this system are not tax deductible, but are predominately used to help meet the local financial requirements needed to receive national matching-grant funds.
Subscribe now to get breaking news alerts in your email inbox
Get breaking news delivered to your inbox as it happens.
---