Sports
Wide receiver made more sense for WSU football recruit
Sun., Feb. 3, 2013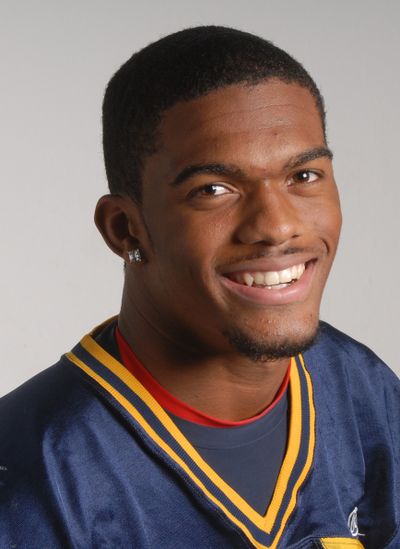 Vince Mayle figured he'd be a basketball player.
The 6-foot-3, 220-pounder from Natomas, Calif., spent his first season out of high school as a member of the Shasta Community College basketball team.
He didn't even watch football back then.
So it's been a circuitous route for Mayle, now a physical wide receiver who is expected to sign his national letter of intent on Wednesday to play football for coach Mike Leach at Washington State.
Mayle left Shasta following the 2009-10 season to care for his ailing mother, taking the 2010-11 school year off. It was during that time, Mayle said, that his high-school football coaches told him he should pursue that sport instead.
He played running back in high school, but his coaches envisioned something different for him if he could find the right fit.
"They said, 'Dude, look at the NFL – there's not many guys your size,' " Mayle said. "And you don't look like John Wall or Derrick Rose on the basketball court."
So Mayle enrolled at Sierra College in Rocklin, Calif., sat out during the 2011 season to get his academics in order, then took the field as a sophomore for Sierra in 2012.
Heads turned. From memory, Mayle can tell you that he finished the season with 984 receiving yards and 16 touchdowns, but he only notes those statistics to point out that he fell short of his personal goals of 1,000 yards and 20 scores.
Lofty aspirations for a guy who hadn't played the game in three years, sure. But he didn't miss by much.
WSU, then, hopes he's trending upward. Mayle committed to the Cougars over offers from Nevada, Kentucky, Arizona State and others. A friend played at Nevada, so he thought he might go there.
And he gave strong consideration to Kentucky before coach Joker Phillips was fired during the season.
But after the Cougars started showing regular interest, Mayle said he was close to all-in with WSU. His oral commitment was made stronger after he came on his official visit for the Apple Cup, stormed the field with the fans and had the chance to stand with the trophy. Like many WSU recruits who end up signing, Mayle said he enjoyed the college-town feel of the campus and was drawn by the lure of playing in Leach's offense.
He's been watching film of San Francisco 49ers receiver Michael Crabtree, another big, strong receiver who played under Leach and who fans likely will compare him to.
Mayle does, anyway. And he says WSU outside receivers coach Dennis Simmons, Mayle's primary recruiter, tells him he's like "Predator."
The goal, Mayle said, is to immediately compete for the No. 1 outside receiver position.
"We're comparable a lot," Mayle said of Crabtree. "We both don't have blazing speed, but we'll get open and we're physical. Just watching his success at Texas Tech made me want to be the same at Washington State."
And while Mayle says he still isn't a big football fan – "I just like to go out and play," he says – he's been studying up on WSU's quarterbacks.
He's a fan of Connor Halliday's "gunslinger" mentality, and mentioned that he's watched film of incoming freshman Tyler Bruggman, a four-star prospect out of Phoenix who is also expected to sign on Wednesday.
Mayle is one of four junior-college transfers in WSU's 2013 class. The others – offensive tackle Jacob Seydel, defensive end Lyman Faoliu and linebacker Ivan McLennan – have already signed and are enrolled in classes.
"Each of the guys are early-impact guys, which is why Leach went that route," said Brandon Huffman, a national recruiting analyst for Scout.com. "Not depth JC guys – players that could come in and play right away."
Local journalism is essential.
Give directly to The Spokesman-Review's Northwest Passages community forums series -- which helps to offset the costs of several reporter and editor positions at the newspaper -- by using the easy options below. Gifts processed in this system are not tax deductible, but are predominately used to help meet the local financial requirements needed to receive national matching-grant funds.
Subscribe to the sports newsletter
Get the day's top sports headlines and breaking news delivered to your inbox by subscribing here.
---