Sports
Season of discontent at WSU
Wed., Feb. 13, 2013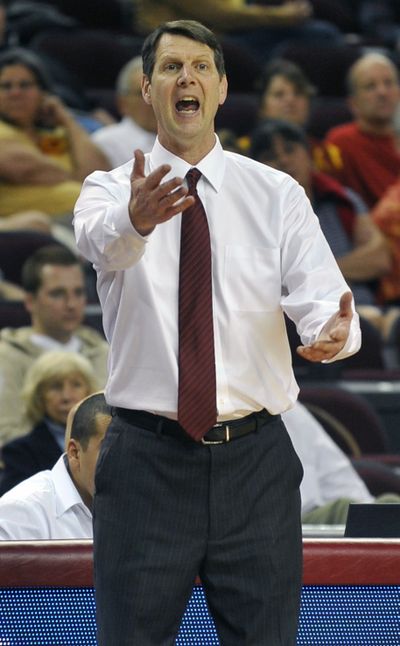 PULLMAN – Ken Bone doesn't seek it out, but he knows it's there. On blogs, on fan sites, on message boards.
A growing number of fans have grown critical of Bone, Washington State's 4th-year coach, as the Cougars have struggled to a 2-9 Pac-12 record this season. They hope to improve that mark tonight with a 7 p.m. game at Beasley Coliseum against Oregon State, one of the two conference teams WSU has beaten.
The extra heat isn't something Bone has experienced before.
"I'm not used to it. I've been very, very fortunate for 30 years – I got into this business in 1982 and I've been very fortunate to be associated with a lot of good teams," Bone said. "And so it's not easy to take the criticism, but some of it's warranted. I need to do a better job.
"When you lose, there's criticism. It doesn't matter whether you have injuries. It doesn't matter whether you've been close in games and competed well. It doesn't matter whether you've kicked off your point guard. It doesn't make any difference. At the end of the day, you're expected to win. And in league, we are 2-9, so therefore, like in any sport, you're going to be criticized."
It's come to a point now where some are wondering whether Bone will be retained next season – he's in the fourth year of a 7-year contract and would be owed $850,000 for each year remaining if he is terminated – though athletic director Bill Moos has long maintained that such decisions are not made until the current season ends.
Those who defend the coach note that WSU's offense has been stagnant without point guard Reggie Moore, who was dismissed unexpectedly prior to the start of the season for violating team rules. And Bone has touted the merits of both heralded freshman Que Johnson (ineligible this season) and redshirt junior Jordan Railey, a 6-foot-10 center who transferred from Iowa State and could provide a much-needed interior presence next season.
And despite their 11-13 record, the Cougars have held second-half leads in 21 games, proving themselves capable of at least competing with the majority of their opponents. This is the most tangible evidence from which players draw confidence that there are wins still to be had.
Critics note WSU's record in conference games during Bone's tenure (24-41), lack of attendance at home games and an inability to win close games, though the Cougars finished with a winning record in each of his first three seasons and the team's winning percentage during that period (.553) was better than all but two other Coug coaches in their first three years.
As it stands now, Bone says "I'll be just fine" when asked if he's thinking about his job security.
Players try to block out the noise, too.
"Just because we're not winning doesn't mean he's not doing a good job," sophomore guard DaVonte Lacy said. "He's not out there making the turnovers. I know I had four turnovers the last game. He's not out there making the bad decision, making a bad pass or anything. I'm behind him 100 percent because I know he's behind me 110."
Senior forward Brock Motum said the discontent wouldn't be as voluminous if the Cougars could have simply scored a few more points in a handful of their many close losses.
"The coaching staff has improved a lot of the guys and I think this place is heading in the right direction," Motum said. "I think it's just unfortunate that right now we're on a bit of a losing streak."
Recent history suggests that might end tonight. WSU has won four of five games against OSU (12-12, 2-9) in the last two seasons, and Bone has lost to the Beavers just twice in nine tries at WSU – and never at home.
"I would hope that our guys – and I'm sure they do – they would recognize the fact that here's a team that we were able to beat," Bone said. "They're good, we respect them. But we had success against them, so that's a confidence builder."
Local journalism is essential.
Give directly to The Spokesman-Review's Northwest Passages community forums series -- which helps to offset the costs of several reporter and editor positions at the newspaper -- by using the easy options below. Gifts processed in this system are not tax deductible, but are predominately used to help meet the local financial requirements needed to receive national matching-grant funds.
Subscribe to the sports newsletter
Get the day's top sports headlines and breaking news delivered to your inbox by subscribing here.
---
Subscribe and log in to the Spokesman-Review to read and comment on this story