Sports
Cougars miss Ladd in loss to Beavers
Thu., Feb. 14, 2013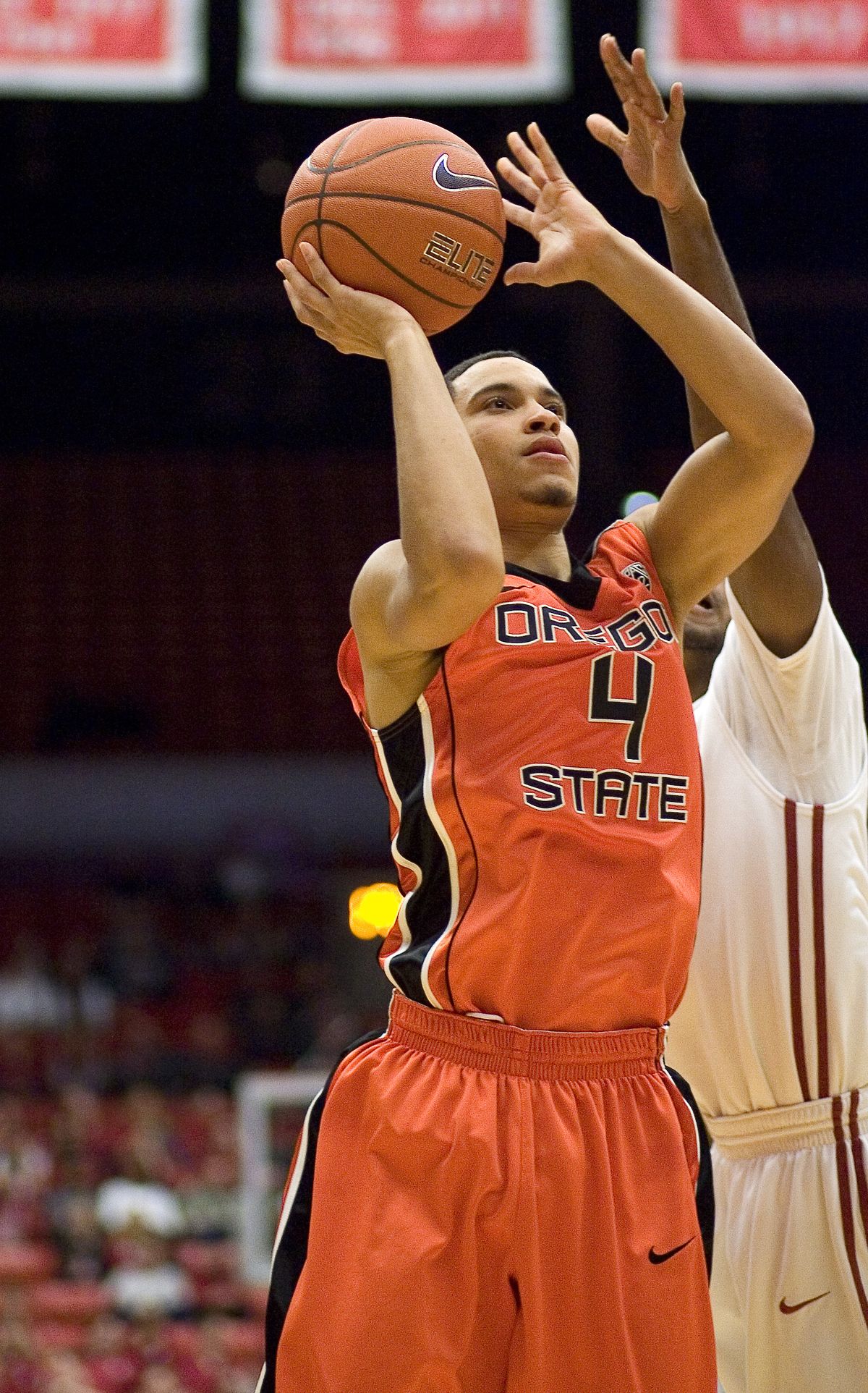 OSU's Challe Barton shoots in the first half. (Associated Press)
PULLMAN – That it came down to the final possession was a testament to how badly Washington State wanted to win on Wednesday.
How hard the Cougars played without Mike Ladd, their starting point guard.
And how many big shots they had to sink – 14 for 28 from 3-point range – in order to even make it a game.
But then, the Cougars' shortcomings in their 67-66 loss to Oregon State – turnovers and rebounding, direct results of Ladd's absence – were ultimately too many to ignore before a crowd of 4,167 at Beasley Coliseum.
Ladd's left knee was one of the primary culprits, particularly because it was injured, which meant Ladd couldn't play. WSU coach Ken Bone said Ladd had screws placed in the knee back in high school, and the tendon in that area is rubbing against the screws and creating irritation.
So, Bone said, "we had to play without a guy that's a good player and a good leader."
Instead he watched from the bench as WSU fell to 11-14 and into last place at 2-10 in Pac-12 play.
The Beavers' 10-0 run in the opening minutes of the second half led to OSU's largest lead of the game, a 43-28 advantage with 17:29 to play. The Cougars appeared done.
Thanks to the best game of DaVonte Lacy's career and a heady all-around effort from walk-on Bryce Leavitt, though, they clawed back.
Lacy led all scorers with 27 points and seven 3-pointers, five of which came in the second half. He scored 13 consecutive points for WSU during a stretch of just more than four minutes, his 3-pointer trimming OSU's lead to 49-41 with 12:39 to play.
But Ladd's presence was missed more than just offensively against OSU's pressure. He's also one of the team's better rebounders, and the Beavers' 12 offensive boards – and 34-24 edge overall – proved crucial.
"We had been a pretty good rebounding team this year and they killed us on the boards at our place," said OSU coach Craig Robinson, referring to WSU's 71-68 win on Jan. 26. "We wanted to make sure that didn't happen this time around."
The Cougars fell behind by 12 points with 6:54 left, then Brock Motum nailed a pair of 3-pointers to cut the deficit to six. Offensive boards led to buckets for OSU, but D.J. Shelton followed a Lacy 3-pointer by tossing in his own pair of 3s, the second one cutting the Beavers' lead to 64-63 with 1:14 to go.
And the Beavers still couldn't be kept off the glass. Ahmad Starks missed a pull-up jumper with 39 seconds left. But there was Nelson, swooping in, grabbing the board, laying it in the hoop and absorbing a foul from Lacy with 37 seconds left.
"They hit some shots early, and maybe that was taking us away from plugging up the paint and that way we can get the rebound," said Motum, who scored 16 points.
Nelson missed the free throw. With three fouls to give, OSU began giving them, grabbing and hacking in an attempt to prevent WSU from a clean look at a 3-pointer.
After a timeout, Shelton got an awkward shot from the right wing. He missed, the ball finding glass and most of the rim before rattling away to OSU's Langston Morris-Walker – "I thought it was down," Lacy said – who was fouled and made one free throw with 5.2 seconds left to seal it.
Lacy's 30-foot heave banked in at the buzzer to make the final deficit appear oh-so-much-closer.
"I liked the fact we kept our composure as a team," Bone said. "We kept battling and good things happened."
Just not enough of them, yet again.
Local journalism is essential.
Give directly to The Spokesman-Review's Northwest Passages community forums series -- which helps to offset the costs of several reporter and editor positions at the newspaper -- by using the easy options below. Gifts processed in this system are not tax deductible, but are predominately used to help meet the local financial requirements needed to receive national matching-grant funds.
Subscribe to the sports newsletter
Get the day's top sports headlines and breaking news delivered to your inbox by subscribing here.
---