Restoration of Ridpath's glory days adds to mix of ideas for faded hotel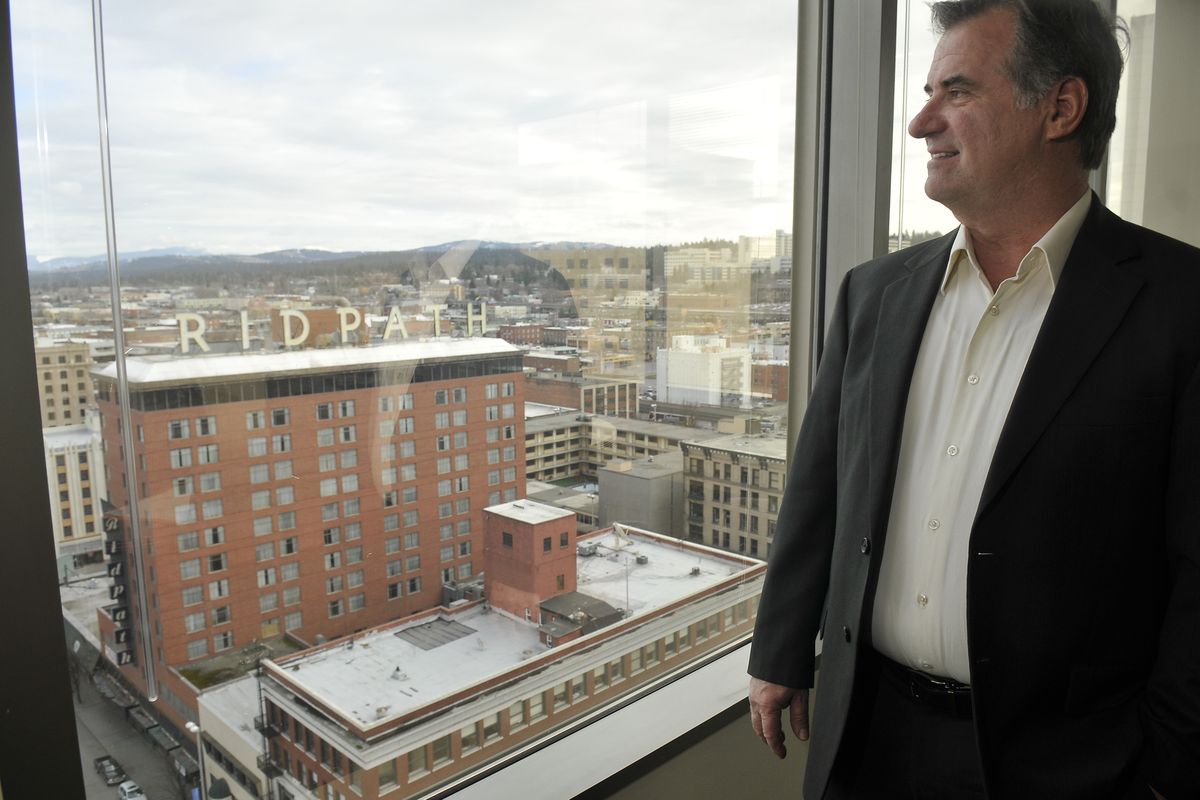 For a long time, it seemed, no one wanted to touch the Ridpath.
Now the historic hotel has more suitors than it can handle.
Local developer Ron Wells leads a group of investors who say they have an agreement to purchase 75 percent of control of the hotel for a modern apartment project. Another man, Stephen Antonietti, has long said he wants to put a luxury destination resort there, and though his plans have not moved forward he says he's still optimistic.
Now comes former Red Lion CEO and local businessman Art Coffey, who has purchased several units in the Ridpath with an eye toward restoring it as a hotel in the mid-century style of its 1950s heyday. Coffey's resume in the local hospitality and business community is long and impressive. He was the top executive at Red Lion Hotel Corp. when it sold the Ridpath to the folks who closed it and began piecemealing it off. Though he says he is now operating on his own, he's optimistic that he can bring in investors for a $25 million project to purchase all the pieces of the hotel, expand the rooms and put in a new promenade and entryway at the corner of Sprague Avenue and Stevens Street.
"I think the Ridpath should be a hotel," he said. "I think it's a great plan for Spokane, for investors, for employees and for the community."
How – or even whether – any of the plans will shake out is an open question. Coffey says his proposal would require that he own all of the hotel's separate units – broken into some 30 separate condo ownerships. Wells has purchased the top floors of the hotel and has an agreement to purchase units that comprise 75 percent of the votes in the condo associations, he said, and says that proceeding with a mixed ownership is possible.
Coffey brings a deep hotel background to his project. Between 1990 and 2008, he worked as a top executive in Goodale & Barbieri, WestCoast Hospitality and Red Lion, where he was president and CEO. He built, acquired or franchised 89 hotels and was closely involved in negotiations and financing in the complicated acquisition history of WestCoast and Red Lion. After retiring in 2008, he co-founded IP Street, an online business that provides business "intelligence" about patents and intellectual property. He says he's been focusing on the Ridpath project for months.
Coffey's offices in the Bank of America tower overlook the hotel. He parked in the hotel's basement until the parking operation there was shut down recently.
"I always hated to see the deterioration that's gone on there and the problems," he said.
He says that he views the project as a chance to combine his business experience with a desire to contribute something positive to Spokane. Coffey's plan calls for doubling the size of most rooms, to place them more in line with modern expectations, and destroying the current Halliday building to make way for a new promenade and entryway. He also envisions retail spaces in the neighboring Y building.
In some ways, it's the opposite of Wells' plan, which would have large condos on the top floors and a lot of "micro-unit" apartments throughout, with low rents and efficient spaces.
Coffey's first steps toward acquiring Ridpath properties began in January, as his Ridpath Revival LLC bought five condo units from former owner Greg Jeffreys. Jeffreys is now under federal indictment on 73 felony charges ranging from bank fraud to theft. Coffey's purchases, closed just days before Jeffreys' indictment, likely saved the hotel from even further entanglement in the criminal case, and represented the end of Jeffreys' ownership in the hotel.
One of Coffey's goals is to restore the hotel's historic features, including the King Cole Room, in the restaurant space on the first floor.
That room was a prominent feature of the hotel decades ago, but many locals have mistakenly assumed that it was named after King Cole, the Spokane figure known as the father of Expo '74. In fact, Coffey said, it was named after a King Cole Room in Manhattan, which was named after the nursery rhyme.
"When they were recruiting King Cole to come here, they took him to lunch in the King Cole Room," he said. "That's the kind of history I want to bring back."
Shawn Vestal can be reached at (509) 459-5431 or
shawnv@spokesman.com
. Follow him on Twitter at @vestal13.
---