News > Spokane
County jails may get a changing of guard
Commissioners consider taking over corrections operations to save money
Wed., Feb. 27, 2013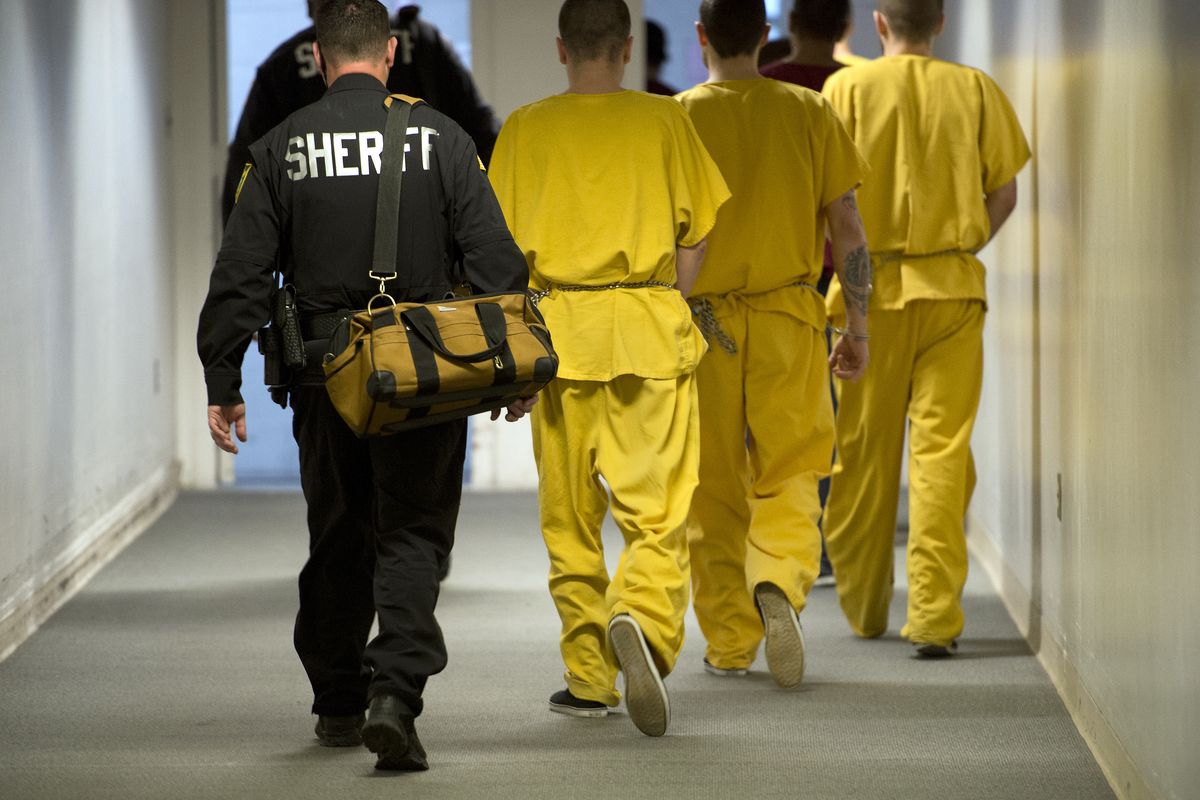 Deputies escort inmates through the corridors of the Spokane County Jail on Tuesday. (Dan Pelle)
Spokane County commissioners may take over administrative control of the county jail and Geiger Corrections Center as part of a wide-ranging reform of criminal justice countywide.
The commissioners and city of Spokane are seeking ways to cut costs in the delivery of justice, and save money on the corrections sides of their budgets.
The Sheriff's Office has operated the jail historically and in 2007 took over administration of Geiger.
The commission is poised to reverse that and take direct responsibility for both facilities.
Commissioner Al French said a comprehensive overhaul of criminal justice will be made easier by streamlining administrative oversight.
Currently, the system is fragmented among the commissioners, city governments, sheriff, prosecutor, judges, county clerk, defenders, treatment providers, labor organizations and state corrections.
"How do we execute on being able to deliver some of the savings when you have so many elected officials involved?" French said.
About 70 percent of the county's $140 million general fund budget goes toward criminal justice. But the commissioners' control over that spending gives them leverage to encourage cooperation.
Across the country, communities are seeking reforms to save money and improve the odds that offenders will stay out of trouble. The trend has support both from those who want to help people turn their lives around and those simply trying to save tax money.
Both sides say that reforms should be based on evidence of what works, including alternatives to jail, day reporting, electronic home monitoring and community treatment programs.
In Yakima County, commissioners have already taken over administrative control of the jail.
Like Spokane, the commissioners in Yakima are seeking ways to cut costs.
Both groups of commissioners are meeting today at the Public Safety Building in Spokane to talk about changes.
Commissioner Shelly O'Quinn said, "I think it's a positive step with the whole criminal justice discussion that's moving forward in our community."
She and French said they want to hear from Yakima commissioners before deciding on the transfer of jail oversight to the commissioners.
However, a decision could come as early as this afternoon, O'Quinn said.
Sheriff Ozzie Knezovich is supporting the change, commissioners said.
Gordon Smith Jr., union representative for Council No. 2, said about 230 employees in several different unions would be affected. The unions have not taken a stand on the transfer of administration, but expect to negotiate any impacts that result from it. Wages and benefits would remain the same, he said.
Last fall, city and county officials formed a Spokane Regional Criminal Justice Commission made up of three respected experts who have spent careers working within the system locally.
They are going to spend the next 10 months studying reforms and best practices in other communities, listening to criminal justice officials locally and taking testimony from the Spokane public.
Recommendations are expected in November.
There is acknowledgment that incarceration is needed for violent offenders and those who commit serious crimes.
But many of the people booked into Spokane County Jail are arrested on relatively minor issues such as failing to pay fines or show up for a court date.
"Everyone is concerned about having a safe community and the most efficient system we can have," said sheriff's Lt. Mike Sparber, jail project manager.
The county in recent years has talked about expanding jail capacity. The most recent proposal was pegged at about $200 million.
In the past year or so, local officials have been looking for ways to cut jail populations and thus reduce the amount of money that would be needed for new corrections facilities, particularly a replacement for the aging Geiger facility, which is a converted military barracks near Spokane International Airport.
Spokane city officials in late 2011 threatened to take 50 city prisoners out of the county jail and transfer them to Benton County to save up to $1 million a year. That idea was postponed to give reform efforts time to work.
Local journalism is essential.
Give directly to The Spokesman-Review's Northwest Passages community forums series -- which helps to offset the costs of several reporter and editor positions at the newspaper -- by using the easy options below. Gifts processed in this system are not tax deductible, but are predominately used to help meet the local financial requirements needed to receive national matching-grant funds.
Subscribe now to get breaking news alerts in your email inbox
Get breaking news delivered to your inbox as it happens.
---