News > Spokane
Police chief pledges to address violence
Thu., Jan. 3, 2013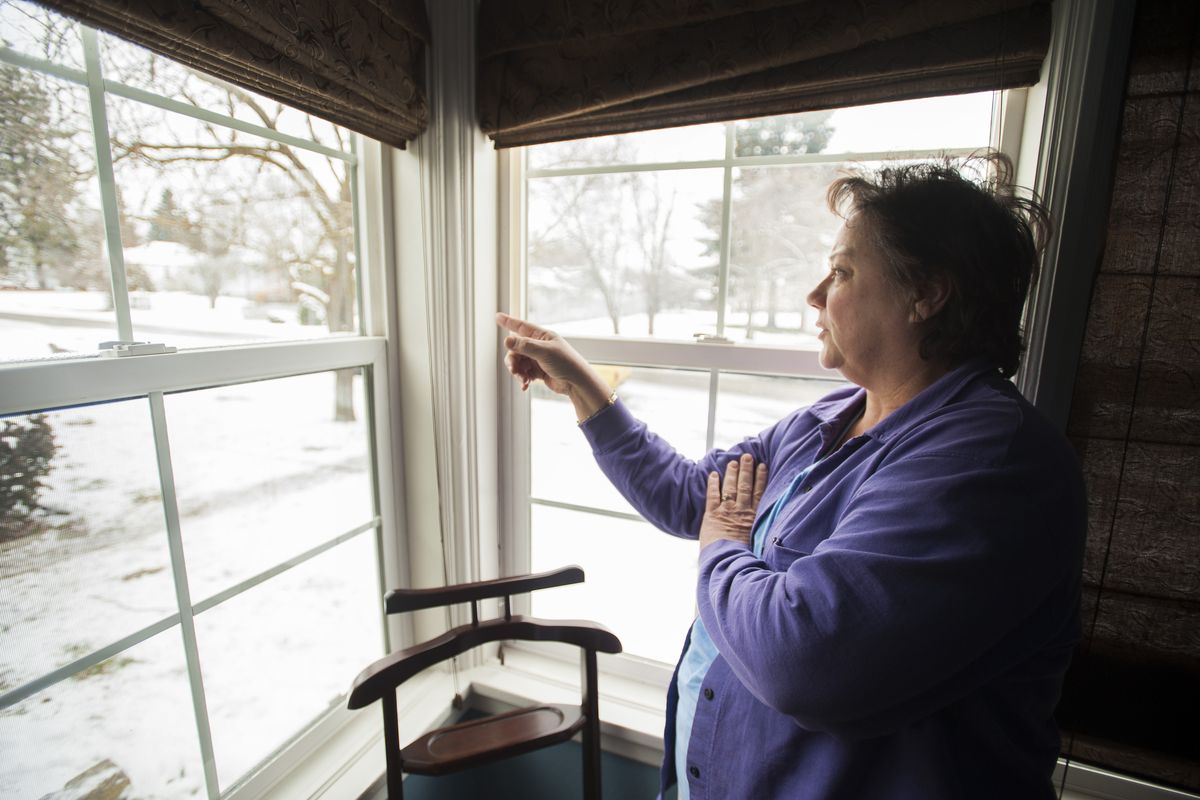 "This is where the party always is," said Marie Schultz, pointing outside her bedroom window to the house next door where a woman was shot early New Year's Day. Schultz said the house has been a chronic nuisance for more than two years. (Colin Mulvany)
Marie Schultz peers out her north Spokane bedroom window at the party house, now riddled with bullets, that has made her neighborhood almost unlivable.
She's hoping the drive-by shooting that seriously injured an 18-year-old woman on New Year's Day finally earns the neighbor's house at 4207 N. Jefferson St. the attention it needs from law enforcement.
"Since he moved in, we can't even open our windows at night if we want fresh air," Schultz said of her neighbor, Steven Knapp. "We've become prisoners to him."
The predawn shooting followed a deadly 2012, in which Spokane had 14 homicides. The seven in December alone nearly doubled the 2011 total of four and tied the number of homicides for all of 2010. Spokane had eight slayings in 2009.
Spokane police Chief Frank Straub said preliminary numbers show that violent crimes in the city have climbed from 1,304 in 2011 to 1,348 for the year that just ended.
"Any increase in crime is unacceptable," Straub said. "In 2013, we are not going to tolerate this type of activity."
The homicides in 2012 included a mixed bag ranging from the suspected murder-suicide of an elderly couple and a fatal domestic dispute to a gang-related homicide and a recent shooting where police say a drunken man pulled out a gun at a party and unintentionally shot a young woman in the back of the head.
But much of the carnage has at least one common link: people who decide to use guns to end disputes.
"It's a scary statement about where we are as a nation," Straub said. "We are settling too many disputes by shooting each other. Going forward, we are not going to tolerate a weekend like this."
The chief, who recently outlined a plan to streamline functions within the department, said the city recently conducted a chief search, dealt with the controversy over the conviction of former Officer Karl F. Thompson Jr. and underwent a Use of Force Commission review of policies.
"In all honesty, the department got a bit distracted in crime reduction," he said.
A major part of Straub's plan will be to improve the information police officials have available at all times about the types of crimes being committed and those who are committing them.
"We have not done a good job of having that data at our fingertips. We can't pull those statistics as quickly as we should have," Straub said.
Straub said he believes the department needs more than the current 273 commissioned officers. But he wants to wait for technological upgrades before he asks Mayor David Condon and the City Council for more resources.
Part of the upgrades will include weekly updates on the department's website so residents can see crime hot spots.
But the police department can only react. Straub urged parents to do a better job of monitoring teenagers and called on neighbors to alert police when they see a party getting out of hand.
"It's very important if people see these (parties) develop to report them before they lead to acts of violence," he said.
Schultz, who lives next door to the house targeted in Tuesday's drive-by shooting, said she's been trying to do exactly that for years.
She said the trouble began when the homeowner, Knapp, and his wife separated more than two years ago. She said since then there have been countless parties at the house that appear to draw numerous underage kids.
"At first, (officers) would come out and they would do something. After a while, police stopped coming when we called," she said.
Often Schultz, 58, could overhear the partygoers, who would wander out of the party house and stand next to her bedroom window visiting with other guests. She recalls one conversation in which someone described how she had been ordered that day to go see her principal.
Neighbors organized a watch program, called the mayor's office and even signed a petition with Knapp's ex-wife detailing the problems at the home, Schultz said.
"We were hoping something would happen. There is just no escape," she said.
On Monday night, Schultz saw partiers suddenly spill out of Knapp's house to watch a fight that had started. Blood-smeared snow could be seen Wednesday outside the home, which still smelled of beer.
She said her neighbor called police when the fight started, but she doesn't remember seeing any officer respond.
According to dispatch records, a 911 call came in at 2 a.m. about a fight in front of Knapp's home. Records show that Officer David Overhoff responded but found nothing when he got there.
The shooting occurred about an hour later, with police being alerted at 3:15 a.m. Officer Jennifer DeRuwe said the woman had been upgraded from critical to serious condition Wednesday.
Lt. Joe Walker said Knapp, who was unable to be reached Wednesday, was cooperating with investigators who are trying to track down several people who were at the party.
Straub said detectives have "substantial leads" on the shooting, but he would not elaborate.
Straub said he was aware that Knapp's house "has been a problem." He encouraged neighbors to keep trying to work with law enforcement and city code enforcement officers to identify problem locations.
"In the past, admittedly, we didn't do a good job as we could have in bringing those resources to bear," he said.
Local journalism is essential.
Give directly to The Spokesman-Review's Northwest Passages community forums series -- which helps to offset the costs of several reporter and editor positions at the newspaper -- by using the easy options below. Gifts processed in this system are not tax deductible, but are predominately used to help meet the local financial requirements needed to receive national matching-grant funds.
Subscribe now to get breaking news alerts in your email inbox
Get breaking news delivered to your inbox as it happens.
---