News > Business
Fitness, running advocate Ed Rockwell dies at 78
Fri., Jan. 4, 2013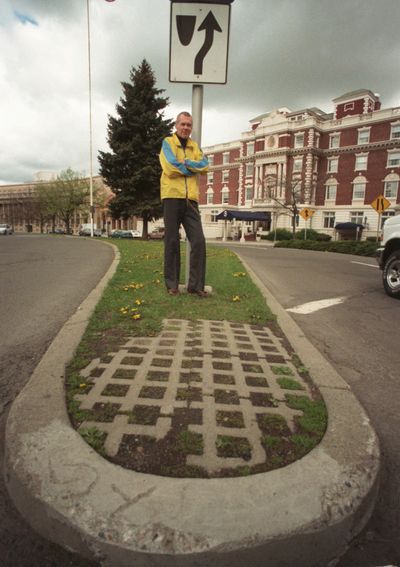 Dr. Ed Rockwell, one of Spokane's earliest advocates of running for fitness, died Dec. 27.
Rockwell, 78, was involved in the inaugural Bloomsday race in 1977. The surgeon later participated in Bloomsday as both a runner and as race medical director and served as Bloomsday president.
In 1991, Rockwell became the first person inducted into the Bloomsday hall of fame.
After serving in the U.S. Army, Rockwell moved to Spokane in the 1960s with his wife, Nancy, and their children. He was already committed to running, having competed in track in high school and at the University of Michigan.
During the 1970s Rockwell became a friend of Kenneth Cooper, an author and doctor who was one of the leading proponents of aerobic running.
The friendship inspired Rockwell to organize some of Spokane's first "fun runs," a term coined by the American Heart Association for community fitness events, which led to his involvement in Bloomsday.
One of his closest friends, Jerry O'Neal, met Rockwell at one of those runs, years before the first Bloomsday event. O'Neal recalls that Rockwell was a fitness evangelist to both friends and strangers.
"He was the Pete Seeger of running," O'Neal said. "Seeger was happy when he saw everyone singing. Ed wanted to see everyone running."
Rockwell seldom drove a car, O'Neal said. "He'd leave home in the morning and run to work, then come back and run home at night," O'Neal said.
On weekends O'Neal often joined Rockwell on bike rides of 50 miles or longer. Among other activities, Rockwell volunteered to help coach Lewis and Clark High School's runners.
"The runners at LC all knew Dad," said Tim Rockwell, one of Ed Rockwell's two sons, who both competed in track at LC.
"They went out and would run just like him, imitating his weird running style, with his right arm flopping back and forth," Tim Rockwell said.
After the first few Bloomsdays, Rockwell and other organizers suggested changing the start time from noon to 9 a.m. Some worried that the change would irk church groups, who might feel it would disrupt Sunday services.
"Ed argued in favor of the change and said he'd defend it to anyone," O'Neal said. "He was a doctor and knew we were getting too many heatstrokes starting at noon." The race now starts at 9 a.m.
Rockwell's first wife, Nancy, died in 1999. Suffering from Alzheimer's disease, Nancy Rockwell drove off after visiting a Spokane health club and became lost. She was found dead of hypothermia 10 days later in a Whitman County wheat field.
Rockwell married his second wife, Wendy Miles, in 2002.
In the late 1980s Rockwell left his private medical surgery practice and joined the Spokane Veterans Administration hospital. He retired in 2003.
His three children – Matt, a Seattle resident, Ann, who lives in Spokane, and Tim – continued to visit Rockwell after he moved from his South Hill home to a dementia care center.
A few years ago they decided to walk with their dad from his care center to Hart Field, where LC competed in track. "When we got there, my dad started to run," Tim Rockwell said. "For him, that's what you did at Hart Field. You ran.
"When we saw that, we knew the lion inside him was still there," Tim Rockwell said.
The family plans a memorial service Saturday at Heritage Funeral Home.
Local journalism is essential.
Give directly to The Spokesman-Review's Northwest Passages community forums series -- which helps to offset the costs of several reporter and editor positions at the newspaper -- by using the easy options below. Gifts processed in this system are not tax deductible, but are predominately used to help meet the local financial requirements needed to receive national matching-grant funds.
Subscribe to the Coronavirus newsletter
Get the day's latest Coronavirus news delivered to your inbox by subscribing to our newsletter.
---