Sports
Blanchette: Nobody had great night at Beasley
Sun., Jan. 6, 2013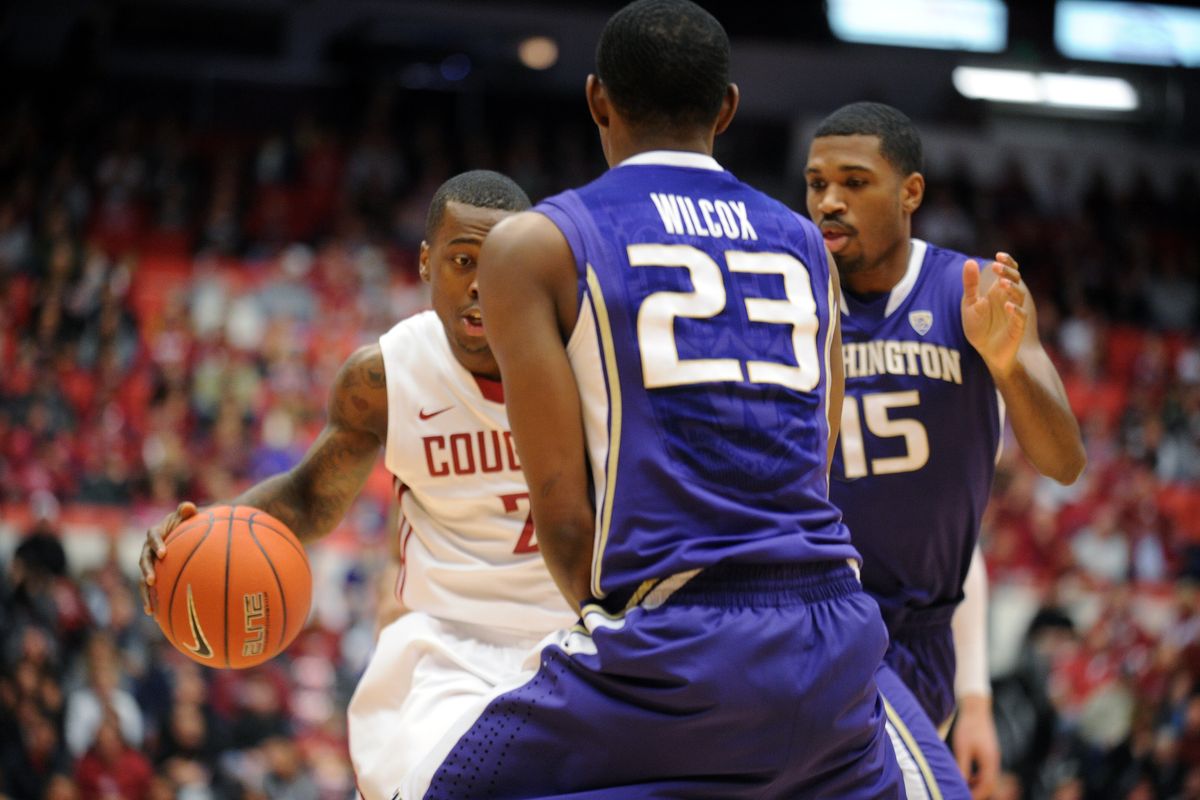 WSU guard Mike Ladd drives the ball against Washington guard C.J. Wilcox (23). (Tyler Tjomsland)
PULLMAN – So that last 3-pointer: Did it get off in a time or not?
Oh, sorry. That's a call the officials didn't have a chance to get wrong here Saturday night, but only because Lorenzo Romar believes in fouling in the closing seconds when up by three.
Of course, Larry Scott's All-Stars did manage to administer a two-shot foul on a one-and-one with eight seconds to play, leading to some clumsy possession-arrow justice and what amounted to an extra timeout for Washington State to draw up another crack at sending its dirt-clod derby against rival Washington into overtime.
Not that anything came of it. Sort of a theme this night.
And not to pick on the Pac-12's maligned-on-demand officiating staff. The flaws came in three-ply at Friel Court.
The Huskies' 68-63 escape from will not stand out among their other 274 basketball meetings with the Cougars, except for the fact that unlike the football team six weeks ago, the hoopsters blew a huge lead and managed to survive.
This somehow led UW's C.J. Wilcox to conclude that, "We can play with anybody."
Well, yes. If by anybody he means a team that hasn't beaten a soul with an RPI that doesn't resemble the odometer on a '63 El Camino.
It's impossible to dismiss the Cougars' want-to. They are as willing as a spaniel on the scent of a steak. You don't come back from a 17-point deficit while unable to throw a penny into a wishing well without a whole lot of siccum. But then, they'd already revealed as much in that near-miss last month against Gonzaga.
But beyond that, there is not much to whet the anticipation of their constituents over the next couple of months, other than the fact that, while on the uptick, the Pac-12 still isn't Murderers' Row.
And, yes, there are a few more games at Friel. Even in the expansion era, Pullman remains every team's least favorite road trip, and often as not it shows.
Not always immediately. Washington was up 21-4 in this one before the Cougs realized the other uniforms didn't say "Idaho State" or "Arkansas-Pine Bluff."
The Huskies had come in with the same plan the rest of Wazzu's opponents will: Stop Brock Motum by any means necessary. This mostly involved Desmond Simmons fronting and clinging to the big Aussie like Saran Wrap, and 18 minutes into the game Motum had exactly two shots that weren't put-backs.
"We wouldn't have won without him," Wilcox said of Simmons, a rather more accurate assessment than the one cited earlier.
The Cougars will see this again. And again.
Now, coach Ken Bone noted that the Cougs have counters to that sort of defensive approach but "you didn't see them tonight."
That's the issue: reliable alternatives who can deliver every game. DeVonte Lacy, Mike Ladd (solid this night), Dexter Kernich-Drew – all have had their moments. But all the confidence building from the patty-cake games needs to take effect if the Cougs are going to have any impact in the Pac-12 at all.
And yet even with all their struggles, the Cougs had the Huskies wheezing in the second half, the last of their lead having evaporated in the heat of a 14-4 run, highlighted by the unlikely sight of Will DiIorio winging in 3-pointers, of which he'd tried exactly one all season. Wazzu was up four with five minutes left, and then forced a couple of UW misses.
And then gave up back-to-back offensive rebounds, the second off a missed free throw. Tie game.
"Not only offensive rebounds, but deep post touches," said Bone, referencing specifically Aziz N'Diaye, whose double-double saved the Huskies as much as Simmons did. "He got down within three or four feet of the basket, and once he gets it there he's really good.
"We need to continue to work on our post defense and continue to work on our rebounding."
So the Huskies showed a little siccum, too, when necessary. They'll need more. This is not the team that has won either the conference regular-season or tournament titles in each of the last four seasons, and for as veteran as they are, they short on both efficiency and depth.
But the Cougars' needs seem more urgent, if they expect to parlay that helpful 2012 portion of the schedule into a postseason even in one of the JV tournaments.
"We just need to value every possession," Motum said. "We need to form an identity as a tough team."
Hmm. Toughness looks like the least of their issues.
Local journalism is essential.
Give directly to The Spokesman-Review's Northwest Passages community forums series -- which helps to offset the costs of several reporter and editor positions at the newspaper -- by using the easy options below. Gifts processed in this system are not tax deductible, but are predominately used to help meet the local financial requirements needed to receive national matching-grant funds.
Subscribe to the sports newsletter
Get the day's top sports headlines and breaking news delivered to your inbox by subscribing here.
---