News > Idaho
Duncan had eye on Spokane child
Chilling admission arises at hearing
Wed., Jan. 9, 2013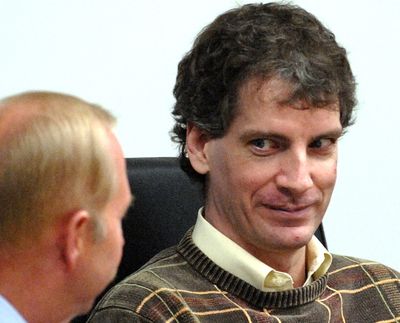 BOISE – Before Joseph Duncan murdered a 9-year-old North Idaho boy in 2005, he set his sights on a Spokane child, posing as a prospective renter and touring a South Hill duplex with the boy's mother while ogling the child.
But the boy's mother grew suspicious and the serial killer nonchalantly ignored her stares and calmly moved on.
The horrifying scenario from eight years ago emerged in federal court in Boise on Tuesday, where a judge is trying to determine if Duncan was mentally competent in 2008 when he waived all appeals of his triple death sentence. Among the evidence being presented is hours of interviews between Duncan and two FBI agents, in which Duncan talks about his crimes and his reasons for waiving his appeals.
In the first of those interviews, taped at the Ada County Jail in September of 2008 just weeks after he received the death penalty, now-retired Coeur d'Alene-based FBI Agent Michael Gneckow said Duncan sought to correct investigators on details of his crimes that they'd gotten wrong.
"Mr. Duncan had sent a letter to Tom Moss, the U.S. attorney at the time, stating something to the effect of 'I am available to answer any of your questions,' " Gneckow told the federal court Tuesday. "Even though the case essentially was over, we still had questions about the investigation."
Plus, Gneckow said he hoped Duncan might reveal information about other victims and other crimes.
Duncan, a computer expert who was just a few credits short of a bachelor's degree in computer science at the time of his crimes, showed the agents, Gneckow and his wife, Gail, a computer program he'd developed to sort through all the discovery documents and materials in his case.
As part of that, he went through a series of GPS "waypoints" that had been marked in the GPS device in his vehicle, and explained in court as potential targets – sites where Duncan picked out potential child victims, before finally settling on the Groene family at their isolated home just east of Coeur d'Alene.
Duncan said investigators and prosecutors were right about those points being potential targets, but they got one wrong: Kindermusik in Spokane, a musical activity school for preschoolers near 14th Avenue and Adams Street on the city's South Hill. Duncan said that wasn't his target.
In the taped interview played in court, Duncan tells the Gneckows, "I remember there was a coffee shop right there. … I stopped at the coffee shop and I had a cup of coffee." Then, he said, "Down this alley right here," there was a duplex. "And one was for rent. And I saw a little boy with no shirt on out adjusting the for-rent sign."
The convicted child molester and murderer said he "actually posed as a renter … the woman, had her show me around the house," young son in tow. He said the woman even showed him the basement. "She was like inviting me," he said.
"She caught me staring at her little boy," Duncan told the agents. "I knew from experience, completely acted natural, just like nothing was wrong. And just because I didn't react to her stare, I could see her suspicion disappear off her face."
He chided the FBI agents that they were "so close but no cigar" to that story in their investigation. "You were close – you just didn't get the right house. The idea was right," he said.
Duncan was sentenced to death three times over for the kidnap, torture and murder of 9-year-old Dylan Groene in 2005; he also received nine life sentences for a murderous rampage in which he killed three members of Dylan's family in order to kidnap the family's two youngest children. Only Dylan's then-8-year-old sister, Shasta, survived the ordeal.
Duncan waived his appeals of his death sentence, but his court-appointed attorneys filed an appeal for him, arguing that he wasn't mentally competent to waive his appeals. U.S. District Judge Edward Lodge ordered two extensive competency evaluations before ruling Duncan competent to act as his own attorney in his sentencing trial, but he didn't hold a hearing on the matter in open court. The 9th Circuit Court of Appeals has now ordered such a hearing, and it started Tuesday in Boise, where it's expected to last several weeks.
Duncan, 49, sat passively in court Tuesday, often leaning his chin on his hands. His hair was cropped short and graying, and he appeared very thin. He was wearing yellow scrubs, emblazoned on the back with "ADA COUNTY JAIL," over a faded orange long-sleeve T-shirt.
The question being considered is whether Duncan was mentally competent when he made the decision to waive his appeals in November 2008; he later changed his mind in December 2010, but that's not at issue in the hearing. The two FBI agents conducted five recorded interviews with Duncan both before and after he made that 2008 decision, so the interviews are key evidence about his mental state at the time.
Duncan's attorney, Michael Burt, of San Francisco, sought to have the interviews excluded because Gail Gneckow told Duncan at the outset of the interviews, "We are not going to be using it for anything legal."
Michael Gneckow told the court neither agent had any idea at the time that the interviews would become an issue in a mental competency hearing five years later. He testified that at each interview they read Duncan his Miranda rights against self-incrimination and Duncan agreed to waive them and answer questions.
Lodge overruled Burt's objections and admitted the interviews as evidence.
Federal prosecutors argued that Duncan has been consistently ruled mentally competent by every court that's considered the issue, including a Riverside County, Calif., court that held a full competency hearing in open court before a jury ruled Duncan competent. He's clearly made rational decisions as he participated in the court process throughout his case, prosecutors said, regardless of whether he's mentally ill. That's the standard that must be met.
Burt told the court that Duncan suffers from a psychotic disorder, post-traumatic stress from abuse suffered in prison during his teen years, and brain impairment. He said witnesses who will tell the court Duncan is incompetent include former defense attorneys, including one who's now a California mental health court judge. "He will tell the court that Mr. Duncan is the most severely mentally ill client he has ever encountered in his entire legal career and in his career as a judge," Burt said.
Local journalism is essential.
Give directly to The Spokesman-Review's Northwest Passages community forums series -- which helps to offset the costs of several reporter and editor positions at the newspaper -- by using the easy options below. Gifts processed in this system are not tax deductible, but are predominately used to help meet the local financial requirements needed to receive national matching-grant funds.
Subscribe to the Coronavirus newsletter
Get the day's latest Coronavirus news delivered to your inbox by subscribing to our newsletter.
---