Sports
Cal hands WSU third straight loss
Sat., Jan. 12, 2013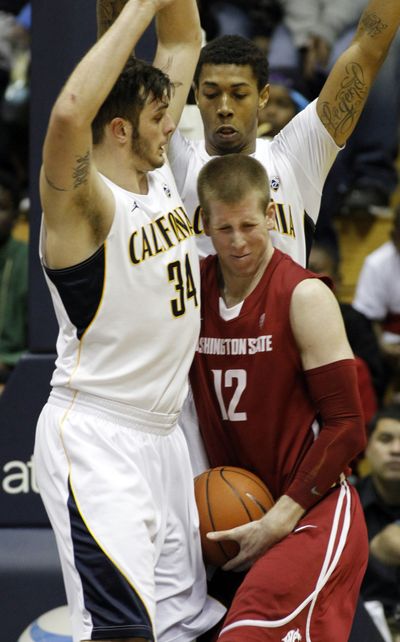 BERKELEY, Calif. – Tired of their newfound reputation as a soft, passion-starved outfit, the California men's basketball team held a players-only, "Come-to-Jesus" meeting following a bad loss to Washington on Wednesday. "We all just told each other we had to get on the same page and play hard," Cal guard Allen Crabbe said. So the Bears went out Saturday and bullied Washington State, which caught a cranky Cal team at the wrong time and paid for it in a 67-54 loss at Haas Pavilion. The Cougars (9-7, 0-3) are frittering away much of the goodwill accumulated  during their encouraging 9-4 start, heading back to Pullman now on a three-game losing streak with games next week against Colorado and Utah after Cal rejected their plans of splitting this trip to the Bay Area. Rejection came easily for the Bears in this one. WSU didn't shoot well, making just 20 of its 60 field-goal attempts. And 11 of those 40 misses were blocked by Cal, six of them by rangy center Richard Solomon. The Bears' 11 blocks tied a school record. They also served to intimidate the Cougars, who planned to attack the basket but were turned away so many times that they strayed from that idea. WSU's game plan, coach Ken Bone said, was to "attack, attack, attack. But when you don't get fouled and you don't hardly get a shot off sometimes, it gets hard, and guys don't want to really attack the rim if they're coming up empty-handed all the time." Brock Motum came up empty-handed more often than he is accustomed. The senior forward made five of his 14 field-goal attempts to lead the Cougars with 16 points, but half of his shots were from 3-point range and five of them were rejected by Cal defenders. "We have a hard time simulating that," Bone said in reference to the Bears' length and size. "So when we're in practice all the time he doesn't see that. But we're sure seeing it now." The most crucial of those blocks may have been a breakout layup attempt with 2:55 remaining, WSU trailing 58-51 but still alive, when Tyrone Wallace caught Motum from behind and swatted his shot off the backboard. "I think early on we took it in there, they blocked a few shots and maybe we had a timid mind-set," Motum said. "We still had 21 offensive rebounds, so it wasn't like we weren't getting inside and getting points." Credit point guard Mike Ladd for that. Ladd snagged nine of his game-high 12 rebounds on the offensive end, and scored nine of his 12 points as a direct result of an offensive rebound. "Rebounding was a place where I felt like I could help the team out tonight," Ladd said, "and I did as much as I could on the boards." Ladd made just five of his 15 field-goal attempts, but his rebounding was the one consistency on a day when WSU made just four of its 18 3-point attempts and shot 10 for 21 from the free-throw line. But thanks in part to Cal's 19 turnovers, WSU had its chances to hang around. The Cougars' final lead came courtesy of a Ladd put-back with 15:04 to play, at which point WSU led 43-40. But Justin Cobbs, Solomon and Bak Bak scored in succession to put the Bears ahead by three, then followed a Ladd layup by scoring another six in a row. Dexter Kernich-Drew made a 3-pointer to cut Cal's lead to 50-46, and Royce Woolridge trimmed it to 52-49 with a 3-pointer with 5:50 to play. But Wallace, who led Cal with 16 points, scored in the paint on two consecutive possessions – the second aided by a Kernich-Drew turnover – and David Kravish made a pair of free throws to put the Bears up 58-49, a margin that never diminished and grew as large as 15. Cal (10-6, 2-2) made 28 of its 36 free-throw attempts, three days after Stanford hit 24 of 26 against the Cougars.
Local journalism is essential.
Give directly to The Spokesman-Review's Northwest Passages community forums series -- which helps to offset the costs of several reporter and editor positions at the newspaper -- by using the easy options below. Gifts processed in this system are not tax deductible, but are predominately used to help meet the local financial requirements needed to receive national matching-grant funds.
Subscribe to the sports newsletter
Get the day's top sports headlines and breaking news delivered to your inbox by subscribing here.
---
Subscribe and log in to the Spokesman-Review to read and comment on this story