News > Spokane
Gregoire offers parting words
Improving education, infrastructure among final advice
Wed., Jan. 16, 2013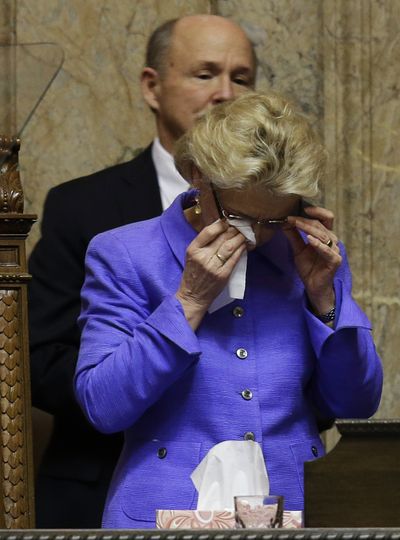 OLYMPIA – In her last speech to a Legislature with which she sometimes fought, Washington Gov. Chris Gregoire said they accomplished much over the last eight years, but still have much left to do.
Don't rest on your laurels, she said on her last full day in office; give the state better schools and roads. And, in a message that may have little traction with her replacement or the Republican-dominated coalition that runs the Senate, she suggested they may have to raise taxes to get the important things done.
"There is no free lunch" for some $1 billion extra the state will need to spend in the next two years on public schools to meet a Supreme Court mandate, she told a joint session of the Legislature. "We cannot cut our way out of this. We cannot save our way out of this. We cannot grow our way out of this."
Fellow Democrat Jay Inslee, who will be sworn in as governor this morning, campaigned on a promise of not raising taxes to get the extra money for schools, as did his Republican opponent Rob McKenna. Inslee has said he can find the money by making state government run more efficiently and helping the state's economy get more jobs.
In a list of good decisions she said the state made over the last eight years, Gregoire listed reforms already made by consolidating state departments, closing some prisons and other institutions, improving workers' compensation and unemployment insurance systems and state pensions.
"Together we ripped out the walls and pulled up the floors to remodel our 123-year-old house of government," she said.
Despite a long and lingering recession, she said, the state also made the best decisions for public schools by putting more money into science and math programs, innovative schools and creative approaches to learning. The state made important investments in transportation during her two terms, from replacing the Alaskan Way Viaduct to building the first half of the North Spokane Corridor, she said. But it has more big projects ahead.
"Our state will only remain strong if our roads, highways, bridges and ferries are effectively getting our people to work and our goods to market," she said. "Remember our competition: China isn't waiting. India isn't waiting. Korea isn't waiting."
Gregoire has been mentioned for a possible spot in President Barack Obama's cabinet for his second term, but she gave no hint of any political future. She was joined on the House dais by her family, including her 2-month-old granddaughter, Audrey Christine Lindsay, who represents the beginning of a new chapter in her life as the current one is ending.
"There's nothing like changing diapers again to bring perspective to life … and to remember what really matters," Gregoire said.
Local journalism is essential.
Give directly to The Spokesman-Review's Northwest Passages community forums series -- which helps to offset the costs of several reporter and editor positions at the newspaper -- by using the easy options below. Gifts processed in this system are not tax deductible, but are predominately used to help meet the local financial requirements needed to receive national matching-grant funds.
Subscribe to the Coronavirus newsletter
Get the day's latest Coronavirus news delivered to your inbox by subscribing to our newsletter.
---
Subscribe and log in to the Spokesman-Review to read and comment on this story