Sports
Cougars beat Utah for first Pac-12 win
Thu., Jan. 17, 2013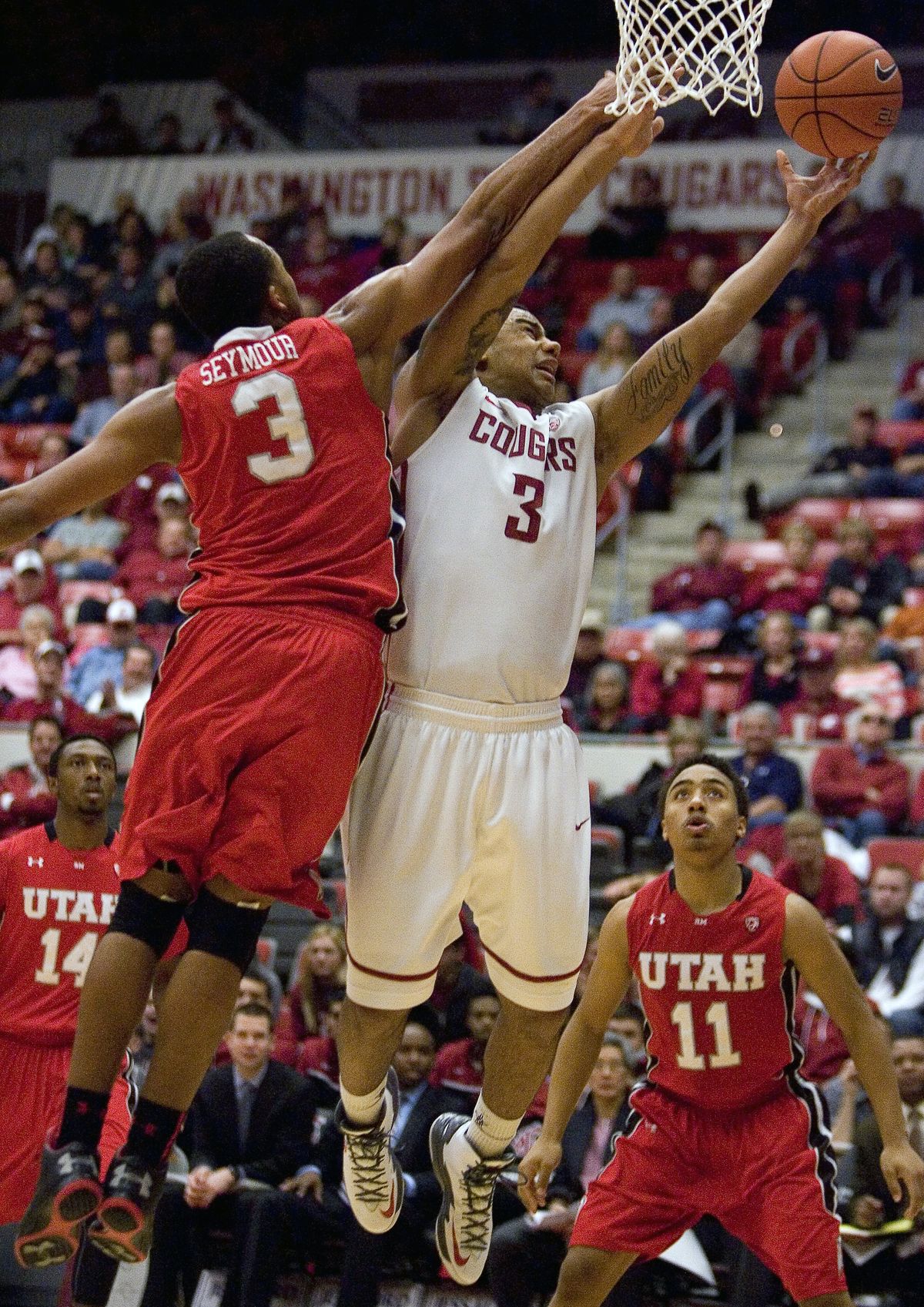 Utah's Justin Seymour fouls Washington State's DaVonte Lacy during the second half. (Associated Press)
PULLMAN – On a night when its leading scorer was held without a basket in the first half, Washington State finally summoned the necessary effort to make sure it didn't matter.
This, at long last, is what the Cougars have been looking for.
Against Utah, owners of the Pac-12's staunchest field-goal percentage defense, WSU made 50 percent of its shots, 55 percent of its 3-pointers and mostly controlled the Utes in a 75-65 win Wednesday at Beasley Coliseum before 4,240. It was the first conference win of the season for WSU (10-7, 1-3 Pac-12).
Senior forward Brock Motum wound up with 14 points – all in the second half – as WSU stretched Utah's defense with a barrage of 3-pointers. But that effort was spearheaded by senior guard Mike Ladd, whose game-high 22 points were a result of a 5-for-8 performance from beyond the 3-point arc, accounting for a chunk of WSU's 11 total 3-point makes in 20 attempts.
"I let the game come to me," said Ladd, who also chipped in six rebounds and didn't turn the ball over in 35 minutes. "And with the offense we ran and Utah keying in on Brock so much, it left guys open, and I was one of the guys, and my teammates found me."
It wasn't just him. WSU finally made an opponent pay for focusing so much on Motum, the 6-foot-10 forward who led the Pac-12 in scoring last season and averages 19.8 points per game.
Utah (8-9, 0-5) packed the paint, denied Motum the ball and surrounded him when he caught it. This was not an unfamiliar sight for the Cougars.
But this time, everyone else stepped up. All of WSU's starters finished in double-figures and the Cougars scored 28 points off Utah's 17 turnovers.
All of that against a Utah team that entered the game allowing opponents to shoot only 36.5 percent from the field.
"It was nice to see everybody involved, because the way they guarded Brock, obviously it's a chore to get him the ball," WSU coach Ken Bone said. "And when he does get the ball he's just crowded so much. So it's nice to see other guys step up and not hesitate a bit and just fire it up."
From the start, too. The Cougars jumped to a 12-5 lead and didn't make their first 2-point basket until Royce Woolridge's driving layup with 10:12 left in the first half gave WSU a 17-11 advantage.
The lead was 34-26 at halftime, by which point WSU had made 7 of 11 from 3-point range. And the Cougars ripped off a 10-2 run early in the second half behind field goals from five different players, opening a 47-31 lead with 12:42 to play.
Utah responded with 10 unanswered points, trimming WSU's lead to six. But Motum responded by drilling a 3-pointer from the top of the key, then made a pair of free throws after Utah coach Larry Krystkowiak was whistled for a technical foul.
"We really needed that," Bone said of Motum's 3-pointer. "They had a great run going and we weren't doing what we needed to do offensively, and they were getting buckets."
"When teams go on runs you always want to get something just to dry the blood a little bit," Motum said.
Woolridge, who finished with 14 points, made a 3-pointer on the following possession to push WSU ahead by 14. Utah didn't come closer than nine points after that.
The Cougars host Colorado on Saturday.
"I think we still have a lot of areas to improve on," Motum said. "We didn't close it out exactly how we'd like, but we're still taking steps in the right direction from the previous games. We won, so that was the main thing."
Local journalism is essential.
Give directly to The Spokesman-Review's Northwest Passages community forums series -- which helps to offset the costs of several reporter and editor positions at the newspaper -- by using the easy options below. Gifts processed in this system are not tax deductible, but are predominately used to help meet the local financial requirements needed to receive national matching-grant funds.
Subscribe to the sports newsletter
Get the day's top sports headlines and breaking news delivered to your inbox by subscribing here.
---