Sports
Cougs playing hard without wins
Washington State plays at 16th-ranked Oregon
Tue., Jan. 22, 2013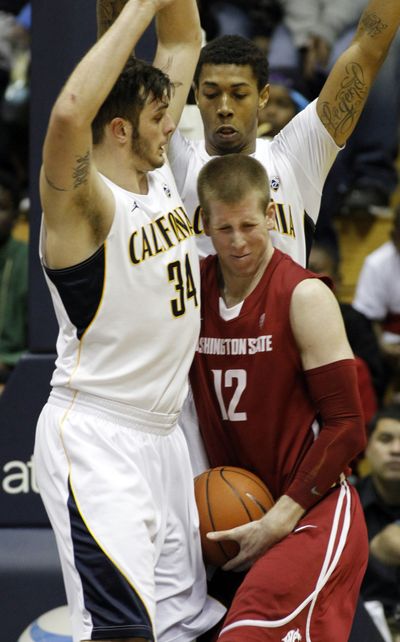 EUGENE – After a 1-4 start to Pac-12 play, it figures that there are more questions than answers surrounding the Washington State men's basketball program. The Cougars are still searching for a consistent solution to the great corralling of leading scorer Brock Motum, who has been victimized by the creativity of opposing defenses thus far. They want to execute better offensively – especially late in games – focusing on minor details such as coming off screens properly and being in the right place within the framework of the offense. But the biggest question might be: Who are these guys, anyway? WSU continues its attempt to establish an identity tonight with a 6:30 game at first-place and 16th-ranked Oregon (16-2, 5-0 Pac-12), the Pac-12's hottest team. "So far I'd have to say the identity has been a group of guys trying to pull together and compete every night," said WSU coach Ken Bone. "Every game they have gone out there and competed hard and tried to play together as a group." Their effort while compiling a rocky 10-8 record hasn't been questioned. But their execution is lacking, especially offensively. And especially at about the midway point of the second half, a familiar launching point for opponents to go on game-deciding scoring runs. WSU has held second-half leads in seven of its eight losses this season, including each of its losses in Pac-12 play. Part of the problem has been the lack of a true dribble penetrator to create shots down the stretch when the offense is stagnant and Motum is being denied the ball. It's in that regard, maybe, that WSU most misses former point guard Reggie Moore, who was the team's best creator last season. Senior point guard Mike Ladd has continued to harp on WSU's need to string defensive stops together. The Cougars lead the conference in scoring defense (58.5), but have fallen from second to sixth in defensive field-goal percentage (40.1) since the start of Pac-12 play. "The main key with us is we need to defend," said Ladd, who has scored in double figures in WSU's last six games and is now second on the team in scoring with 10.8 points per game. "Even if we're not completing buckets and we're not doing well on the offensive end, if we can get stops, we're limiting the other team to less shots. "I would love for that to be our identity. If we can stop the other team from scoring, buckets will come for us. We'll get more transition buckets. Defense is the key to win games." It certainly will be the key tonight. Oregon scores an average of 76.4 points per game – second in the Pac-12 – and hasn't lost at Matthew Knight Arena this season. Five Ducks players average double-figure scoring, though freshman guard Damyean Dotson's average of 11.9 points per game is the highest on the team. The Ducks also lead the conference in rebounding and are second in rebounding margin, aided by senior transfer Arselan Kazemi and his average of 9.6 boards per game. Oregon is deep, balanced and disciplined. And the Ducks haven't lost since Dec. 19. "They've added a number of guys that are in the rotation that can really play," Bone said. "And they're doing a great job not just on the offensive end of being able to score, (but) they're very actively defensively, playing confident and good basketball." WSU travels to Corvallis on Saturday for a 2 p.m. game at Oregon State (10-8, 0-5 Pac-12), the conference's last remaining winless team in Pac-12 play. That was the site of the Cougars' last road win, a 72-55 victory at Gill Coliseum in the College Basketball Invitational last season.
Local journalism is essential.
Give directly to The Spokesman-Review's Northwest Passages community forums series -- which helps to offset the costs of several reporter and editor positions at the newspaper -- by using the easy options below. Gifts processed in this system are not tax deductible, but are predominately used to help meet the local financial requirements needed to receive national matching-grant funds.
Subscribe to the sports newsletter
Get the day's top sports headlines and breaking news delivered to your inbox by subscribing here.
---