News > Spokane
Snow should clear the air
Storm expected later today; burning ban could be lifted
Wed., Jan. 23, 2013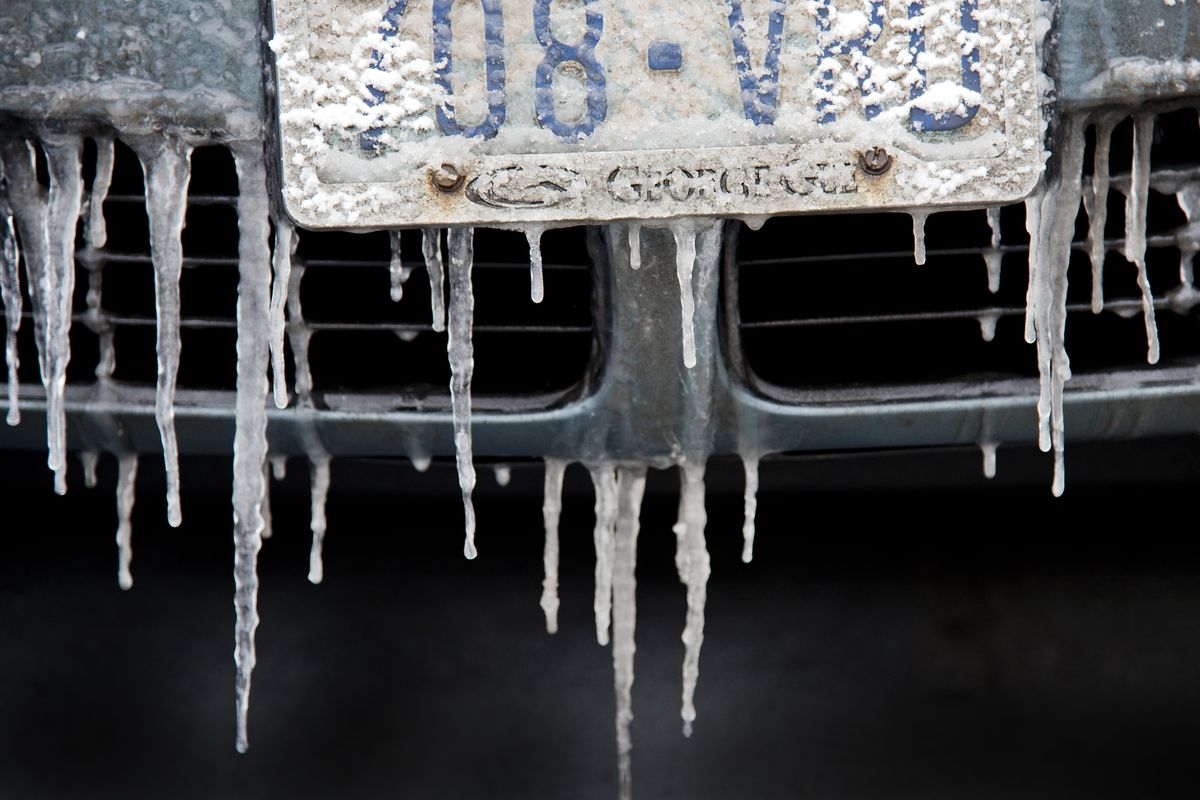 Ice hangs from the bumper of a car parked in a downtown Spokane lot on Tuesday. (Dan Pelle)
Update: Burn Ban lifted
The the Spokane Regional Clean Air Agency lifted the burn ban this morning.
The National Weather Service issued a winter weather advisory from 4 p.m. today until 4 a.m. Thursday.
ORIGINAL STORY
The stagnant, foggy air hovering over the Inland Northwest will give way to snow later today into Thursday morning, forecasters said.
One to 2 inches of snow are possible in Spokane, Coeur d'Alene and other lower elevation areas of Eastern Washington and North Idaho.
Two to 4 inches could fall near mountain areas of northeast Washington and North Idaho.
An air stagnation advisory remained in effect for areas east of the Cascades through noon today.
The Spokane Regional Clean Air Agency's ban continued through Tuesday on all wood burning with the exception of homes that have waivers because wood is the main source of heat.
That ban could be lifted once low-pressure systems start to disperse the cold, stagnant air. Outdoor burning is also banned in the urban and suburban areas of Spokane.
In Stevens County, the state banned use of uncertified wood stoves and fireplace inserts as well as all outdoor burning and forest slash burning.
In North Idaho, the state on Tuesday was asking residents to voluntarily curtail residential burning while all outdoor burning was banned.
Tuesday's air quality in Spokane was 88, which is in the range of moderate pollution. Air quality was good in Coeur d'Alene and Sandpoint and moderately polluted in Pinehurst in Shoshone County.
Once the snow starts this evening, driving could be difficult.
A high of 32 is expected today in Spokane.
Spokane has seen 35.8 inches of snowfall as of Tuesday, which is about 5 inches more than normal through Jan. 21.
A series of storms are expected by this weekend, bringing the chance of additional snow that could be mixed with rain. The storms are likely to erode the low-lying cold and stagnant air and allow high temperatures to rise to the middle 30s through early next week. Lows should be in the middle 20s to 30.
Local journalism is essential.
Give directly to The Spokesman-Review's Northwest Passages community forums series -- which helps to offset the costs of several reporter and editor positions at the newspaper -- by using the easy options below. Gifts processed in this system are not tax deductible, but are predominately used to help meet the local financial requirements needed to receive national matching-grant funds.
Subscribe now to get breaking news alerts in your email inbox
Get breaking news delivered to your inbox as it happens.
---