News > Features
Spotlight: Oates joins 2013 lineup for Get Lit!
Sun., Jan. 27, 2013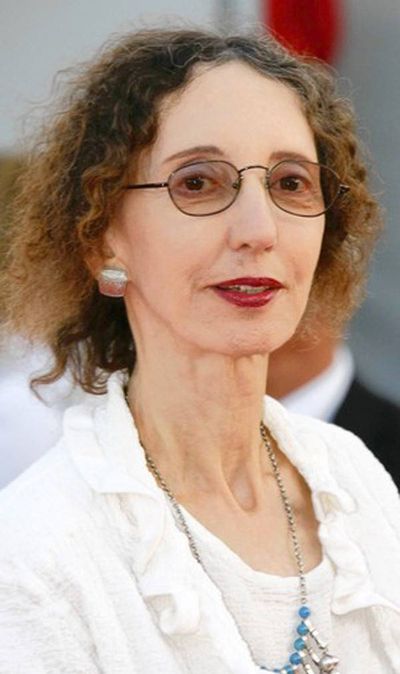 I think it's fair to say that Joyce Carol Oates is the headliner of the headliners at this year's Get Lit!
Oates, author of "We Were the Mulvaneys" and dozens of other works, will take the stage at the Bing Crosby Theater on April 12.
"We are tremendously excited to have her," said Melissa Huggins, director of Get Lit! programs at Eastern Washington University.
"We're very excited about all of the authors we have," she said.
Huggins said Oates is teaching at Berkeley this term, which allowed her to come to Spokane for the festival.
Joining Oates on the stage will be Jaimy Gordon, author of "Bogeywoman" and "Lord of Misrule," and David Shields, whose latest nonfiction work is "How Literature Saved my Life."
That event won't have a question-and-answer session, but Huggins said Oates will do a one-hour Q-and-A at a different location earlier in the day. The details are still being worked out.
Another event that will have large local appeal will be the reading and Q-and-A April 11 featuring Kim Barnes and Jonathan Evison, also at the Bing.
Barnes is a University of Idaho professor. Her most recent novel is "In the Kingdom of Men."
Evison, author of the New York Times best-seller "West of Here," has been part of Get Lit! before.
"He is hilarious, he is definitely a crowd-pleaser," Huggins said. "It'll be funny and light-hearted, a great Q-and-A with those two."
On April 13, poets Major Jackson and Robert Wrigley will take the Bing stage.
The final ticketed event is a children's author on April 14. Huggins said she hopes to be able to release that author's name soon.
The festival also has many free events. More information will be posted at outreach.ewu.edu/getlit.
Festival tickets went on sale Friday. A festival pass is $45, and tickets to individual events cost $15.
Students from any regional high school or college get in free with current ID at the door. Tickets will be available at college bookstores two weeks before the festival.
Buy tickets through TicketsWest outlets, (800) 325-SEAT or www.ticketswest.com.
>
Playhouse opens
Lake City Playhouse is kicking off its 2013-'14 season with a musical that's ripped from the headlines – of The Weekly World News.
"Bat Boy: The Musical" tells the story of a half boy/half bat creature discovered in a West Virginia cave. The local sheriff brings him to the veterinarian, whose wife and teenage daughter teach him to act like a "normal" boy.
"Bat Boy," staged July 25 through Aug. 10, will be the first of many musicals and comedies during Lake City's season. Here's a look at the rest of the shows:
• "Damn Yankees," Sept.  13-Oct. 5
• "Lend Me a Tenor," Oct. 25-Nov. 10
• "Christmas Belles," Dec. 5-Dec. 22
• "Little Women," Jan. 10-Feb. 1
• "Wit," Feb. 21-March 9
• "The Great American Trailer Park Musical," March 28-April 13
• "Arsenic and Old Lace," May 2-18
• "Guy and Dolls," June 6-28
Season tickets go on sale Monday. Ticket packages are discounted 25 percent. Current season ticket holders have until March 15 to renew seats.
To buy tickets, visit lakecityplayhouse.org or call (208) 667-1323.
Artists set visit
Seattle-based artists SuttonBeresCuller will visit Spokane Falls Community College as part of the annual Visiting Artist Lecture Series.
The three artists have worked together since 2000. They met at Cornish College of Arts in Seattle where they each earned bachelor's degrees in fine arts.
The artists – John Sutton, Ben Beres and Zac Culler – will discuss "A Question of Permanence" at 11:30 a.m. Wednesday in sn-w'ey'-mn room 110, Building 24. The lecture is free.
Instruments sought
The Moscow/Pullman Alumnae Chapter of Sigma Alpha Iota is collecting instruments for regional school band programs.
The group is gathering flutes, clarinets, saxophones, trumpets and trombones through Feb. 3. Drop-off locations include:
• Whitworth University Department of Music, main office
• Lionel Hampton School of Music, main office
• Washington State University School of Music, main office
• Lewis and Clark State College Department of Humanities, Spalding, room 111
• Keeney Brothers Band Instrument Center, 123 E. Third in Moscow
The donated instruments will be displayed at the Sigma Alpha Iota Spring Musical at 3 p.m. Feb. 3 at the Haddock Performance Hall at the University of Idaho in Moscow. Admission to the concert is by donation to the Greater Palouse Outreach Grant Award.
Contact Amanda Soto, asoto@uidaho.edu, or Del Hungerford, delh@uidaho.edu, or visit saimoscow pullman.weebly.com for information.
Rumour control
Fleetwood Mac is extending its tour – and Spokane made the cut.
The band will play the Arena on June 29.
Tickets go on sale 10 a.m. Saturday through livenation.com or TicketsWest. Prices have not yet been released.
Local journalism is essential.
Give directly to The Spokesman-Review's Northwest Passages community forums series -- which helps to offset the costs of several reporter and editor positions at the newspaper -- by using the easy options below. Gifts processed in this system are not tax deductible, but are predominately used to help meet the local financial requirements needed to receive national matching-grant funds.
Subscribe to the Coronavirus newsletter
Get the day's latest Coronavirus news delivered to your inbox by subscribing to our newsletter.
---
Subscribe and log in to the Spokesman-Review to read and comment on this story