Sports
Ex-Cougar Baynes living NBA dream
Mon., Jan. 28, 2013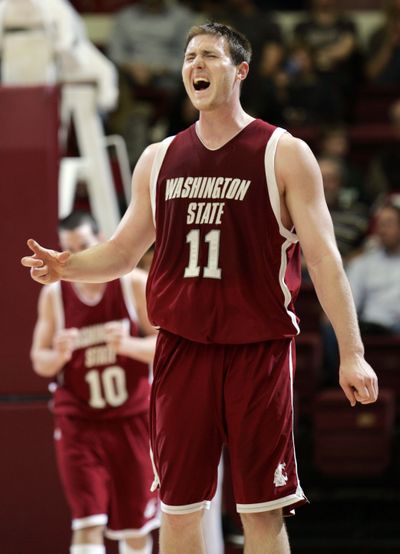 DALLAS – Playing in the NBA has always been one of Aron Baynes' goals. Baynes, who played at Washington State from 2005 through 2009, signed a three-year deal with the San Antonio Spurs on Wednesday but isn't happy just to be on an NBA roster. No, he wants to contribute to a team that has the best record in the league.
"It was always a goal. I've reached one goal but I've set many more. It was a process I've been working toward and now that I'm here I want to go out, try and earn my spot and do as well as I can," Baynes said. "It's not just about being here. I want to be an impact player, go out there and help the team out as much as I can by doing whatever I can to help us compete."
His NBA debut came on Friday night at Dallas, the same day his visa and other pertinent paperwork arrived. The 26-year-old big man had been practicing with the Spurs for the previous few days but entered Friday's game at the American Airlines Center with 42 seconds left as the Spurs beat the Mavericks, 113-107.
Being in the league is a big change from where Baynes had been playing – for Union Olimpija of Slovenia, a member of the Euroleague – earlier this month. In 10 games with Olimpija, he averaged 14 points and 10 rebounds. But when the Spurs, an organization with a reputation of taking somewhat obscure yet talented players and turning them into regular NBA contributors, expressed an interest in signing him, he knew he had to sign.
"It's a great organization with great coaches, great players and I don't think there's any better place for me to learn," he said. "It was a hard opportunity to pass up. I had to grab it with both hands. I'm just excited to be here right now."
Other than Slovenia, the native of New Zealand who grew up in Australia has also played in Lithuania, Germany and Greece since graduating from WSU in 2009. And besides spending several years in the Euroleague, the world's second-best league behind the NBA, he has also played for the Australian National Team, including at the 2012 Summer Olympics in London, experiences that he feels have prepared him for the caliber of competition he will now see on a nightly basis in NBA.
"I've played against some great players. We (Australia) play against a lot of NBA players in different international tournaments," Baynes said. "If you're not in the NBA, then the Euroleague's pretty much the next best thing. I've played for two years in that now. Hopefully it is my adjustment period. I want to come in, get comfortable and get back to what got me here."
Two added bonuses of joining the Spurs was that it reunited him with longtime friend Patty Mills, a San Antonio guard who he grew up playing with in Australia, and Spurs assistant coach Brett Brown, who coached him with the Australian National Team.
"Yeah, there's definitely an Australian connection," Baynes said. "We (Mills and I) have known each other's game for a while now so it's definitely a luxury for me to be able to come into a team and have someone that I've played with before. I don't think too many players have that, let alone international players coming in from overseas and being able to play with an ex-teammate they've had and being able to reconnect. There's definitely some level of comfort coming in. It should make the adjustment period easier."
He is the only member of the Spurs to hail from New Zealand, one of 10 countries represented on the team's roster. Coming to an organization with so much cultural diversity was another reason why he signed with San Antonio.
Local journalism is essential.
Give directly to The Spokesman-Review's Northwest Passages community forums series -- which helps to offset the costs of several reporter and editor positions at the newspaper -- by using the easy options below. Gifts processed in this system are not tax deductible, but are predominately used to help meet the local financial requirements needed to receive national matching-grant funds.
Subscribe to the sports newsletter
Get the day's top sports headlines and breaking news delivered to your inbox by subscribing here.
---