A&E > Entertainment
Firefighter John Knighten honored for life spent in service
Tue., July 9, 2013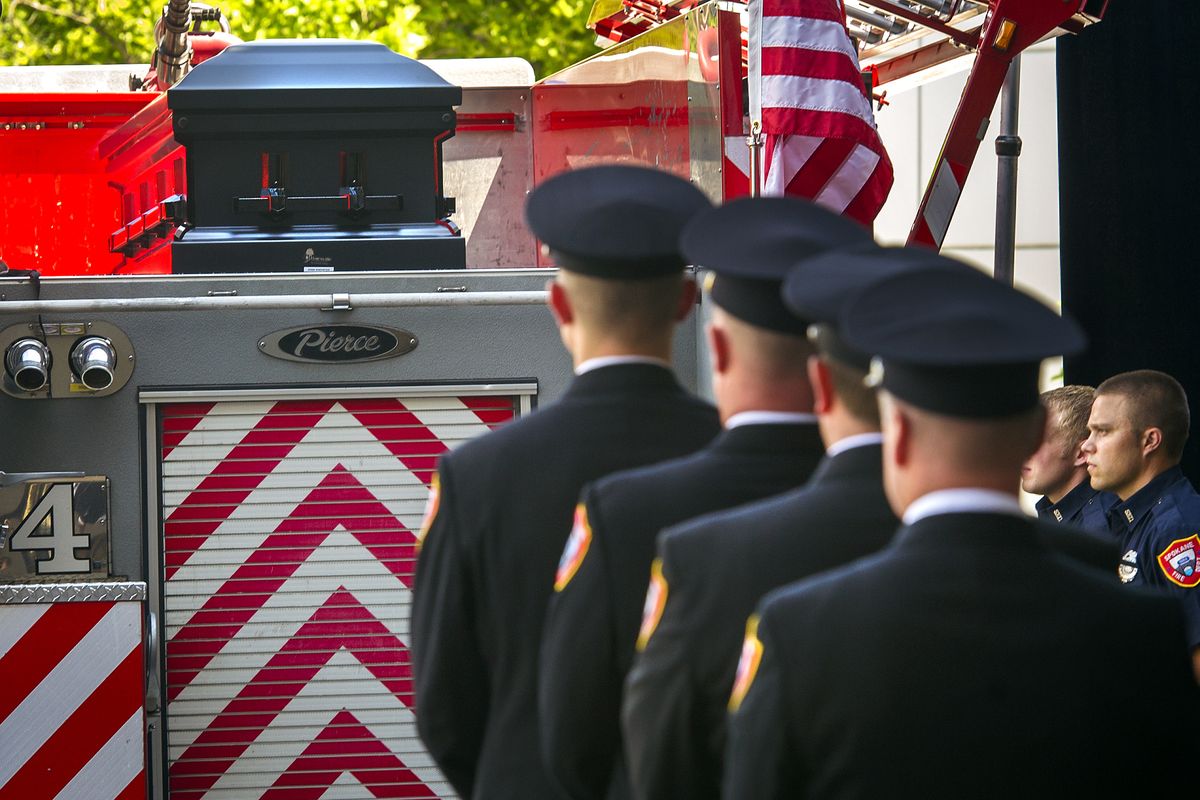 Before a public memorial at the Spokane Convention Center, a Spokane Fire Department honor guard prepares to remove the casket of firefighter John Knighten from a Station 4 fire truck Monday. Knighten, 45, died June 30 after a three-year battle with cancer. (Colin Mulvany)
John Knighten's public service started long before he was a Marine or a firefighter.
According to his youngest brother, Phil Knighten, it started when they were kids – when Phil was being bullied, and John chased the bully down the street.
When Phil got trapped under a motorcycle at age 12, and John, with a broken shoulder, pulled the bike off his younger brother.
When the 12 Knighten siblings lost their father, and John became a mentor for Phil, the youngest of the dozen kids.
John Knighten, 45, was honored for each facet of his lifelong service on Monday.
The 19-year veteran of the Spokane Fire Department died June 30 after a three-year battle with multiple myeloma. The blood cancer is one of several the state identifies as a disease presumed to be caused by firefighting and inhaled carcinogens. Because of that, his death is considered to have occurred in the line of duty.
About a thousand people – hundreds of them firefighters from across the region – attended his funeral at the Spokane Convention Center on Monday.
With uniformed personnel lining the streets to salute, dozens of emergency vehicles followed a fire truck carrying Knighten's casket in a procession from the convention center to the Washington State Veterans Cemetery in Medical Lake.
Spokane Fire Chaplain Bob Smith called the outpouring of support one of the largest he's ever seen.
He read a statement from Knighten's widow, Shawna Knighten, thanking the community for their support throughout the last three years. She and Knighten have three daughters, ages 13, 11 and 6.
During the last three years, Shawna Knighten kept a public Facebook page with updates on her husband's battle. It garnered thousands of followers and, in the last days of Knighten's life, hundreds of comments per day.
"You cannot imagine the impact your words have made in our times of struggle," Shawna Knighten said.
Phil Knighten called his sibling a "brother to thousands" as both a firefighter and a Marine. He was captain of their high school wrestling team and a catcher for the baseball team.
He spent most of his career working at Station 4 in Browne's Addition, but also worked out of Station 2. He served on several special assignments including the Water Rescue Team, Technical Rescue Team and Wildland Firefighting Task Force. He was awarded the Spokane Fire Department's Purple Heart last month.
Spokane Fire Chief Bobby Williams called Knighten one of "the most courageous and inspirational" firefighters the department has had.
His dedication showed through the day before his wedding, when he got called in to work a shift during his and Shawna's rehearsal ceremony. Williams said Knighten ran into the church for 10 minutes in full gear with a ladder truck and crew waiting for him in the parking lot.
"John loved the fire department," Williams said, noting the first question Knighten asked his oncologist was, "When can I get back to work?"
Williams presented Shawna Knighten with her husband's helmet and an American flag. Each of their daughters received fire department coins. Several video slideshows depicted Knighten as a Marine, firefighter, husband and father.
At the end of the ceremony, a voice rang out through the auditorium and through every police scanner in range.
"Station 4 to John Knighten," the dispatcher said. "This is your last call."
Local journalism is essential.
Give directly to The Spokesman-Review's Northwest Passages community forums series -- which helps to offset the costs of several reporter and editor positions at the newspaper -- by using the easy options below. Gifts processed in this system are not tax deductible, but are predominately used to help meet the local financial requirements needed to receive national matching-grant funds.
Subscribe to the Spokane7 email newsletter
Get the day's top entertainment headlines delivered to your inbox every morning.
---