Sports
Lincecum throws first career no-hitter
Sun., July 14, 2013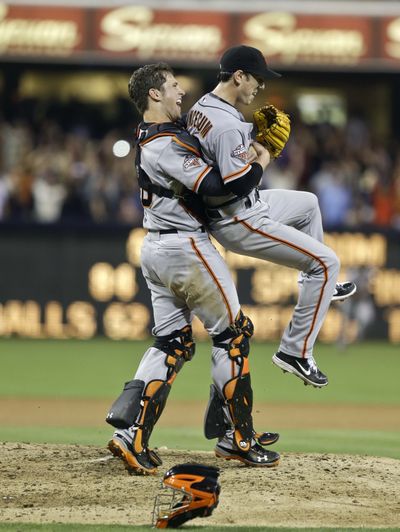 SAN DIEGO – Tim Lincecum has two Cy Young Awards and two World Series titles, but he has never been better than he was Saturday night.
Lincecum threw his first career no-hitter at Petco Park, striking out 13 San Diego Padres in a 9-0 victory. The no-hitter was the third in the last five seasons for the Giants, who were no-hit by Cincinnati's Homer Bailey earlier this month.
Lincecum threw 148 pitches, 10 more than his previous career high.
The no-hitter was the 15th in franchise history. Jonathan Sanchez threw a no-hitter against the Padres on July 10, 2009, and Matt Cain pitched a perfect game against the Houston Astros last June 13. Lincecum has struggled for a year and a half, but he joined the no-hitter club on Saturday night.
Lincecum had been showing flashes of his old self in his last seven starts and struck out 11 against the New York Mets on Monday.
He started to dominate in the second inning, striking out Will Venable and Rene Rivera on six pitches. That started a streak of six straight strikeouts on 21 pitches.
Lincecum retired 12 straight before Everth Cabrera drew a one-out walk in the sixth. Lincecum entered the inning with 98 pitches, and when he walked Chase Headley with two outs, manager Bruce Bochy got his bullpen going. That didn't last long, as Lincecum got a lineout to short to get out of the jam.
He struck out Yonder Alonso to open the seventh and then got Jedd Gyorko to fly out to leftfield. With two outs, Venable hit a screamer down the third-base line that Pablo Sandoval corralled before making a strong throw to first. Lincecum headed back to the bench at 114 pitches, 24 short of his career high. Lincecum had twice before taken a no-hitter into the seventh but had never gotten through the inning.
Lincecum is known for his rubber arm, but Bochy was taking no chances. The bullpen got going again when Lincecum took the mound in the eighth, but he got his pitch count under control with a three-pitch strikeout of Rene Rivera and a two-pitch groundout by Chris Denorfia.
Lincecum walked Cabrera and then went to a 2-2 count on Alexi Amarista. The center fielder lined Lincecum's 131st pitch of the night into right field, but Hunter Pence saved the no-hitter with a diving catch. As he walked backward toward the dugout, Lincecum held up a fist and gave Pence an appreciative look.
Lincecum struck out Headley to open the ninth and Carlos Quentin hit his 142nd pitch to Blanco in deep left. Alonso hit the final pitch of the night to left, setting off a raucous celebration on the mound.
The Giants had lost Lincecum's last six starts, but he got plenty of support. A lineup that scored 18 runs in nine games on the last road trip has scored 19 the past two nights.
The Giants scored a run on Pablo Sandoval's double in the first took a 4-0 lead in the fourth inning on doubles by Buster Posey and Sandoval and a homer by Brandon Belt. The blast was Belt's 10th of the season, a career-high.
Lincecum drew a walk to lead off the fifth and Posey and Sandoval both singled with two outs. Pence cleared the bases with a triple that was just his second hit in his last 26 at-bats with runners in scoring position. Belt followed with a single that put the Giants up 7-0.
Lincecum didn't need nearly that much help. He reached double-digit strikeouts in back-to-back starts for the first time since April 28-May 4, 2010.
Local journalism is essential.
Give directly to The Spokesman-Review's Northwest Passages community forums series -- which helps to offset the costs of several reporter and editor positions at the newspaper -- by using the easy options below. Gifts processed in this system are not tax deductible, but are predominately used to help meet the local financial requirements needed to receive national matching-grant funds.
Subscribe to the sports newsletter
Get the day's top sports headlines and breaking news delivered to your inbox by subscribing here.
---
Subscribe and log in to the Spokesman-Review to read and comment on this story