News > Spokane
Hundreds reminisce about Tom Foley in living tribute
Thu., July 25, 2013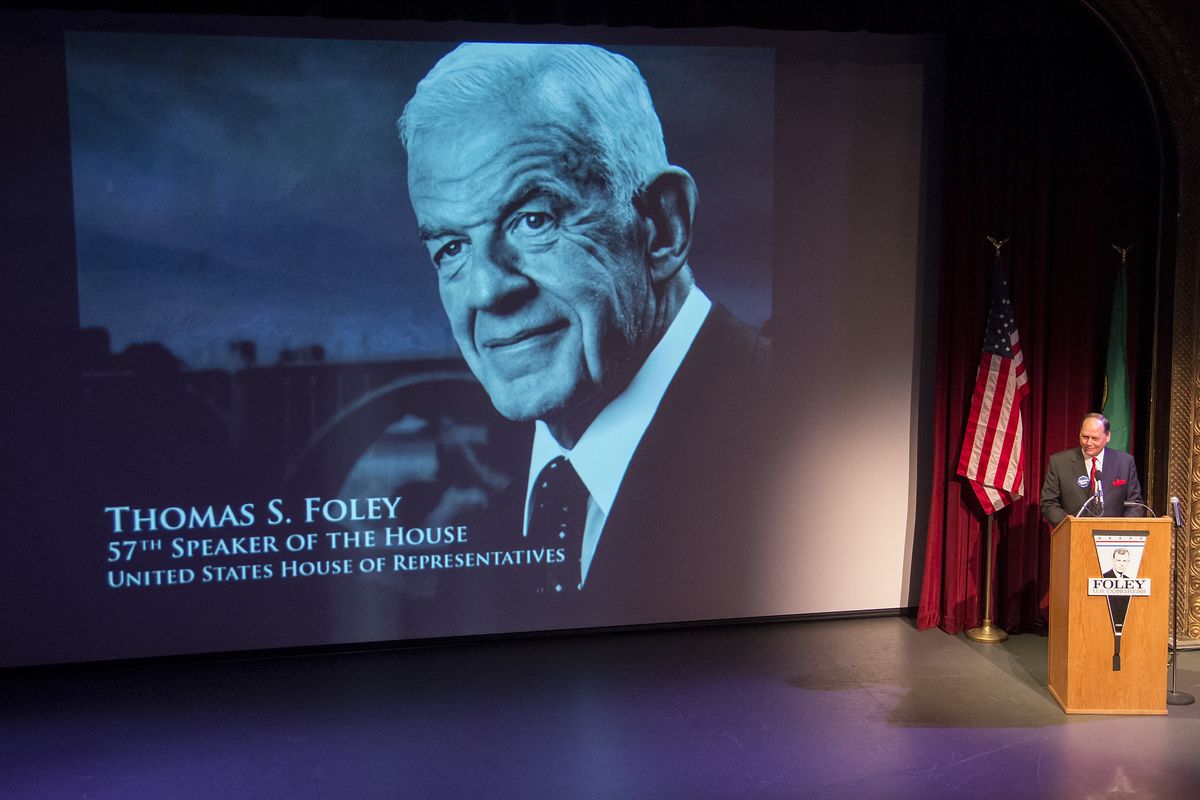 Master of ceremonies Randy Shaw speaks about his experiences with former Speaker of the House Thomas S. Foley during a living tribute Wednesday at the Bing Crosby Theater. The program featured short speeches, remembrances and video presentations. (Colin Mulvany)
H.T. Higgins remembers Tom Foley coming to his parents' house in the early 1960s, smoking and talking politics for hours with his dad, Hank.
"It was so smoky you could hardly see across the room," said Higgins, who was then just a young cousin to Foley. His dad and Foley munched on milk and cookies – they weren't coffee drinkers – fresh from the oven.
H.T. Higgins and his mother, Mary Lou, sat in the front row of the Bing Crosby Theater in downtown Spokane on Wednesday night, its lobby transformed into an exhibit honoring the Eastern Washington Democrat who rose to the highest ranks of Congress during a tenure that spanned seven presidencies. But the overwhelming picture painted during the living tribute to Foley, 84, was of a vivid storyteller, a political straight shooter and a rare beacon of bipartisanship absent in today's political climate.
Foley couldn't attend and was resting at his home in Washington, D.C., due to illness.
Among those recording video well-wishes to Foley and his wife, Heather, was Pat Kenney. Kenney ran the campaign of Walt Horan, an incumbent unseated by Foley in 1964. After the campaign, Kenney was traveling out of Spokane International Airport with his children and bogged down with too much luggage. A man lent him a hand with the bags. That man turned out to be Foley.
"I thought that he was a real gentleman," Kenney said.
Joining him in tribute were Betty Johnston and Vi Temple, Spokane Valley campaign workers who had fought unsuccessfully for Foley in his 1994 campaign. They arrived at the theater in their campaign shirts, solid blue with red lettering, which had been in storage since Election Day almost 20 years ago.
"I'll never forget him," Temple said. "He is a special person."
After a reception in the theater lobby, amid photos of Foley with the likes of Ronald Reagan, Arnold Schwarzenegger, Robert Kennedy and Tip O'Neill supplied by Washington State University's Foley Institute of Public Policy & Public Service, hundreds filed into the auditorium to hear remarks and reflections offered by Foley's colleagues and longtime friends.
Broadcast journalist Randy Shaw, who once seriously considered a run against Foley, introduced the speakers and the tone of longing for the Spokane lawmaker's brand of bipartisanship that permeated the program.
"For many, his congressional career is in stark contrast to what a lot of us see today up on Capitol Hill," Shaw said of Foley, standing behind a lectern plastered with a campaign pennant from one of Foley's congressional campaigns.
Video clips shown in the theater followed Foley's career, beginning in 1963 as a last-minute addition to Washington's 5th District ticket, through his Japan ambassadorship under Bill Clinton. A clip from 1982 showed Foley, then House majority whip, commending Reagan.
"I have come to the conclusion that despite our differences in the past, this is one occasion when the president's position is right," Foley said emphatically to the camera.
Mayor David Condon and City Council President Ben Stuckart jointly read a proclamation praising Foley for his work securing the land for Riverfront Park and establishing the Centennial Trail between Spokane and Idaho. Representatives from Gonzaga, Washington and Washington State universities were all on hand claiming Foley as the embodiment of their scholastic mission. Ivan Bush, former administrator at the East Central Community Center, praised Foley for meeting at length with clients to understand their troubles.
"In my community, there's a saying … 'Service is the rent we pay for our existence here on Earth,' " Bush said, gesturing to a photo of Foley behind him. "That man made a lot of money."
There were moments of laughter too, as Washington Gov. Jay Inslee appeared in a video relating his time as a congressman representing former members of Foley's district. A veteran with dentures approached Inslee at an Okanogan County Fair and asked the young lawmaker if he knew the size of the shoes he was filling. Inslee was puzzled.
"Well, I'll just tell you something about Congressman Tom Foley," Inslee recalled the man saying. "He got me these teeth."
The night ended with some remarks written by Foley himself, thanking the organizers for the event and the wonderful evening. Those in attendance joined in a chorus of "Thanks, Tom!" as a photographer snapped an image of the audience to send to Foley.
H.T. Higgins said the event allowed people to share stories that humanize the often larger-than-life figures in politics. To him, Foley is that family man who was always good for a story and a cookie.
"Lost in all his wonderful accomplishments is the fact that, at his core, he's a wonderful man," Higgins said.
Local journalism is essential.
Give directly to The Spokesman-Review's Northwest Passages community forums series -- which helps to offset the costs of several reporter and editor positions at the newspaper -- by using the easy options below. Gifts processed in this system are not tax deductible, but are predominately used to help meet the local financial requirements needed to receive national matching-grant funds.
Subscribe now to get breaking news alerts in your email inbox
Get breaking news delivered to your inbox as it happens.
---