News > Health
Spokane pastor's decision to give kidney leads to second match
Thu., July 25, 2013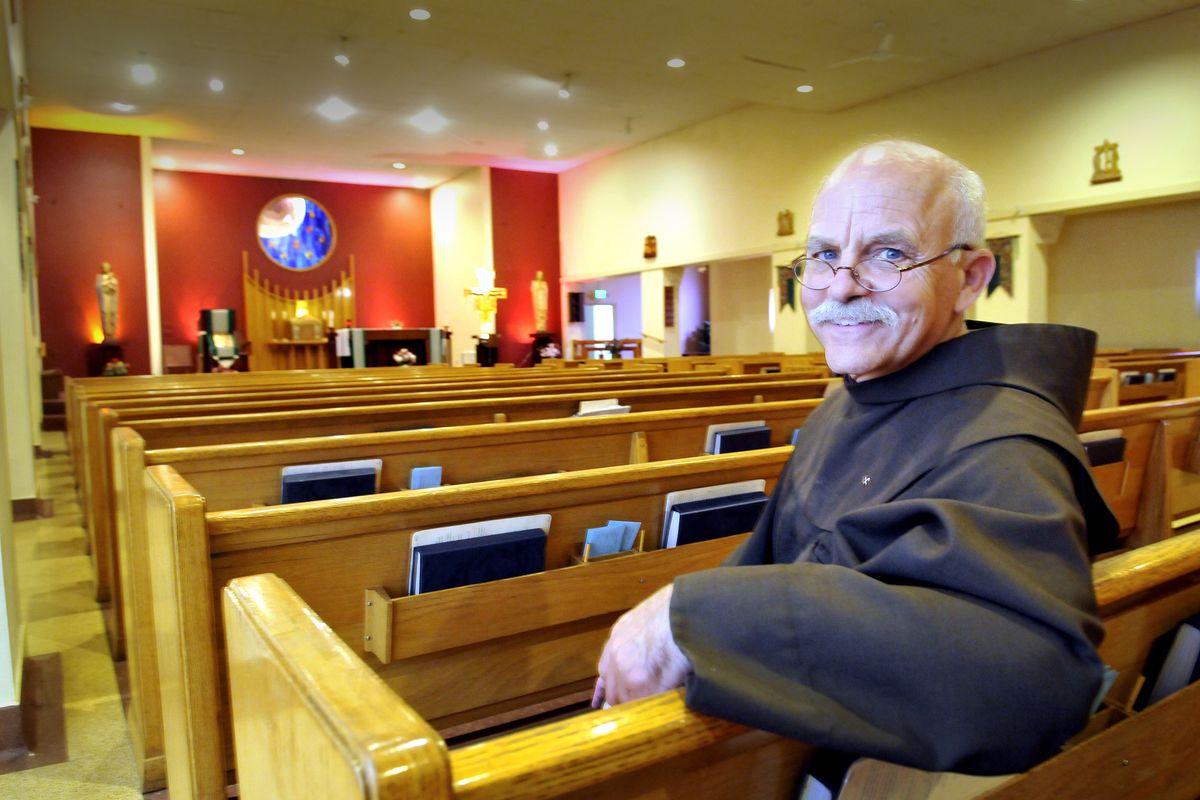 The Rev. Michael Blackburn, pastor of St. Francis of Assisi Parish, in his Spokane church Friday. Recently, Blackburn donated a kidney. (Jesse Tinsley)
The Jan. 20 photo of Megan Dunnagan on the front page of The Spokesman-Review caught the Rev. Michael Blackburn's eye. He scanned the headline, "We've been waiting long enough" and saw the story was about a 28-year-old woman in desperate need of a kidney transplant.
But Blackburn, pastor of St. Francis of Assisi Parish, didn't read the article.
A few days later, he perused the classified ads. "I noticed an ad: kidney needed," he recalled. The coincidence struck him. "I'd never thought about being a kidney donor – I didn't know anything about being a living donor."
But after reading the ad, he couldn't get it out of his mind. "The thought wouldn't go away," he said. "I've learned that's God trying to get my attention."
He retrieved the newspaper from the recycling bin and read the story about Dunnagan. Then he went online and did some research about being a living kidney donor. Blackburn said, "They have videos of the surgery on YouTube." He shook his head, "I didn't watch those."
Instead, he picked up the phone and called the number listed in the ad. The number was for the transplant center at Providence Sacred Heart Medical Center. It turned out the ad had been placed by Dunnagan's mother.
He inquired about the process of becoming a living donor and then he started praying. "I told God, 'I need a confirmation from you to make sure this is your will.' "
Not long after, he turned on his computer and saw the lead story on Yahoo was about living kidney donors. Still unsure, he asked God for one more confirmation. Blackburn said, "The next day or so, I saw a letter to the editor in the paper requesting folks to become living donors."
That was all the confirmation he needed. Blackburn, 57, began the rigorous process to determine if he'd be a suitable donor. "I had to go through a lot of testing. I met with a social worker, a psychologist, gave blood and urine samples, and had X-rays and a CAT scan."
He passed all the tests with flying colors and waited for the call to schedule his surgery. That's when his story grew even more unusual.
Though the donation process is supposed to be anonymous, a parishioner told Blackburn about the Rev. Jose Hernandez, of St. Patrick Parish in Pasco, who needed a kidney. Hernandez and Blackburn spoke on the phone.
Blackburn was a match, so he requested his kidney be given to his fellow priest. Word of the upcoming surgery spread from parish to parish as church members asked for prayer. And that's how Blackburn heard of a young woman in need of a kidney. Her brother had offered to be her donor, but they weren't a match. However, the man was a match for Hernandez and Blackburn was a match for the young woman.
On July 2, Blackburn underwent surgery and his kidney was given to her. Hernandez had received her brother's kidney on June 29.
"Two people were helped instead of just one," said Blackburn, smiling. Everyone is recovering well, and he hopes to one day meet the person who received his kidney.
"They told me it will be a three- to six-week recovery period," he said. "I haven't had any pain. I'm back to normal, but I still get a little tired."
Tim Stevens, transplant services director at Sacred Heart, said there are advantages to living donor transplants.
"Statistically, living donor kidney transplants last longer than transplants from deceased donors. This can be due to the fact that many living donor kidneys come from a blood relative and the 'match' between the recipient and donor may be better, but it also can be due to the fact that with a living donor the surgery to remove the kidney is done right before the surgery to transplant the kidney into the recipient. The short amount of time that the kidney is preserved outside the body is a benefit. Across the country, living donors make up close to half of all kidney donations."
Sacred Heart performs between 50 and 70 kidney transplants each year. Since 1981, the hospital has performed more than 1,250 of these surgeries – 36 so far this year. Megan Dunnagan is still waiting for a kidney.
"For a living donor to give the gift of a kidney is awe-inspiring," Stevens said.
Blackburn brushes off any praise. "I'm not anyone special. I just felt God called me to do this," he said. "It gives me a warm feeling to know that I've helped somebody. I'd do it again if I could."
Local journalism is essential.
Give directly to The Spokesman-Review's Northwest Passages community forums series -- which helps to offset the costs of several reporter and editor positions at the newspaper -- by using the easy options below. Gifts processed in this system are not tax deductible, but are predominately used to help meet the local financial requirements needed to receive national matching-grant funds.
Subscribe now to get breaking news alerts in your email inbox
Get breaking news delivered to your inbox as it happens.
---