Shock crush SaberCats at Arena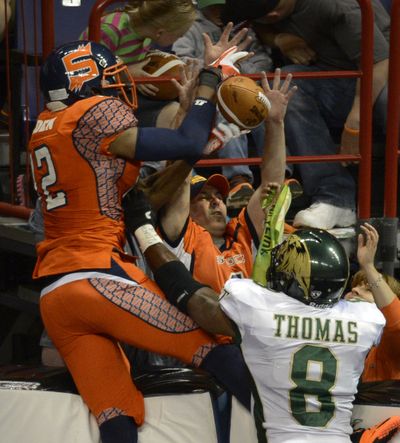 San Jose continues to bring out the best in Spokane.
No. 3 Spokane hammered the second-ranked SaberCats for the third straight time, the latest a 75-45 rout Saturday in front of an announced crowd of 9,138 at the Arena.
Spokane (8-3) forced three turnovers, made six defensive stops and scored on every possession before running out the final seconds of its third consecutive victory. The Shock passed San Jose (7-3) in the Arena Football League West Division standings. No. 1 Arizona (10-1) leads the division.
"We were more physical than them, we just played better," said Shock coach Andy Olson, whose team has won the last three games with San Jose by an average of 26.3 points. "We wanted it and I could really feel that from the players."
It doesn't seem to matter who San Jose has at quarterback when it faces the Shock. Mark Grieb (90-63 last season), Aaron Garcia (69-47 six weeks ago) and Russ Michna, who was signed after Garcia tossed five interceptions against Spokane in April, have been held in check.
"There's no secret, we just went out and played hard and we knew what we had to do," said Shock linebacker Beau Bell, who had two sacks and three hurries. "It was a good feeling because we were getting off the field on fourth down and in past games we haven't been doing that."
Michna didn't make it through the first half. The training staff appeared to be giving Michna concussion tests. He exited after going 12 of 21 with no touchdowns and Spokane in front 41-16.
Spokane did just about everything right in the first half. The Shock scored on all five possessions – twice on Brandon Thompkins touchdown catches, twice on Adron Tennell runs and once on quarterback Erik Meyer's 1-yard run on fourth down.
Spokane's 41-point first half came against a SaberCats defense that hadn't allowed more than 38 in their last five games.
"They man up (on defense)," Tennell said. "If you can't beat man coverage then you shouldn't be playing in this league. We like it when they come up and press and challenge us."
The Shock defense made a stop on San Jose's second series when Terrance Sanders broke up a fourth-down pass intended for Jason Willis.
Sanders helped break the game open early in the second quarter when he wrestled the ball away from Willis and raced 42 yards for a touchdown.
"We both kind of had the ball," Sanders said. "He fell to his knees and I was still on my feet so I had better leverage. My kick-return abilities kicked in after that."
Former Washington State Cougar receiver Jeffrey Solomon, inserted at defensive back after an injury to Patrick Stoudamire, made a team-high 10 tackles, intercepted a pass and recovered a fumble. He also caught a 9-yard touchdown pass from Meyer to hike Spokane's lead to 48-16 in the third quarter.
"I haven't played DB since high school, but luckily I have a couple friends back home that we'll go back and forth as receiver and defensive back," Solomon said. "I got a few reps in one practice (earlier in the week) and just to make sure they gave me my homework. The coaches did a nice job of keeping it simple for me."
Meyer finished with four touchdown passes and backup quarterback Arvell Nelson tossed two TDs in the fourth quarter. Thompkins had five catches for 86 yards and four TDs. Tennell added 64 yards receiving.
---