News > Spokane
Man charged with murder of girlfriend
Thu., June 6, 2013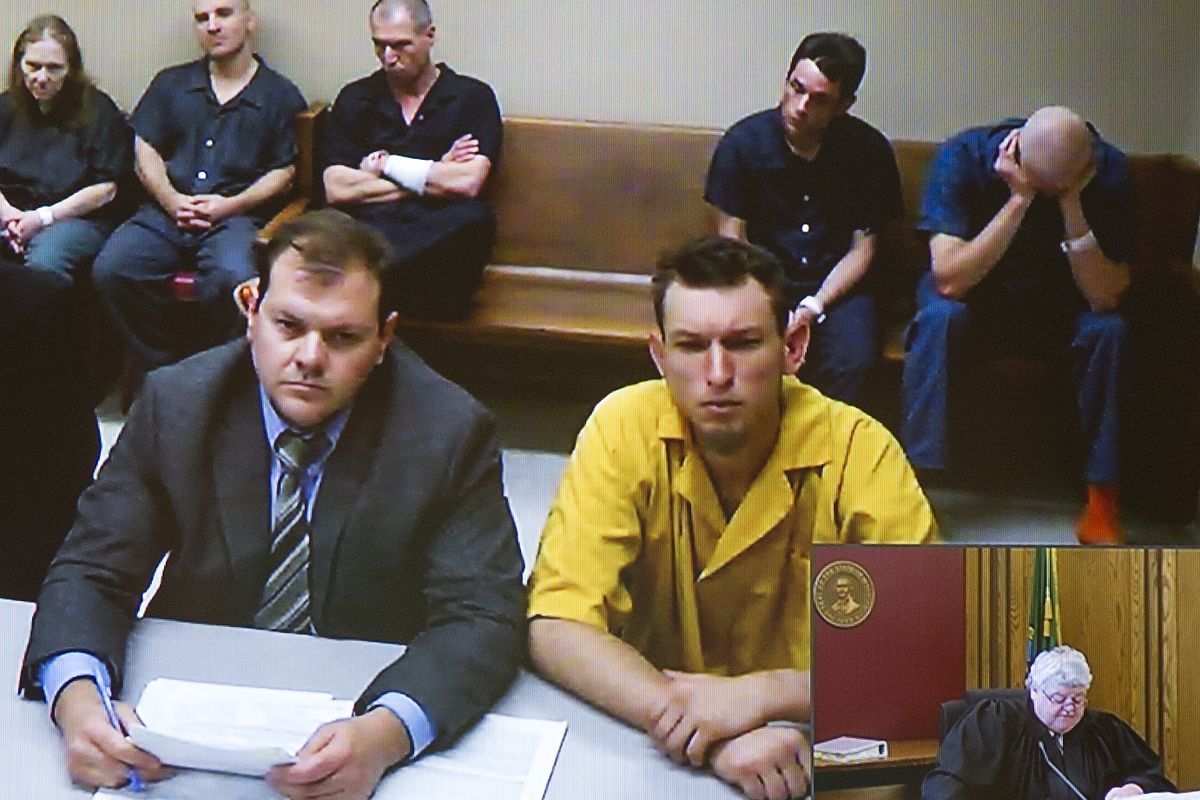 During his first appearance, Superior Court Judge James Triplet set a $500,000 bond for Jason Hart, 27, right. (Colin Mulvany)
Regan Jolley and her accused murderer Jason Hart had barely been living together three weeks when a roommate had to break up a fight between them.
The roommate said Hart threatened to kill Jolley with a hammer he had in his hand.
On a fishing trip, Hart yelled at Jolley for "disrespecting the fish."
Around 2 a.m. Monday, that same roommate was on the phone with Jolley and heard Hart yelling at her in the background, according to court documents.
Monday night, other roommates saw Hart jolt awake from a nap, screaming Jolley's name.
By 3 a.m. Tuesday, Jolley's body had been found in a shed, covered with blankets, in a bin full of acid. Her face had been beaten and bruising on her neck was consistent with being strangled, detectives wrote.
Hart, 27, was charged Wednesday with first-degree murder. A judge ordered him held on $500,000 bond.
"I didn't have good vibes about him," said Jolley's aunt, Jeanne Dobson. "But what can you say?"
Dobson said her niece has two young sons who live with other family members. Jolley was taking care of her mother, who has Alzheimer's, while she was living with Hart.
"She loved her family," her aunt said.
Dobson said Jolley, 33, had only known Hart a month or two, but she moved in with him when he offered because, after completing drug rehabilitation, she wanted to get out of the city and live in a house.
"She was very much a country gal," Dobson said. "He had a house and offered to let her go with him."
Dobson said she met Hart once. She said he was jittery, like he was constantly nervous.
She said she didn't know how strained things were between Hart and Jolley, but when she heard on the news that SWAT teams were in the area she feared the worst. After talking with sheriff's deputies by phone, she drove from Moses Lake to Spokane to pick up Jolley's mother, Sandra Carson, who told Dobson that Hart was "psycho."
"He hollered and screamed a lot, pounded on his chest and spit on the floor," Dobson said.
Court documents released after Hart's court appearance Wednesday stated Hart is a military veteran suffering from post-traumatic stress disorder. Several witnesses said he is a drug user. In court, his attorney said he takes care of his father, and they both live off of Hart's military disability benefits.
The documents also detail how Hart and Jolley's roommate, Dean Settle, discovered the body and alerted authorities that he believed Hart had killed his girlfriend.
Settle said a conversation early Monday morning with Jolley was the last time he saw her alive. When he arrived back at their Nine Mile Falls home Monday afternoon, he asked where Jolley was.
Hart told him Jolley had "left with some friends to attend a barter fair for several days," according to court documents. Settle noted to investigators he thought that was strange because Jolley "did not have any other friends that would give her a ride to the barter fair and she was dependent on Jason Hart for all transportation."
Hart then told Settle not to go into the garage, "because he wouldn't like what was in there."
Later that night, when everyone else in the house was asleep, Settle ventured out to the garage, expecting to find stolen goods or a methamphetamine lab.
Instead, he found Jolley.
He ran from the detached garage into the house, woke up two other women in the house and told them they needed to leave and call for help. The three went to a nearby fire station and called 911 at 2:42 a.m.
Sheriff's deputies responded and saw the body in the red plastic bin. They called for backup and put the house under surveillance.
Deputy Craig Chamberlin said law enforcement knew there were two people still in the residence: Jolley's mother and Hart's father, who is often confined to his room due to medical issues, the documents said.
"Our main concern was their safety," Chamberlin said Wednesday.
Hart's father and Jolley's mother left the residence later that morning on their own accord. Chamberlin said they then "used a ruse" to get Hart to come out of the house so SWAT teams could intercept him in his vehicle. Around 11 a.m., after Hart became aware that deputies were at the house, he came outside but then started to retreat into the house. SWAT teams then used a nonlethal weapon to fire at Hart and struck him in the chest, Chamberlin said. Hart surrendered without a fight. He was taken to the Public Safety Building and invoked his right to stay silent, the court documents said.
Detective Mike Ricketts said tear gas was used to coax Hart out of the house. Five SWAT team members suffered respiratory issues from the gas, which deputies originally said was vapors from either a methamphetamine lab or whatever liquid was in the bin where Jolley's body was found.
Chamberlin said the liquid was identified to be some kind of acid with a pH of 3. A sample was sent to the state crime lab to be tested. An autopsy of Jolley's body took place Wednesday morning, but the medical examiner's office had not yet released any findings.
In court, Hart's attorney argued that the investigation was too premature to arrest Hart, whose two children live with his estranged wife in Oregon. He said there wasn't enough evidence yet to find probable cause for first-degree murder.
Judge James Triplet found probable cause for first-degree murder but agreed with the defense that there wasn't enough evidence for aggravated murder. The prosecution can add the aggravated specification later, if more evidence is gathered to support it.
Triplet said the bond amount was reflective both of Hart's lack of any criminal history – other than a misdemeanor drunken driving charge in 2008 – and the seriousness of the new charges against him. He also said Hart was likely to interfere with the investigation if released, as Hart is alleged to have tried to clean up the murder scene.
In the court documents, Ricketts wrote that he found clothing in a bucket of water and bleach next to a bathtub. The gravel between the house and the detached garage shows Hart put Jolley's body into the red bin before dragging it out to the garage, the detective wrote.
Ricketts noted Hart had several injuries to his hands and shoulders, including scratches and swelling.
An arraignment date has been set for June 18.
Local journalism is essential.
Give directly to The Spokesman-Review's Northwest Passages community forums series -- which helps to offset the costs of several reporter and editor positions at the newspaper -- by using the easy options below. Gifts processed in this system are not tax deductible, but are predominately used to help meet the local financial requirements needed to receive national matching-grant funds.
Subscribe now to get breaking news alerts in your email inbox
Get breaking news delivered to your inbox as it happens.
---