A&E > Entertainment
Hip-hop force Sweatshop Union brings tour to Spokane
Fri., June 7, 2013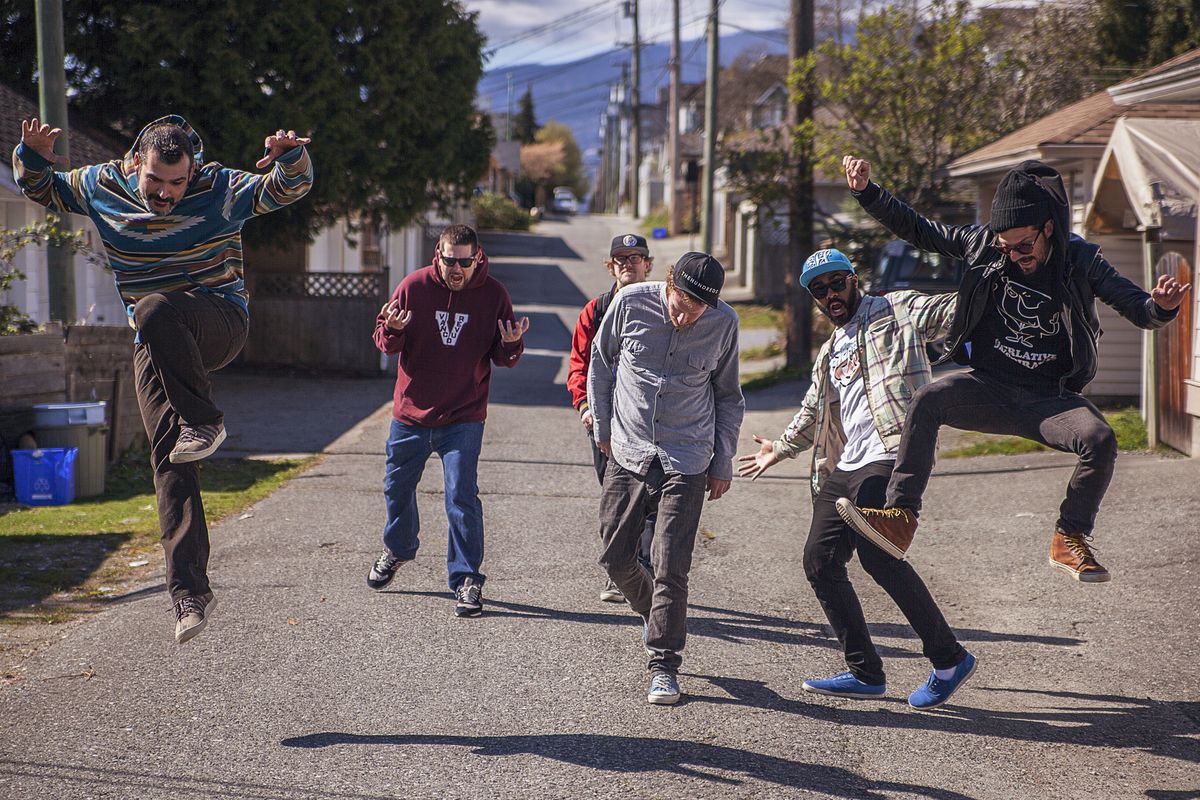 Sweatshop Union plays Ugly Bettie's tonight.
The Sweatshop Union is working overtime.
When the Canadian hip-hop collective came through town in January they were finishing a tour in support of their "Leisure Gang" free limited digital release.
The six-piece rap crew is back at Ugly Bettie's tonight, and with a new full-length album in tow.
Released last week, "Infinite" features tracks from "Leisure Gang" along with seven new songs, expanding on the hard dance-electronica textures of previous sessions and reinforcing it with straight up, classic hip-hop.
Hard cuts like "Feed," featuring Snak the Ripper, were made for the battle emcees, while the album's final song, "Listen Up," is a soothing a cappella solo acoustic guitar track with R&B vocals on the hook. Sprinkled throughout the album are catchy choruses and positive vibes.
A couple of the emcees in the band have become new dads, and it's obvious in the way the lyrical content shifts toward family.
Heavyweights in the Pacific Northwest as well as Canada, Sweatshop made a ruckus with its 2011 release "Bill Murray," which was named Hip-hop Album of the Year at the Western Canadian Music Awards. They were later featured in URB Magazine's next top 100.
Sweatshop Union kicks off its "Infinite" tour with support from Mark Schurtz tonight at 9 p.m. at Ugly Bettie's, 211 N. Division St. $7 cover.
Daft Punk'd
Regarded as the first and only realistic Daft Punk tribute band, One More Time (A Daft Punk Tribute) appears clad in cyborg armor and chrome helmets backed by a full-scale pyramid stage to recreate the Daft Punk experience.
They even perform an encore in an electro-luminescent suit, reminiscent of Daft Punk's 2007 "Alive" tour.
Their hour-and-fifteen-minute set combines Daft Punk anthems with club bangers and original remixes.
This tour couldn't have been better timed, with Daft Punk's new single overtaking airwaves, dance floors and wedding receptions.
The digital dance party with One More Time (A Daft Punk Tribute) and DJ Daethstar goes down on Sunday at 8:30 p.m. at the Knitting Factory Concert House, 919 W. Sprague Ave. Cost: $10, through www.ticketweb.com.
Phat House Party
A slew of local bands are coming together to celebrate the birth of one of their own, percussionist and beatbox extraordinaire Blake Abyss Larson.
Larson's b-day party features performances by the Moksha World Fusion group, Spokane Taiko drummers, The Yes! Reflex funk and R&B band, funk rockers B Radicals, SpoFlow hula hoop jammers and more.
The all-day birthday bash is free, all ages welcome. Music starts at 4 p.m. Saturday at The Phat House, 417 S. Browne St.
Local journalism is essential.
Give directly to The Spokesman-Review's Northwest Passages community forums series -- which helps to offset the costs of several reporter and editor positions at the newspaper -- by using the easy options below. Gifts processed in this system are not tax deductible, but are predominately used to help meet the local financial requirements needed to receive national matching-grant funds.
Subscribe to the Spokane7 email newsletter
Get the day's top entertainment headlines delivered to your inbox every morning.
---