News > Washington Voices
Our Place director Sister Ann Pizelo retires after serving since 1990
Thu., June 20, 2013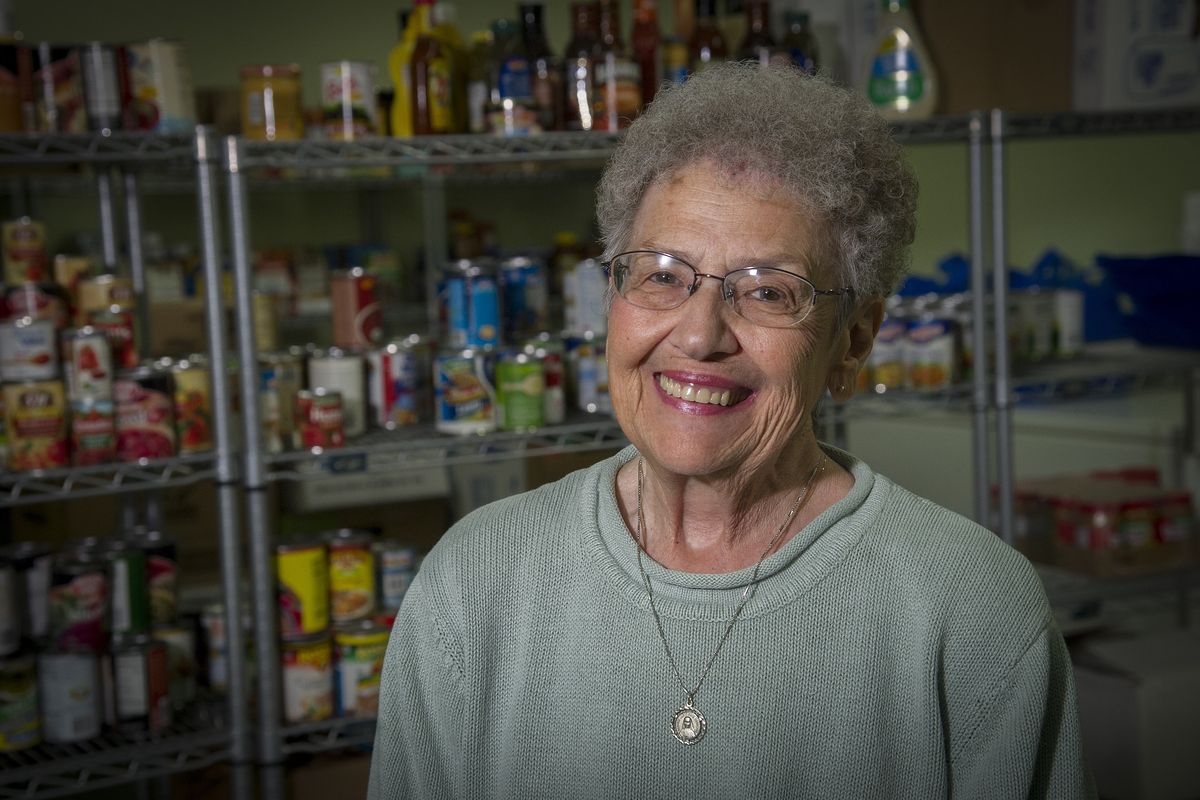 Sister Ann Pizelo has retired after seven years as director and 25 years of service at Our Place Community Ministries. (Colin Mulvany)
For 25 years Our Place Community Ministries has reached out to the poorest of the poor in the West Central neighborhood. And for the past seven years the organization has been led by Sister Ann Pizelo.
Her recent retirement leaves some big shoes to fill.
"Someone took a look at her job description and said, 'There's no way one person can do all this!' " said longtime volunteer Susan Smith.
Pizelo brought with her years of administration experience, including school principal, pastoral associate and provincial director of the Sisters of the Holy Names.
Our Place evolved when five neighborhood churches pooled resources to better serve the needs of the community. Currently 10 area churches support Our Place, which provides food, clothing, personal hygiene items and bus passes, among other services.
Pizelo, 76, began her involvement at Our Place in 1990 while serving at St. Joseph's Church.
At the time, the ministry operated out of a tiny house on Elm Street. She knew they'd have to find a larger location.
While driving around looking at buildings in the neighborhood she spotted a rundown commercial building for sale on College Avenue and thought it would be perfect for Our Place. But first, she said, "we had to get some money. We did some big-time fundraising."
After securing the location, Pizelo wanted to add to the services Our Place provided. When she heard clients talk about doing laundry in bathtubs or kitchen sinks because they couldn't afford commercial laundries, she launched a campaign to fund a laundry facility.
Now, the center's two washers and four dryers see steady use. "About 1,000 loads per year," she said. The facilities are free, available on a first-come, first-served basis.
From her former office, Pizelo reflected on the changes at Our Place. "It has really grown," she said. "And so has the need."
Indeed, last year Our Place helped 7,269 households and 18,187 individuals, 964 of whom were homeless. Pizelo oversaw distribution of more than 200,000 pounds of food, 60,733 articles of clothing and 23,387 hygiene items.
In addition, she led 80 volunteers in giving 11,460 hours of their time and energy to the ministry.
It's the people she said she'll miss most, both the volunteers and the clients.
"Our volunteers are wonderful," Pizelo said. "We've helped everyone from the homeless living in their cars, to single parents, to people just out of prison."
And Pizelo did a lot of listening.
"I would say Ann spent about half her time here listening and supporting," volunteer Smith said. "She's a counselor bar none to the people that walked through that door."
Her leadership will be missed by those she's worked with over the years. "She's the heart of Our Place," Smith said.
But those who know her say Pizelo will find ways to serve, even in retirement.
As for her hopes for the ministry, Pizelo said she wants the organization to "continue to be able to serve the needs of all people."
What's most important to her is that everyone who walks through the door at Our Place feels welcomed and respected. "It's a compassionate place. People really care here," she said.
Local journalism is essential.
Give directly to The Spokesman-Review's Northwest Passages community forums series -- which helps to offset the costs of several reporter and editor positions at the newspaper -- by using the easy options below. Gifts processed in this system are not tax deductible, but are predominately used to help meet the local financial requirements needed to receive national matching-grant funds.
Subscribe now to get breaking news alerts in your email inbox
Get breaking news delivered to your inbox as it happens.
---