Sports
Paddleboarders on hand to lend aid at CdA Ironman
Sat., June 22, 2013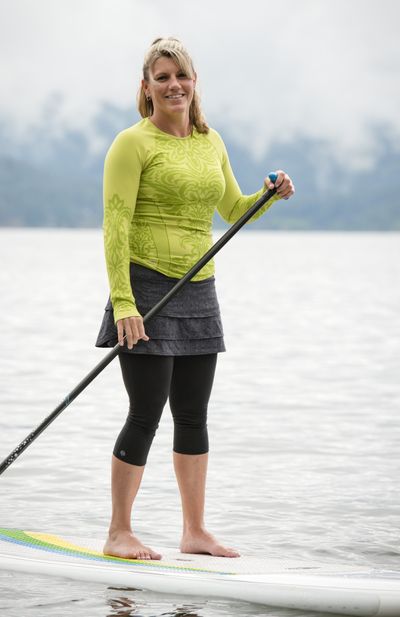 Ironman is full of warm feelings, even in the 63-degree waters of Lake Coeur d'Alene.
For Grace Robison, the enduring memory of her first Ironman last year was the struggling swimmer who seemingly drew her strength from the cheers of the volunteer paddleboarders – Robison included.
"We all cheered her on, and all the lifeguards came together," Robison said. "She was so grateful that she gave us all hugs. And it's funny because it's just a race."
At Ironman, the swimming leg is the shortest at 2.4 miles, but it's hard work. Even wearing a wetsuit, many swimmers feel the chill of hypothermia. Many lose their strength, some lose their way; a few even lose the words to ask for help. The longer they linger, the worse it gets.
That's when Kym Murdock and her 20 volunteers are at their best. After the bulk of the swimmers pass through like a tidal wave, the paddleboarders watch for the stragglers and strugglers.
"They get lethargic, they don't know their names, and they're swimming off course," Murdock said. "You have to yell at them to get them back on track."
That starts with making eye contact, assessing each athlete with a view toward safety. To that end, it means the end of the race for many.
"Most of my memories are that they didn't quite make it," Murdock said. "We have to tell them, but I don't want that to be the final thought."
Instead, Murdock prefers to remember the times "when you can guide them, helping them move forward when maybe they couldn't have."
The memories – good and bad – are hard-earned. Almost from the time she founded Coeur d'Alene Paddleboard Co. four years ago, Murdock has been reaching out. Her club meets six days a week on the lake, where her dachshund, Milo, mans the bow of her board. The club also helps hone the skills of the volunteers.
"The biggest thing is making sure they're qualified, and knowing what they're up against, especially at the Ironman," said Murdock, who is entering her fourth year in charge of the paddleboard flotilla.
"I know who can do it and who can't," she said.
Robinson, a former lifeguard who also works for Murdock, said it comes in handy "when 20 swimmers are heading in your direction and five of them need help – I'm able to put all of them on the board and still feel safe."
Every sale comes with a reminder that she could always use more volunteers for Ironman, the Coeur d'Alene and Hayden triathlon, and other events. Murdock expects to have 20 for Sunday's Ironman, but would like to have about 30. That would mean at least two or three paddleboarders between each buoy as 2,000 swimmers push forward.
The paddleboarders' job may be eased this year by the introduction of a rolling start, similar to Bloomsday. But the work – and the fun – remain.
"It's probably one of funnest opportunities I've ever had," Robison said. "These people have worked really hard, and we're just trying to ensure their safety."
Local journalism is essential.
Give directly to The Spokesman-Review's Northwest Passages community forums series -- which helps to offset the costs of several reporter and editor positions at the newspaper -- by using the easy options below. Gifts processed in this system are not tax deductible, but are predominately used to help meet the local financial requirements needed to receive national matching-grant funds.
Subscribe to the sports newsletter
Get the day's top sports headlines and breaking news delivered to your inbox by subscribing here.
---
Subscribe and log in to the Spokesman-Review to read and comment on this story