Sports
NBA/NHL finals comparison: Parrallels between the two champs
Wed., June 26, 2013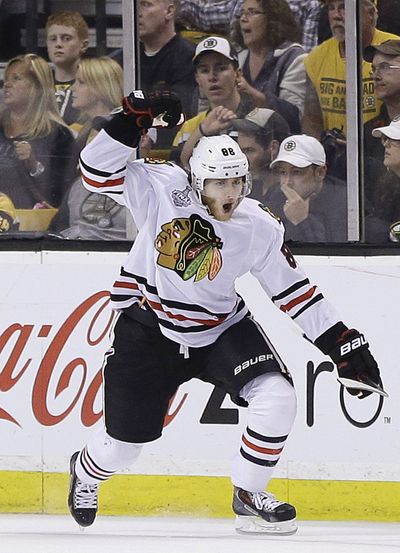 MIAMI – Comparing the championship runs of the NBA's Miami Heat and the NHL's Chicago Blackhawks:
Unbeatable
Both teams had long runs of success on their way to the respective titles, though Miami's was actually unblemished while Chicago's was a bit less shiny. The Heat put together the second- longest winning streak in NBA history during the regular season – 27 consecutive games. The Blackhawks opened the season with a 24-game streak of getting at least one point out of every game – and while that encompassed exactly half of the lockout- shortened season, their longest actual winning streak in that span was just 11 games, with two of those coming in shootouts. Chicago technically lost three times in that 24-game run, all in shootouts, and two of them consecutively.
Title towns
Welcome to the Heat and Blackhawk eras in their respective leagues. For Miami, this year's NBA championship was its third in eight years and its second straight. Chicago won the Stanley Cup for the second time in four seasons. Before the 2010 title, the last time the Blackhawks hoisted hockey's biggest prize was 1961.
Star power
Maybe something about the winds off Lake Erie helps create superstars. Heat star LeBron James hails from Akron, Ohio, maybe 40 miles or so south of the shores of the great lake. Blackhawks star Patrick Kane comes from Buffalo, N.Y., situated along the lake's eastern edge. James won the NBA Finals MVP award; Kane was this year's Conn Smythe Award winner, presented to the best player in the entire NHL postseason.
Boston giveaways
Both of these postseasons will likely be remembered for what Boston lost. Last summer, it was Ray Allen, who turned down more years and money from the Celtics and decided to sign with the Heat. And Allen went on to hit what will go down as the biggest shot in Heat history, the 3-pointer with 5.2 seconds left in regulation of Game 6 that forced overtime and denied the San Antonio Spurs what would have been their fifth NBA title. And during the Stanley Cup final, the Bruins were up by a goal with about a minute remaining in Game 6 — then surrendered two lightning-fast goals to not only lose, but lose in regulation even, a stunning collapse that brought the NHL season to a quick and dramatic close.
LeBron watched
Not only did LeBron James send a congratulatory tweet to Patrick Kane and the Blackhawks for winning the Stanley Cup, he got into some trouble with his kids over the ending of Chicago's title-clincher. James was watching a movie with his sons when he checked Twitter and got word of Chicago's late rally in Boston. The movie got put on pause so James could see the hockey highlights, and his kids weren't exactly thrilled. Said James, on the similarities between the clubs: "We both had an amazing streak. We both finished first in our conferences. We both were down in series. There's so many similarities to both teams, and to win it, like I said, when I saw them hoisting that trophy up, that Stanley Cup trophy, I was like, 'I know exactly what that feeling is all about."'
Lucky number
Heat record in this postseason? 16-7. Blackhawks record in this postseason? 16-7. And with that, the winter season is complete.
Local journalism is essential.
Give directly to The Spokesman-Review's Northwest Passages community forums series -- which helps to offset the costs of several reporter and editor positions at the newspaper -- by using the easy options below. Gifts processed in this system are not tax deductible, but are predominately used to help meet the local financial requirements needed to receive national matching-grant funds.
Subscribe to the sports newsletter
Get the day's top sports headlines and breaking news delivered to your inbox by subscribing here.
---